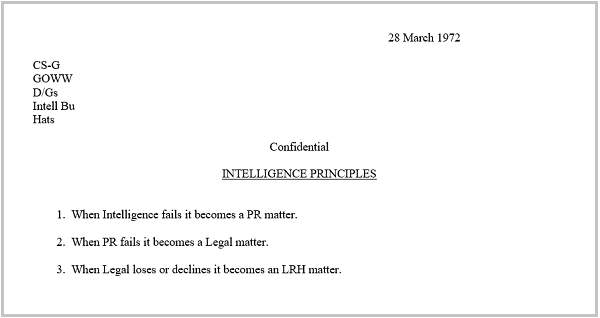 The media reports that Paul Haggis is now being accused of sexual assault. He responds that scientology may be behind these claims.
There is good reason to believe this is no crazy conspiracy theory. Here is why.
L. Ron Hubbard, founder of scientology, took a very dim view of anyone critical of scientology. Whether politician, reporter, disillusioned former follower or his own family members, Hubbard designated them as "enemies" — not just of scientology, but of mankind. And he laid out in detail how those enemies were to be destroyed.
Hubbard decreed that anyone speaking negatively was "Fair Game" and could be "deprived of property or injured by any means by any scientologist without any discipline of the scientology. May be tricked, sued or lied to or destroyed."  He created a department in scientology devoted to silencing these "enemies." When "Fair Game" garnered negative press, he cancelled the term because "it causes bad public relations" but did not "cancel any policy on the treatment or handling an SP" ("SP" or Suppressive Person is another term for "enemy").
There is a long and well documented history of scientology going after its perceived enemies.
Most prominent are the well-known campaign to silence author Paulette Cooper (journalist Tony Ortega wrote the definitive book on this subject) and former Mayor of Clearwater Gabe Cazares (See this article containing the FBI file on the matter).  For those who may be unfamiliar, the actions disclosed in scientology's own documents are not for the weak-kneed.  Paulette Cooper was literally framed for an elaborate bomb threat and was being prosecuted for the crime. Gabe Cazares was framed in a phony hit and run accident and had documents planted in government files that falsely made him a bigamist. There is much more, including efforts to set up lawyers and even Federal Judges, setting people up to be arrested for drug trafficking and held in prison overseas. And these are just the things that have been exposed to public scrutiny. Some of these schemes have been extremely elaborate.
Scientology is notoriously secretive. They go to enormous lengths to cover up their involvement in any of these activities, not the least hiding behind lawyers who act as barriers to disclosure under the "attorney/client privilege".
Scientology tries to claim they "cleaned out" the "criminal elements" who perpetrated illegal acts to frame Ms. Cooper, Mayor Cazares and others.  But, like Hubbard and his "PR handling" of Fair Game — there is no changing how scientology goes about dealing with its enemies. They may try to put lipstick on the pig, but that pig is still rolling around in the mud and filth, being fed swill by scientology just as it always has.
And here we get to an underlying fact of scientology. If it was written by L. Ron Hubbard it CANNOT be changed. And it will remain the operating policy of scientology until the end of its days. I have described a lot of this in an extensive, annotated post on this blog Dealing with Critics of Scientology — the L. Ron Hubbard Playbook
Be sure, scientology is still up to its old tricks today. And as they become more desperate, those tricks become more desperate. Just recently, a private investigator hired by a scientology operative was convicted in federal court of hacking me and Tony Ortega. More PI's were arrested for carrying illegal weapons who had been following David Miscavige's father.  Other PI's came forward and spilled the beans about operations that had been ongoing for 20+ years against a prominent defector (and others).  Spies have been placed in houses across the street from whistleblowers. Spy cameras have been installed. Trash stolen. Anonymous smear sites and on and on. Plenty of examples have been documented on Leah Remini: Scientology and the Aftermath, here and on Tony Ortega's blog, in the Tampa Bay Times and many other media.
What does Hubbard say about dealing with enemies?
First, everyone who ever speaks out about scientology abuses has crimes. This is Hubbard dicta:
"Now get this as a technical fact. Not a hopeful idea. Every time we have investigated the background of a critic of scientology we have found crimes for which that person or group could be imprisoned under existing law. We do not find critics of Scientology who do not have criminal pasts. Over and over we prove this."
Even if you have no evidence of the crimes, be certain they ARE there and act accordingly.
"… act completely confident that those crimes exist. Because they do."
This is how scientology enemies are to be treated. They have sordid crimes for which they could be put in prison, so even if scientology frames them for something they DIDN'T DO, it's justified as they have, in their minds, gotten away with much worse and have just not been caught. To the dedicated scientologist, they are doing everyone a favor by removing the criminal from society because they know the person is engaged in even more harmful, unknown crimes. And they are CERTAIN of this because Hubbard tells them so. This sort of insane conviction that they are righteous and justified in destroying the lives of others in the name of a higher cause is no different than religious martyrs, suicide bombers and torturers of the Inquisition down through the ages.
But perhaps most startling about scientology is that one does not have to speculate about their activities. Hubbard wrote it down in explicit detail, explaining to his followers HOW to go about framing "enemies."
There are a number of Hubbard documents detailed in my earlier post about "costing the person his job," "a covert operation is intended to embarrass, discredit or overthrow or remove an actual or possible opponent,"  "People attack Scientology; I never forget it, always even the score" and "always find or manufacture enough threat against them to cause them to sue for peace. Peace is bought with an exchange of advantage, so make the advantage and then settle. Don't ever defend. Always attack.
For the purpose of this post, I want to focus on one specific piece of Hubbard's writing entitled INTELLIGENCE PRINCIPLES.
Here, Hubbard explains HOW to go about costing someone their job and manufacturing enough threat against them to cause them to back off.
He offers examples of how to CREATE FALSE RUMORS AND LIES:
Example: Gosh Porge is located as an antagonistic source in the Bureau of Mines.  Study Bu of Mines.  They frown on corrupt and bankrupt employees, it is carefully worked out by survey. Gosh Porge receives a check for 250 pounds from the Aluminium Company of America at his office for "tip off and patents sent" and "his wife" runs up fur coat bills at Harrods who sue and "a man in Soho" wants his 1800 pounds gambling debt and "a mistress" calls his boss and demands the return of her diamonds "Gosh borrowed" and as it keeps up, even Gosh Porge's best denials won't prevent his being sacked.
This is a red flashing light screaming "we are telling you what we are doing". Paul Haggis is a professional film-maker. How do you cost him his job? Well, the "survey" is very easy. It's almost the ONLY thing talked about in this business these days. Certainly, direction to create fake debts, false checks and phony "mistresses" is no big leap to fake rape victims.  And certainly the outcome "even Gosh Porge's best denials won't prevent his being sacked" is right on target.
Hubbard goes on with another example with more fake "complainants":
And "Legal areas" like lawyers are a point of hit also.
Without consulting Legal Bu Bish Smish is suing C of S for truckloads.  Survey his attorneys covertly.  One finds they detest "people from the City", very prejudiced against money clauses.  So City blokes start appearing on their lines for Bish Smish – will he win the suit?  Broker wants to know can Bish Smish cover his margins?
City bowler hat beats up lawyer with an umbrella because Bish Smish said he was going to get the lawyer to sue him over the "blocks of stock" Bish Smish swindled.  Keep it up.  Soon he won't have any lawyer!
I know nothing about the women accusing Paul Haggis.
What I do know is what Hubbard directs his followers to DO about someone like Paul Haggis. Especially when their own Danny Masterson has been called out for raping women. I have not spoken to Paul Haggis about these accusations, but it is certainly not unrealistic to believe scientology is behind these accusers. The connection would be well-hidden. It may take years for it to be disclosed trying and by that time the damage may well have been done.
But the truth has a way of seeping through the cracks no matter the best laid plans of mice and men.
Summary 
I ended my earlier post on this subject with this, and am repeating it here:
To summarize the scripture of scientology excerpted above:
Everyone who speaks publicly about scientology without authorization from the church is deemed an enemy (Suppressive Person)
Scientology is at war with its enemies/critics and they are to be obliterated and destroyed
All critics are enemies and all critics have crimes
No expense should be spared to stop a critic – they must be muzzled and shuddered into silence
Any action is "fair game" when it comes to stopping critics/enemies
This includes use of Private Investigators and covert operations and agents
It also includes creating fake "complainants", threats and smears, even discussing "unknown" crimes as if they were real
If they cannot find enough threat, they will manufacture it
And scientology claims this is all "religious scripture" while cloaking themselves in a mantle of  "we are victims of bigotry and hatred."
It would be easy, and somewhat understandable, to dismiss this as "over-the-top" exaggerations. To believe that even if all these statements are accurate, they are simply allegorical. But the real world examples of scientology in action, on display for all to see, say otherwise.
In scientology, the words of L. Ron Hubbard are NOT treated as allegorical.  They are not taken as suggestions. They are given the weight of absolute, unalterable truth. The most heinous crime you can accuse a scientologist of is not fully understanding and applying the words of L. Ron Hubbard exactly as he wrote them. The expected attitude of a scientologist is to take his words and apply them with "a fixed, dedicated glare."
The full Hubbard document "Intelligence Principles" is below. Note, it does not bear the signature of Hubbard. Virtually everything he wrote about the covert operations of scientology is unsigned. He wanted to avoid personal liability. The Snow White Program he authored is not signed by him either and it may have prevented him being indicted. But nobody in scientology has ever claimed these are NOT authored by Hubbard. They are the law of scientology.