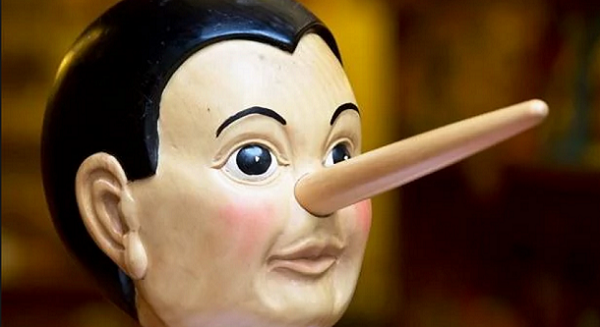 While repeatedly asserting that they are "the most ethical group on earth" and that they are constantly having to "get rid of" people who "cannot live up to their ethical standards," in truth, every dedicated scientologist is a liar. Why?
The short answer: they believe that achieving the "Aims of Scientology" and "Clearing The Planet" are so vital for the well-being of all mankind that those ends justify any means.
But, as with most other things in scientology, the simple answer is also the simplistic answer that really doesn't bring much understanding.
So, let's break it down.
First, why do I say every dedicated scientologist is a liar? If you ask ANY scientologist about the "confidential upper level materials" they will lie and tell you "it's not part of scientology" or "it's not true" or "that is an alteration." Even if you read or show them the exact writing by L. Ron Hubbard. If you ask any scientologist whether you can be a scientologist and a christian, the vast majority will tell you "absolutely" even though they know it is a lie (see "Can Scientologists be Christians or Jews Too?"  ).
But the lying is not limited to these two things, and there is a lot of "scripture" that explains this.
Let us once again return to that all-important writing of L. Ron Hubbard: Keeping Scientology Working.
We're not playing some minor game in Scientology. It isn't cute or something to do for lack of something better. The whole agonized future of this planet, every Man, Woman and Child on it, and your own destiny for the next endless trillions of years depend on what you do here and now with and in Scientology. This is a deadly serious activity. And if we miss getting out of the trap now, we may never again have another chance. Remember, this is our first chance to do so in all the endless trillions of years of the past.  
Scientologists take this to heart. Hubbard expressed it here and in many other places. The future of all mankind rests in the hands of those who have "the tech." Everyone is counting on them, whether they know it or not and this is an awesome responsibility. NOTHING is more important than this and NOTHING must prevent scientology from achieving its objectives.
The Greatest Good for the Greatest Number of Dynamics
This is the guiding principle laid out by Hubbard as the foundation of all morality and even survival. Here is how Hubbard put it in 1980 in his Policy Letter entitled Ethics, Justice and the Dynamics.
An optimum solution to any problem would be that solution which brought the greatest benefits to the greatest number of dynamics.
He goes on to explain this concept:
To be good, a thing must contain construction which outweighs the destruction it contains. A new cure which saves a hundred lives and kills one is an acceptable cure.
To really understand what he is talking about it is necessary to understand "the Dynamics" in scientology. These are the 8 "urges towards survival". Here is the description straight from the scientology website: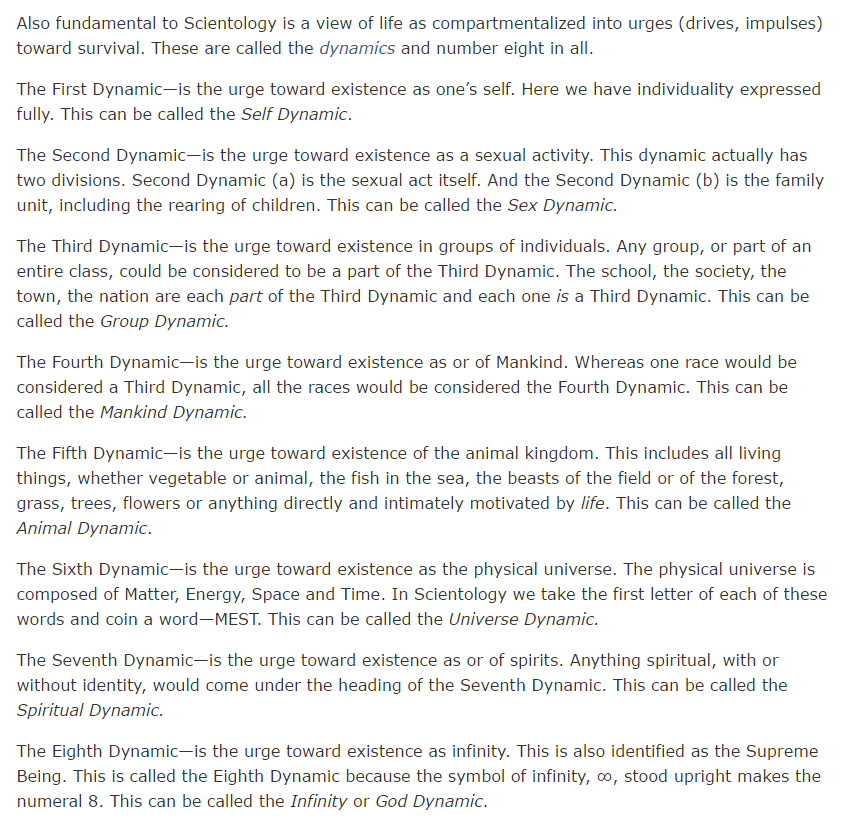 There is nothing inherently wrong with this. It makes some sense and seems benign.
Until you consider what the "3rd Dynamic" is for scientologists: Scientology. This is their group. And they honestly believe that scientology is the ONLY route to save every man, woman and child on planet earth. That if scientology is flourishing, then every person, every family, every group, mankind and even animals and the environment will flourish.
So, the essential equation for scientologists then becomes: :"If it is good for scientology, it increases survival across ALL Dynamics and thus it must be good." This is the equation that justifies not only lying but harming people so long as it is for the benefit of scientology.
The "Acceptable Truth" and the "Shore Story"
The idea in scientology that there is something known as an "acceptable truth" factors into the equation.
Hubbard defined it this way in his PR Series:
Handling truth is a touchy business also. You don't have to tell everything you know-that would jam the comm line too. Tell an acceptable truth. Agreement with one's message is what PR is seeking to achieve. Thus the message must compare to the personal experience of the audience. 
Scientology "doctrine" also encompasses the "Shore Story" which is used to cover up the truth. It first came into use in the Sea Org during the Apollo years when Hubbard did not want to be found. Thus there was a "Shore Story" concocted that everyone from the Apollo had to learn when they were "ashore" – they were never to mention scientology, only that the Apollo was home to a "Management consulting company called Operation and Transport Corporation." Again, when scientologists first moved to Clearwater, they claimed to be "United Churches of Florida" and that the buildings had been purchased by "Southern Land Development and Leasing Corporation." Many "shore stories" have been used to conceal the truth from the media and public about scientology activities.
In scientology, when dealing with the outside world, the truth is malleable… Or more accurately, the truth in scientology is whatever they believe best serves to make scientology look good.
Code of Honor
Another foundational writing of Hubbard that scientologists rely on heavily is Hubbard's "Code of Honor". Again, this is taken from the scientology website.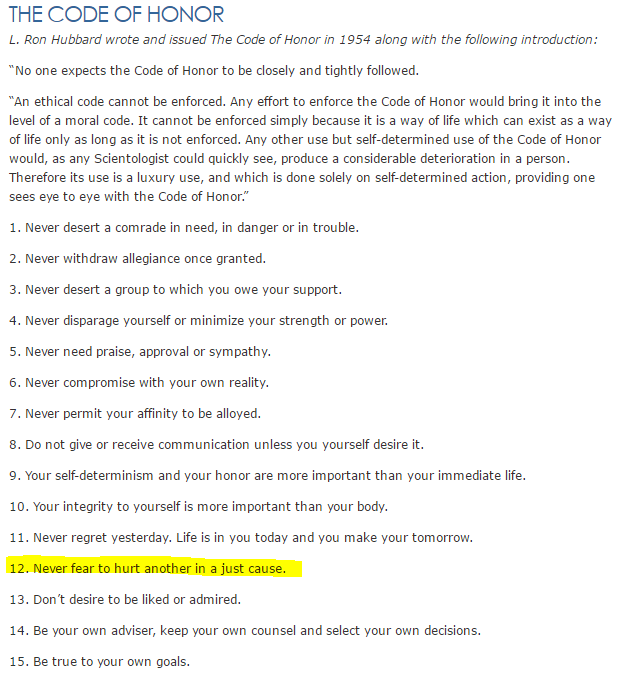 Like the description of the Dynamics, there is nothing inherently wrong with this. Except in how it is applied.
MANY scientologists will quote paragraph 12 as the explanation that justifies immoral or unethical acts if those acts are in furtherance of "helping scientology" which is, of course, always a "just cause."
Fair Game
We see these principles spelled out in the Fair Game policy.
Those designated as enemies of scientology may be:
…deprived of property or injured by any means by any Scientologist without any discipline of the Scientologist. May be tricked, sued or lied to or destroyed.
Scientology says this policy was canceled, but in fact, the policy of how to treat enemies (SPs) was NOT changed, only this reference was canceled because "it caused bad public relations."
The practice of declaring people FAIR GAME will cease. FAIR GAME may not appear on any Ethics Order. It causes bad public relations. This [policy letter] does not cancel any policy on the treatment or handling of an SP.
Anyone or anything thought to be an enemy of scientology may be lied to.  This is not just an isolated statement — it is the distillation of a LOT of "scripture" in scientology. And explains why the PRACTICE is not altered, just the use of the term.
"Wogs," the Government and the Media
Hubbard dictates an attitude towards the outside world that is the mindset of every good scientologists. Anyone who is not a scientologist is a "wog" – someone to be treated with a mixture of pity and contempt. Wogs do not understand life. They are ignorant, misinformed or evil. They do not know how to solve their own or mankind's problems. They are doomed to an eternity of suffering unless they wake up and begin to "apply the tech."
Hubbard defined a "wog" in a Briefing Course lecture in 1966:
…common, everyday garden-variety humanoid … He 'is' a body. [He] doesn't know he's there, etc. He isn't there as a spirit at all. He is not operating as a thetan.
And beneath the pity and contempt for wogs in general is the hatred reserved for Govt Officials, the justice system and the Media (just a step above the dreaded psychiatrists).  Hubbard rails repeatedly against "wog justice" and how it cannot be trusted, against FBI Agents and "tax cruds", against Interpol and the KGB. They are all one big pot of Suppressives trying to destroy scientology. So too the media, who have seen him as a threat to their empire of chaos:
…there must be in our civilization some very disturbing elements for anything else [other than good] to be believed about Scientology. These disturbing elements are the Merchants of Chaos. They deal in confusion and upset. Their daily bread is made by creating chaos. If chaos were to lessen, so would their incomes.
In fact, anyone who has any connection with these sordid types is banned from any participation in scientology.
With all this in mind, is it any wonder scientologists will brazenly lie to law enforcement, the media and even while giving sworn testimony under oath? It's not only for the "greatest good" it's also directed at those who are held in contempt as being blights on the good people of the world.
A Hubbard example
Finally, just to put a cherry on top of this rancid cake, here is a wonderful example from L. Ron Hubbard on HOW to go about destroying someone with lies.
It comes from his infamous writing in 1972 entitled Intelligence Principles. He is describing a hypothetical scenario of how you can "get rid of" an "antagonistic source." This is EXACTLY the sort of thing done to Paulette Cooper as detailed in Tony Ortega's book The Unbreakable Miss Lovely. It is one lie to be told after another and he lays out here the model of  lying and fakery as standard procedure for scientology when dealing with "enemies."
Example: Gosh Porge is located as an antagonistic source in the Bureau of Mines.  Study Bu of Mines.  They frown on corrupt and bankrupt employees, it is carefully worked out by survey. Gosh Porge receives a check for 250 pounds from the Aluminium Company of America at his office for "tip off and patents sent" and "his wife" runs up fur coat bills at Harrods who sue and "a man in Soho" wants his 1800 pounds gambling debt and "a mistress" calls his boss and demands the return of her diamonds "Gosh borrowed" and as it keeps up, even Gosh Porge's best denials won't prevent his being sacked.
And "Legal areas" like lawyers are a point of hit also.
Without consulting Legal Bu Bish Smish is suing C of S for truckloads.  Survey his attorneys covertly.  One finds they detest "people from the City", very prejudiced against money clauses.  So City blokes start appearing on their lines for Bish Smish – will he win the suit?  Broker wants to know can Bish Smish cover his margins?
City bowler hat beats up lawyer with an umbrella because Bish Smish said he was going to get the lawyer to sue him over the "blocks of stock" Bish Smish swindled.  Keep it up.  Soon he won't have any lawyer!
Summary
In truth, this scratches the surface of the documentation that could be laid out to support the fact that all scientologists lie.
The writings of L. Ron Hubbard MUST be followed in scientology. They are not optional.
Sadly, most people are generally honest and they do not at first blush grasp the concept that someone could simply lie. They have a hard time with the idea that what scientology says about people they do not like could in fact have NO BASIS in truth whatsoever. It is simply something scientology believes "by survey" to be unpopular. They think "embezzlement" is unpopular so they find people who accuse whistleblowers of "embezzling money" just like the "mistress" above. They think people find wife-beaters abhorrent, so they find some "City bowler hats" to claim critics are wife-beaters. It's invented and intended to destroy reputations and cost people their jobs, and few can contemplate that a so-called "church" would do such a thing.
Unfortunately, it is also a difficult concept to get Judges to understand. Scientologists, especially people like Warren McShane or Allen Cartwright (who are sent to do depositions when all else fails so Miscavige can avoid the indignity) will NOT tell the truth, even when under oath, because they "know" it is not the "greatest good" to do so. That sort of lying is not normal.
So, especially when you see a scientologist talking about an "enemy" or "critic" or speaking to the media to "protect" scientology from "negative stories" or testifying in a court case to "save scientology from the evils of wog justice" — know that lies will be the norm, not the aberration.
Finally, some words from L. Ron Hubbard in Ethics, Justice and the Dynamics that seem apropos:
Lies are told because one is afraid of the consequences should one tell the truth. Destructive acts are usually done out of fear. Thus, the liar is inevitably a coward and the coward is inevitably a liar."