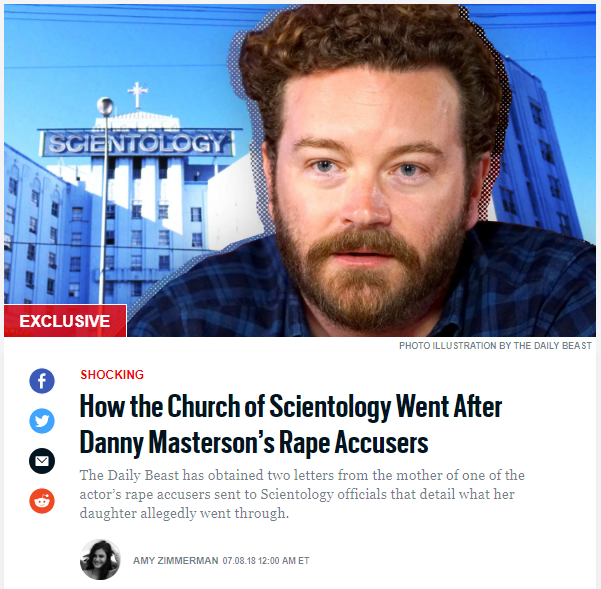 The Daily Beast article about the Danny Masterson case provides further insight into the back-story of the, so far, non-prosecution.
There are many more details that have not yet seen the light of day, though it seems they will either come out in a trial or in stories in the media…
I wanted to comment on the responses from Masterson's lawyer and scientology's anonymous "spokesperson" (Dave come on out…).
First, lawyer Marty Singer's quote: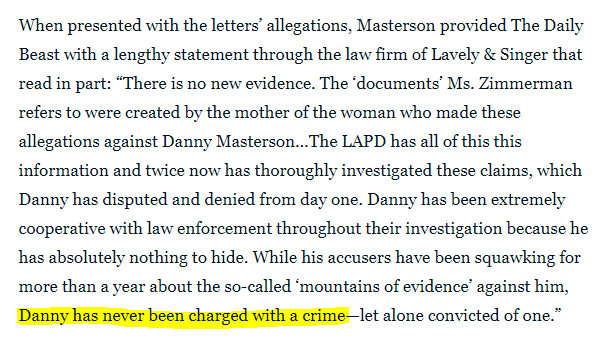 This is fairly typical. It's all "old news" and "nothing to see here because he has not been charged with a crime." And when he is charged, they will say "this is all lies, the jury will decide" and when he is convicted "the Judge refused to allow the evidence that would have exonerated him." And when he goes to jail nobody will say a damn thing.  Statements from lawyers representing people accused of crimes are pretty much pro forma.
Note, it does NOT say they investigated and informed Masterson's lawyers that the investigation was terminated due to no evidence being found. You can bet if the case HAD been officially dropped, he would have said so. Clearly Marty Singer is well aware of what is going on as apparently he knows at least some of the evidence the D/A's office has. And had this case been dropped he would have said so.
But of course David Miscavige's response is more interesting:

Let's take it a piece at a time:
"The Church adamantly denies that it ever ignores any allegation of criminal behavior"
Well, this depends on your definition of "ignores."
Certainly they pay attention, and then launch into damage control mode to figure out how to avoid any public repercussions for scientology. All actions taken with regard to possible criminal activities of a scientologist are based on what is good for scientology. (For a complete explanation of this, see this earlier blog post Why Do Scientologists Lie?)
Remember the Lisa McPherson case? That was not ignored, but what was done was NOT to help the victim or the police. What was done was to protect scientology. Documents destroyed. Witnesses suddenly no longer in the country. Stalling the investigators. Cleaning out the room she died in with bleach.
McPherson is just a well-known example. When GO agent Michael Meisner felt the illegal actions of scientology were too much and he wanted to turn himself in he was gagged and kidnapped to try to prevent him from going to the FBI.
The truth is that criminal behavior is routinely covered up if scientology believes it can get away with it. And even when they HAVE to report it, they resort to unthinkable tactics to avoid it becoming a "flap." When a child care center run by scientologists in Los Angeles discovered one of their scientologist staff molesting young children (not a school, a babysitting service), the church (Hello Julian Schwartz…) rounded up the parents and asked them NOT to press charges with the p0lice as it would "be bad public relations." Without victims to press charges, the authorities could not bring a prosecution (see Danny Masterson's lawyer's response above — no prosecution is not evidence of innocence). That child molester remains unexposed and unpunished to this day. It was all handled "internally" and nobody ever heard about it.
There are many examples of this sort of behavior. Covering up violations of the law by having "drills" in place to hide children when inspectors show up — see the Mace Kingsley ranch episode from Season 2 of The Aftermath. See also the episode about Mirriam Francis and Saina Kamula and how their sexual molestation was handled. And the one about the suicide of Marie Billheimer's husband and the clean up and control exerted to ensure it didn't become a "flap."
"This has nothing to do with religion"
Well, actually is DOES. Because everything in scientology is based on the writings of L. Ron Hubbard. And these dictate the following:
First, the fundamental belief that all right is based on what is the "greatest good for the greatest number of dynamics" and this ALWAYS means what is best for scientology. Because anything that enhances scientology's survival enhances ALL dynamics. See the blog post cited above Why Do Scientologists Lie?
Second, Hubbard's oft-expressed hatred for "wog law" and "wog government" and the belief that to fall into the hands of the criminal justice system is tantamount to a death sentence. In the world of Hubbard, only scientologists have the ability to deal with the subjects of ethics and justice. So, scientologists feel no moral obligation to assist a system that is evil and based on "bank think" — which means it is destructive (more on this below).
Third, scientology's strict policy requires it keep records of everything. Every report to ethics. Every interview. Every incident. Literally every tiny detail of everything that happens that affects the organization or any scientologist. They HAVE all the files and evidence concerning the incidents. In excruciating detail. Just as they did in the case of Lisa McPherson. They chose to destroy those records when the police issued a subpoena for them.
Certainly, if scientology's contemporaneous records of the events with Masterson exonerated him, they would have been turned over to the police. You can bet they gathered together "affidavits" from people claiming the victims are lying. This is standard scientology procedure (once again see Why Do Scientologists Lie?).  If they had real exculpatory evidence (like the notes from the interviews and all the Knowledge Reports that were written about these incidents, this case would have been dismissed. The only other explanation is that the records do NOT exonerate him. And in that case, scientology's "cooperation" becomes zero. In fact, it becomes obstructionist. When Laura DeCrescenzo sought to get copies of the files they kept on her, scientology was so uncooperative they appealed it all the way to the United States Supreme Court. And lost. Those files were NOT helpful to scientology. They supported what Laura alleged.
Why haven't the church officials who spoke to Danny Masterson and the victims (Chaplain? Angie LeClaire?) come forward. You can be sure they have been disappeared by now — probably to other countries. Just like Lisa McPherson's caretakers were.
When the IRS was closing in back in the 80's a bunch of scientology executives were sent to Denmark to be out of their reach. It's a standard operating pattern for scientology.
"a bigoted agenda"
Who is bigoted? The Daily Beast? The victims?
This is scientology's favorite bleat. "We are being abused by the exposure of our abuses."
No doubt what they meant to allege is that this "flap" is being pushed by Leah Remini and me. But the problem with that scenario is that though we spent a lot of time putting together all the facts on this and interviewed the victims, we were asked not to air the show so as not to jeopardize the prosecution. Hardly a "bigoted agenda" to throw a lot of time and money down the drain to NOT air an episode…
"The church cooperates with law enforcement. Any statement or implication to the contrary is false."
Well, this is the big lie here.
Here is what the FBI said in the summary of its report on the 2009-2010 human trafficking investigation:

Now, of course, scientology will say this is bs and the investigation "resulted in no prosecution" so therefore nothing about it is true. That is a lie — and in the words of David Miscavige, any statement or implication to the contrary is false.
But don't believe the FBI or me, let's look to "Source" for some wisdom on the subject from L. Ron Hubbard.
What follows IS what scientology operates on. This IS their law. This IS what they do and they cannot disclaim it.
And remember, these are just a few quotes from publicly available books. The really "juicy" thoughts from Hubbard on the subject have never been published but are contained in his "advices" — instructions he sent to senior scientologists when he was in hiding from the government and IRS. You can imagine his views about the government from that time. He spewed forth great venom and hatred towards government and all its agents. And that is what directs David Miscavige and the top echelons of scientology to this day.
But these earlier, more public writings will give you an idea of just how UNcooperative he wanted scientology to be with law enforcement (in fact, all government agencies).
And while reading these excerpts, understand that when the word "attacker" is used, this means anyone who is either speaking out, works for the media or is a member of any agency to look into the activities of scientology.
I have highlighted some key points in red.
This policy established what is known today as the Office of Special Affairs and it sets the tone for what follows.
HCO PL 15 AUG 1960 DEPARTMENT OF GOVERNMENT AFFAIRS
The enturbulence entered into Scientology activities by legal matters, tax matters, and matters of assisting governments to maintain stability, has sapped our time and fixed our attention to our own loss.
Now to remedy this situation, I wish to contain and cordon, in a military sense, this incursion and to prohibit utterly and completely such entrance (of these matters or our own project for governments) into Central Org or HCO comm lines.
All contracts, filings with the government, all tax reports and their preparation, corporation minutes, annual meetings, legal papers, suits against and by the corporation, whether HASI Ltd or HCO Ltd. all legal investigatory work and detectives, all contacts with government agents, bureaus and departments, all assistance to governments, messages to governments, handling answers from governments or courts shall be cared for by the department, whether to advance or protect Scientology or its corporations by government or legal channels.
In the face of danger from Govts or courts there are only two errors one can make: (a) do nothing and (b) defend. The right things to do with any threat are to (1) Find out if we want to play the offered game or not, (2) If not, to derail the offered game with a feint or attack upon the most vulnerable point which can be disclosed in the enemy ranks, (3) Make enough threat or clamor to cause the enemy to quail, (4) Don't try to get any money out of it, (5) Make every attack by us also sell Scientology and (6) Win. If attacked on some vulnerable point by anyone or anything or any organization, always find or manufacture enough threat against them to cause them to sue for peace. Peace is bought with an exchange of advantage, so make the advantage and then settle. Don't ever defend. Always attack. Don't ever do nothing. Unexpected attacks in the rear of the enemy's front ranks work best.
The goal of the department is to bring the government and hostile philosophies or societies into a state of complete compliance with the goals of Scientology. This is done by high level ability to control and in its absence by low level ability to overwhelm. Introvert such agencies. Control such agencies.
Here is another policy letter concerning investigations into scientology:
HCO PL 15 FEB 1966 ATTACKS ON SCIENTOLOGY (Additional Pol Ltr)
NEVER agree to an investigation of Scientology. ONLY agree to an investigation of the attackers
Don't ever tamely submit to an investigation of us. Make it rough, rough on attackers all the way.
Hubbard expanded upon his theories later that year, including a section about how to deal with government agents he called "Methods of Balking":
HCO PL 26 DEC 1966 PTS SECTIONS, PERSONNEL AND EXECS
METHODS OF BALKING
There are several methods by which a staff member acting as an org contact point in connection with suppressives can balk the agents of SP groups.
One is to always tape record visibly whatever the agent from such a suppressive group says. "Ah. Mr. Figuretwist of the Tax Division? Good. Now wait a moment so I can record whatever you say. Good. It's now recording. Go ahead." We used to handle the Internal "Revenue" Service of the US this way quite successfully. The org contact point always stopping the IRS inspector they sent around, turning on a portable recorder and then, and not until then, letting the man speak. Quite effective. That org only got into tax trouble when it stopped doing this.
One must put them in Coventry (silence treatments from staff other than the contact point). Staff members of a unit that could go PTS must be ordered to walk off without a word whenever such an agent shows up.
No "bull sessions" or arguments with such a person. The staff personnel who handles should point at the agent if other staff is about and say some key word like "This is a government man" at which all other staff in the unit turns its back or pointedly walks off. If you do this such agents can't take offence but they get very uneasy, transact quickly, forget their mission to be enturbulative and go away soon. Don't ever think politeness will help you. Tipping one's hat to snakes never stopped a person getting bitten. Walking off has.
There are no good reporters. There are no good government or SP group agents. The longer you try to be nice the worse off you will be.
When such agents act or sound very suppressive, get them investigated, find the scandal and attack. It is a fortunate truth that such people also have crimes in their background that can be found. Find and expose them.
And this is the granddaddy of Hubbard-think on handling matters of justice the "Scientology way." It too contains a section specifically about how to deal with investigations:
THE HCO MANUAL OF JUSTICE
WHEN BEING INVESTIGATED
If you are being investigated or if the Central Organization is – sit tight, don't co-operate.
Be legal according to the laws of the land in the first place. After that kick investigators or reporters downstairs.
Press interviews usually end up as entheta or they are cover-ups for an investigation. Never co-operate. Be indifferent. Don't let the central organization co-operate with "press" ever. That's a lesson hard to learn. Press people are so persuasive. They are going to "help" so much. Look at a newspaper. Is it helping anybody?
Press and other queries are counter-investigation.
Never spook if investigated. And don't co-operate. Sit tight. Be silent. Make the investigator talk. Gradually put him into session if you can. Put him in birth or get him three feet back of his head. But don't co-operate or volunteer data. It's not that you've anything to hide. It's just that investigators can't duplicate. They pervert things they "hear".
Your whole answer to anyone is "This is an institution that has a definite high standing throughout the world, Why don't you see our attorneys?" This kills press and cops alike.
I've seen an outside investigation of a guiltless organization put the whole place in a flap and cost it two days' work or more. I've seen an organization fall apart by suspending operation for ten days while it permitted itself to be investigated. So don't co-operate. If you don't scare or cringe, the menace fades away.
Like I said, just a sampling.
Scientology says one thing and does the opposite. It is almost a law of nature. If scientology says they are not beating people, they are. If they claim to be against human trafficking, they are doing it themselves. If they announce massive expansion, they are contracting.
Based on my experience I am 100% sure scientology is NOT cooperating with law enforcement on the Danny Masterson case and have in fact engaged in a pattern of conduct designed to obscure the truth and cover up anything that might reflect negatively on scientology. That is the nature of the beast. Regardless of their protestations to the media.