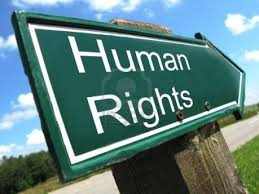 I have in the past analogized Scientology Disconnection to the evils of Segregation overtly practiced in the US until the mid 60's.
It bears repeating and seems especially appropriate on this, the 50th anniversary of the "March on Washington" and Dr. Martin Luther King's famous "I have a dream" speech.
I believe that if the church was no longer able to control its followers through the threat of disconnection, there would be virtually nobody remaining loyal to David Miscavige and his Empire of Vampires.
While Tommy Davis famously, and other church representatives not so famously, have stated "there is no such thing as disconnection" there isn't anyone educated on the subject of Scientology that does not know this is a lie.
The usual pattern is to make a blatant statement ("There is no such thing as disconnection") and then tack on a phrase at the end "as you describe it." They can always then explain that there was some minor inaccuracy in the statement that was made, or resort to their old standby "Nobody is FORCED to disconnect. It is their personal choice."  For anyone unfamiliar with the actions of the "church" I will explain precisely what this means with a hypothetical example.
Mr. and Mrs. Smith are faithful Scientologists in good standing with the church. Both work in companies owned by Scientologists. They have 3 children and each of them have 2 grandchildren. Two of their children (John and Mary) are in good standing with the church, and are married to other Scientologists.  They all work with other Scientologists and their children attend Scientologist owned schools. The second son (Frank) has not been on church lines for some years. He freely accesses the internet and reads "Entheta" and has a declared SP as a "Facebook friend."
The church hears about Frank from their "Facebook Police" who report that he is in touch with a "declared SP" and has mentioned on his FB page that he has read stories in the Tampa Bay Times about abuses ongoing in the church.
The Smiths are called in by HCO. They are told there is a situation with Frank and they have a duty to get their son to "unfriend" the SP on Facebook and to stop reading "entheta" on the internet.
The Smiths are good Scientologists and feel they must do what their church tells them. They speak to Frank and he laughs at them. He tells them he is a grown man and he will be friends with whoever he wants and isn't going to stop reading the internet. He tells his parents that he loves them and respects their choices and would never interfere with the way they choose to live their life and expects the same courtesy from them. He finds it all rather strange and gives his mother and father what will be their last hug and tells them he is looking forward to their annual reunion.
Mr. and Mrs. Smith report back to HCO. The Ethics Officer opens Introduction to Scientology Ethics to page 312 and reads them the following "High Crime": Continued adherence to a person or group pronounced a Suppressive Person or Group by HCO. The Ethics Officer informs them that Frank is now officially designated a Suppressive Person by HCO for committing this High Crime and asks them whether they plan to disconnect from him and their daughter-in-law and two of their grandchildren.  They know the consequence of NOT disconnecting will be for them to be declared and thus lose their jobs and their other two children and 4 other grandchildren. This IS the "choice" they are given. And yes, technically, they DO have a choice — they can walk out and tell the Ethics Officer they will not disconnect from one son and lose the other two and their jobs.  So, they call Frank and tell them they will no longer be communicating with him until he "handles himself with HCO."  And that is the end of another happy family.
It is beyond reprehensible for the "church" to offer "Sophie's Choices"  like this and try to convince an uneducated media and public that it is in fact a "choice."  
Just like the segregationists in the 1950's and the early 1960's church members today believe it is their God-given right to control and abuse people in this fashion. If pushed beyond the lies they will assert they are practicing their "religious belief" and it is protected under the United States Constitution (not sure what they rely on outside the US, but the US is where the pattern and practice is set). And to that degree, they are right, just like many segregationists justified their immoral and inhumane treatment of non-whites by proclaiming they were good christians who attended church on Sundays and practiced the teachings of the Bible. They also asserted they were acting within the law — and until the passage of the Civil Rights Act of 1964, that was at least somewhat true. And they too tried to sugar coat their immoral and inhumane actions with lies like "the negros are happy that we are providing drinking fountains for them" and "they don't want to mix with the white folk anyway." Grotesque today, but said with conviction and a straight face in 1961. Just like Tommy Davis' "It's a personal choice."
The church and many others believe there will never be any legislation that outlaws the practice of disconnection or shunning like the Civil Rights Act that effectively outlawed segregation. It is "protected" by the First Amendment. But there has been precedent. Polygamy was outlawed for being a violation of public sensibility even though it was a religious practice of the Mormon church.
But what REALLY changes wholesale violations of human rights is a shift in public perception and the raising of social conscience. The long struggle to end segregation that resulted in the Civil Rights Act was preceded by a change in public opinion. And that change was brought about by voices speaking out against the abuses and standing up for human dignity.  And a long process of education and exposure.  Putting FACES to the nameless abuses. The first who spoke were not heard widely and many suffered at the hands of the very oppressors they were seeking to civilize. But, more voices joined the outcry and soon it could not be ignored and the oppressors became an unpopular minority.
My hat is off to those who HAVE been standing up and doing what they can to bring an end to this abusive practice. Lori Hodgson, Cindy Plahuta, Claire Headley and Karen DelaCarriere spring to mind — but there are MANY others (and if I did not mention you, please take no offense). They should all be applauded and supported in any way. 
One thing is for sure, there will be no INTERNALLY generated change. Hierarchical religious organizations do not traditionally change their immoral practices unless forced to do by outside pressure — public opinion, including the media and the courts. Exhibit 1 – the Catholic Church and rampant abuse of young boys. Exhibit 2 the Mormons changing their rules to allow African Americans into their temples in 1978 (yes, 15 YEARS after the Civil Rights Act). 
It is the change in public opinion that alters how society addresses these sort of problems. 
And that comes about by raising awareness.
There is an old adage by L. Ron Hubbard that seems especially relevant here: Constant alertness. Constant willingness to fight back. That is the price of freedom.
And from Martin Luther King: Our lives begin to end the day we become silent about things that matter.
Update: Someone just sent in this version of Way to Happiness that is being distributed in Clearwater today. It is amazing how a group of people who are breaking up families and violating fundamental freedoms of speech, thought, association and religion can so blatantly attempt to associate themselves with human rights icons. I am adding their MLK quote to the post above as appropriate to bringing an end to the abuses perpetrated by the Church of Scientology.