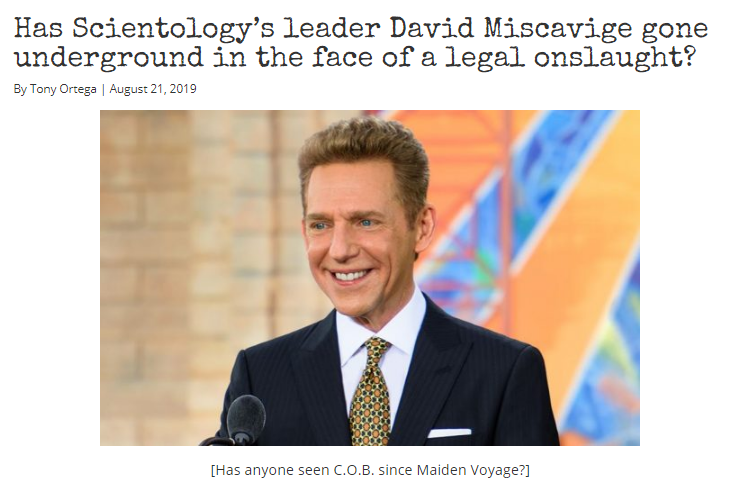 Tony Ortega recently posted an article Has Scientology's leader David Miscavige gone underground in the face of a legal onslaught?
It prompted a few thoughts.
I have long said that I thought Miscavige's inevitable trajectory would be to follow in the footsteps of Hubbard. Despite all the ONE thing he must continue to do is use Hubbard as his front. He MUST continue to present himself as the anointed successor to Hubbard. Much as he might have "replaced" Hubbard and set himself up as "Source Jnr" with his various iterations of "Golden Age of Tech", there is no doubt that if he overtly proclaimed himself the new Source, he would lose the support of vast swaths of public and staff (for the most part at this point, the Sea Org would be with him as they have been far more conditioned to the infallibility of "COB").
Like Hubbard he has already gotten rid of the only person that had any possibility of restraining his insanity — his wife Shelly. The end of Mary Sue was the last straw of sanity in the life of Hubbard. Though neither of them had enormous influence over their husbands they were the ONLY moderating force at all with access to them.
Hubbard was paranoid about being served and vanished in order to "finish his research." This was the public shore story. The story at the top was that he HAD to vanish so he could not be served with a subpoena in either a civil or criminal matter. Those around him were told in no uncertain terms that it was their job to get an "All Clear" for him so he could return to "normal" life running scientology as he had been doing for many years (despite what was represented to the IRS). This is how Miscavige rose to prominence in scientology. As the "Action Chief CMO Int" he was supposed to run the "Sea Org Missions" (using Hubbard's "Mission Tech") that would accomplish this objective of making it safe for Hubbard. He quickly assumed the invented title of "Special Project Ops" to run those Missions and then formed "Special Unit" which was sort of one big "Mission" that encompassed the "All Clear Unit". This then morphed into Hubbard's personal "Literary Agency" (ASI – Author Services Inc) and Miscavige took over that with the key people who had been in Special Unit including Norman Starkey, Terri Gamboa, Lyman Spurlock, Greg Wilhere and Marty Rathbun. Once Hubbard died Miscavige shifted over to assume control of RTC. The rest, as they say, is history.
Miscavige now confronts a similar dilemma to Hubbard. He knows that if he is dragged into one suit he will be dragged into many more. And his activities and lies will unravel quickly.
Like Hubbard he has to avoid courtrooms at all costs.
But sooner or later, this also means avoiding public appearances. Until there was a lawsuit naming him, he had some assurance that there could be no surprise. Nevertheless, the security for the few appearances he has been making (exclusively at events and ribbon cuttings in the last few years) is high. Lots of hired PI's and off-duty law enforcement to keep anyone unknown away. Screened entrances and exits. Photo ops only with screened dignitaries and no "mingling" with the riff-raff.
This scenario is still a relatively safe environment to prevent civil service. But it would not prevent law enforcement from serving him. If they know where he is going to be, there is no PI that can prevent a Federal Marshall, local law enforcement or the FBI from conducting their business in order to serve him. They can certainly sound the alarm and the COB can try to slip out a back door, but it's not likely he would be able to pull that up.
But, in civil litigation there are also procedures for serving people who are trying to avoid lawsuits. The corporation he runs (RTC) cannot avoid service, because every corporation must have an agent of service. And corporation employees, even executives, ultimately can be forced to appear in court if a judge believes they are integral to the full administration of justice. This is why the Val Haney lawsuit is so significant. A lot of the things contained in that lawsuit concern the actions of Miscavige himself. No underling can come forward and say "I am competent to answer these questions" — though they will of course try this to keep Miscavige out.
The only real play they have is to claim they have no way of contacting Miscavige (this is what was done with L. Ron Hubbard in the Probate Case filed by L. Ron Hubbard Jnr). In some respects it IS true. Miscavige had no idea where Hubbard was or what he was doing. He knew how to make a call to reach out to Pat Broeker, but he could not control whether Broeker showed up for a meeting.
But Miscavige going to the mattresses would need to be explained to staff and public. OSA and execs in RTC would be getting enormous heat to "get rid of the litigation" and get an "All Clear" for Miscavige. Life will become more unpleasant than it already is. Miscavige would likely go somewhere very remote. Perhaps to begin with the CST property in Trementia, NM. But if things got too hot in the US, he might decide to go overseas. Colombia perhaps? Ireland? Or somewhere completely off the beaten path of the world.
To the public and lower level staff, it is likely the message will be "LRH left an enormous volume of technical research that needs to be compiled and released. This has been delayed for 30 years. Hubbard entrusted COB RTC with this responsibility [actually it was Ray Mithoff] but he has been so busy expanding orgs and establishing scientology's religious status that this has been neglected. Mr. Miscavige needs to be distraction free in order to accomplish this in peace and quiet. So, others will pick up the slack and he will devote himself full time to bringing you ALL the tech. You will see the results of this soon…"
Hubbard of course had established the Watchdog Committee and International Executive Strata to "take over" from him and he told the world this was his plan.
Miscavige has completely decimated the international management structure of scientology. This is a problem and a terribly stressful decision he has to make. If he runs and hides, the idiots he leaves in charge may sell the farm before he has a chance to prevent it… But he has little choice. No doubt a few of the old "tried and true" [failures] will be dusted off and sent out to appear in public again. Mary Yager, Guillaume Lesevre, Ray Mithoff and Norman Starkey. Heber Jentasch is too infirm to be of any use at this point.
Ultimately, Hubbard descended into complete paranoia as he sat in his motorhome at Creston, disassociated from the world.
Is that where Miscavige is heading?
I think the chances are high.
Footnote: When Miscavige feels things are slipping out of his control and people need to be reminded of his incredible genius, the "Turning Point" event (93 IRS Victory lap event) is pulled out and all orgs are made to re-show it. There is a BIG push on this right now…