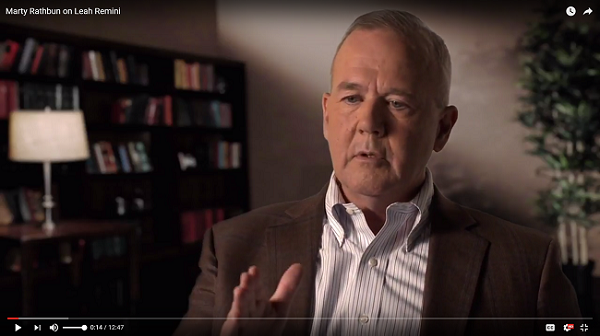 The spiders on Marty's walls are getting larger and more active and he appears to be increasingly more concerned that he has to explain his hallucinations to the world.
I have tended to ignore pretty much everything he has said, and I could care less what he says about me personally (all anyone need do is go back and look at many of his laudatory comments about me to see that both versions of me that he preached about cannot be true).
But I do not appreciate him taking aim at people who have suffered harm at the hands of scientology and calling them liars. Especially when they have become the target of his lies and vitriol only because they agreed to appear on Scientology: The Aftermath.
His latest (5th) video in his (so far) 26 part series about Scientology The Aftermath is an all out assault on the contributors.
Apart from continuing to repeat his completely false assumption that the show is "so obviously scripted, rehearsed, acted and dramatized every step of the way it's a whole new level of false impression" (as he constantly looks down to his notes to make sure he is covering all the points he is supposed to get out), he rambles on thus:
"The people who participate don't even have to have a story. Which in fact, none of them to date that I have seen through Season 1 has a story worthy of news. How do I know? Because I knew these people 9 years ago when the news was reporting some of the stuff that was going on the previous 10 to 20 years when the news was interested in… haha, OK, heh… they didn't make the cut then but they make the cut now because they'll say whatever they are saying…" 
The layers of lies he employs to diss the people who have been brave enough to come forward to recount their experiences is Shermanesque.
Let's look at who the contributors were for Season 1:
Matt Pesch and Amy Scobee
Tom DeVocht
Jeff Hawkins
Mike Rinder and Christie Collbran
Marc and Claire Headley
Mary Kahn
Aaron Smith-Levin
Lois, Gary and Brandon Reisdorf
Ron and Becky Miscavige
According to media expert Rathbun (who does not even understand that a "reality tv" show is not a "documentary tv" show) not a single person on this list has any story worth telling. And of course, he knows this because he knew about them 9 years ago and the media didn't care about their stories enough to be newsworthy then.
Let's fact check that assertion first.
The only people who were NOT featured in the St Pete Times coverage 9 years ago (actually it was 2009 that Marty first began his media activities in the Truth Rundown series in the SP Times) are: Mary Kahn, Aaron Smith-Levin, the Reisdorfs and Ron and Becky Miscavige. Mary, Aaron and the Miscavige's had not left scientology at that time. Of course Ron Miscavige has most definitely been the subject of a lot of "newsworthy" coverage.
Somehow, Rathbun the self-proclaimed arbiter of good news and tv, doesn't have his facts straight?
But if the standard of what is "newsworthy" is based only on what has been reported before then there can never be any NEW information.
But his "reasoning" is also flawed based on these FACTS: Scientology: The Aftermath is the highest rated show on A&E, is uniformly critically acclaimed, has generated a massive social media presence and is now at the forefront in the annual tv awards nomination season. Of course, Rathbun is entitled to his opinion about whether a tv show is good or bad. What is less excusable than his bad taste is his deliberate lies directed at those who have been damaged by scientology.
He holds himself out as an all-knowing guru of what is right and wrong concerning scientology — he does not offer  "opinions" he offers "expert pronouncements" proclaiming these victims are liars and don't have anything worthwhile to say.
Victim shaming is an art refined in scientology. The very term "victim" is a slur in scientology. You are considered to have "pulled it in" in scientology if anything bad happens to you — it is literally "your fault." Critic Rathbun is carrying on in that same fine tradition.
And just as a final note — he makes generalized criticisms about how things are "interpreted" and "twisted" and "spun" without a single specific offered. Marty, how about in the next video you name a single specific that you object to?
Addition:
Part 6 has just appeared (I wonder if he has any other clothes) in which Marty proceeds to trash Amy Scobee. While calling her and Mat his "friends" and saying he has "nothing against her" he gives her the Marty friend treatment and calls her a liar and opportunist engaged in some grand conspiracy (he is sounding more and more like Alex Jones with his concocted theories of grand plots and long term plans).
I guess he didnt actually WATCH the episode about Amy and her mom. Accusing her of taking advantage of the death of her mother to be a "TV star" and "get a job in Hollywood" is beneath disgusting.