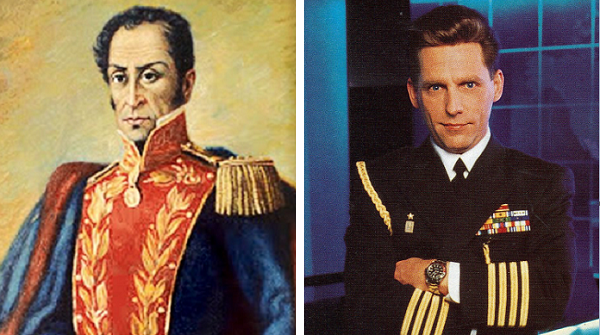 This is an essay contributed by Brian Lambert. An interesting topic for sure, and one of the things hammered in by Miscavige.
If you have never read Hubbard's writing of this title, there is a link at the bottom of the article. I suggest you read the document as this essay will not make a lot of sense without reading what Hubbard wrote.
Also, it is important to note that the other thing hammered in by Miscavige along with Responsibility of Leaders is "Keeping Scientology Working" — the demand that Hubbard's words, and his alone, be followed to the letter. While some will try to excuse the Responsibility of Leaders as allegory, to scientologists there really is no such thing. If L. Ron Hubbard said it, it becomes truth. If he writes Bolivar failed because he didn't blackmail his political enemies, then blackmail is acceptable if it is for "the greatest good" (ie will help scientology, Hubbard, or today Miscavige). Had Hubbard wanted this to be understood as mere musings on a subject, it would not have been issued as a POLICY of the organization, to be studied as part of numerous courses on how to "run" scientology and how to deal with "ethics."
Brian's views are more black and white than I would be willing to offer on this single writing being the cause of so much. But it is an interesting perspective and one that certainly has merit. He may well be right on the money. I shall be interested in others thoughts on this subject.
THE RESPONSIBILITY OF LEADERS
The L Ron Hubbard doctrine on power; an instruction on violence to protect and keep power; the basic basic doctrine that educated David Miscavige on the virtues of leadership thuggery. (link to full text is at the end of this essay)
These seem to be never ending questions:
How did Scientologists end up being so inhumane and heartless?
How can David Miscavige live with himself?
How can Scientologists not see that what they are doing is just wrong, indecent and evil?
This essay seeks to give at least some sort of answer to those questions.
These inhumane traits are no accident. They were acquired through Scientology training. Just as The GE is a Family Man denigrates the family unit, The Responsibility of Leaders numbs and occludes our innate sense of right and wrong; conscience. The result is inhumanity as a style of Scientology leadership; for the "greater good."
My purpose in writing this essay is to connect the dots between L. Ron Hubbard's writing The Responsibility of Leaders and David Miscavige's character development from a young, angry, naive boy; into a tyrant devoid of conscience and common standards of decency. It is my belief that David Miscavige was, to a very large degree, created by L. Ron Hubbard's writings. Once The Responsibility of Leaders became internalized, accepted as true, and applied by David, the violence trickled down into the organization; as a "religious" responsibility. The destruction and violence against critics, common citizens, fellow Sea Org members, and the family unit, then became an essential religious rite designed to save the universe by protecting the god father of the Scientology regime; through violence. The political philosophy of The Responsibility of Leaders became David Miscavige's instruction manual for leadership in the Church of Scientology. It is an accurate reflection of his personality and answers the question, "how did he get like this?"
The writings in Scientology are an instruction manual that implants (just had to use the word 😉 world views and behaviors. When A happens, then apply B for the desired outcome. This is what the Scientologist means when they use the word "tech" or "Scientology Technology." You read it, accept it as true, because Ron says so, and then do it; without question! David Miscavige's behavior comes from Ron's instructions. Those instructions come in the form of policy letters, HCOBs (Hubbard Communication Office Bulletins) and various other Hubbard media.
"If it is not in writing, it is not true." L Ron Hubbard
This L Ron Hubbard quote, is a basic rule, that ALL Scientologists know and obediently follow literally. It IS understood by Scientologists to mean that all of Ron's writings are true. Altering the meaning of his words is a Scientology mortal sin which can be met with punishment, reprograming and excommunication. The above Ron's quote is the very definition of the word fundamentalism. Ron was taken very literally. It was demanded.
It is my thesis that David Miscavige took The Responsibility of Leaders very literally because he assumed power and now had an instruction manual for leadership and an instruction manual for the responsibilities of subordinates.
The Responsibility of Leaders was not just an important Scientological text for Miscavige, but was and is, his ideological blueprint that gave instructional inspiration for his reign of violence and terror.
FIRST HAND ACCOUNTS
On Tony Ortega's indispensable site http://tonyortega.org/2013/11/21/the-ethics-of-political-power-scientologys-worship-of-ruthlessness/ Jefferson Hawkins gives this account of David Miscavige's devotion to the importance of The Responsibility of Leaders:
"I'm not joking. He had everyone on the Base read it and word clear it many, many times. If you disrespected him in any way you got crammed (intense study) on it. If you failed to comply with his orders you got crammed on it. And one year, he even sent specially bound copies to all of the top celebrities so they would know what was expected of them."
Mike Rinder said something similar:
"Miscavige considered the Bolivar PL (policy letter) to be enormously important for everyone around him to understand.
"He and his minions repeatedly demanded those at international management level read, re-read, M9 (M9 is a method of studying and defining the words being studied) checkout (checkout is a testing that you know what you read) on this PL.
"It was his intention to get everyone to understand that he needed to be supported. That it was HIS power on which everyone else lived. And he didn't have to insist on it for himself, he could use LRH to do it for him. With no LRH around to "flow power to", Miscavige was "Bolivar"…"
Other former executives have confirmed that The Responsibility of Leaders was the blueprint for David Miscavige's violent take over in the early 80s.
THE POWER OF WORDS — LRH's rhetorical teaching method using violence
Simon Bolivar was a Venezuelan military and political leader who played a leading role in the establishment of Venezuela, Bolivia, Colombia, Ecuador, Peru and Panama as sovereign states, independent of Spanish rule, born July 24 1783 and died December 17 1830. Bolivar and his consort Manuela died penniless after a life of political power and prestige.
Ron wrote the story of Bolivar as a warning to those in power; that to keep power, we must be able to do despicable acts, when necessary, and overcome any repulsion of committing those acts and expect that those who serve under you commit these acts as well. All in the name of successful leadership.
That IS the imagery Ron uses to teach with.
L Ron Hubbard wrote The Responsibility of Leaders as an analogy of how not to fail in leadership and how those who support leaders fail in that support. Ron uses the real life of Simon Bolivar and his consort Manuela to make his point. The Responsibility of Leaders is broken down by Ron into two parts: first the story of Bolivar and Manuela and second Ron's recap and advice of what the couple should have done, but failed to do, to be successful. But he is really instructing Scientologists on how to protect Ron. Who else is reading this? Ron did not wake up one morning and decide to give a history lesson.
These are just some ideas that Ron came up with as advice that should, or could be used to secure power:
– murder ("pink legs sticking out"….. Remember this line. You'll get to it below.)
– assault and battery
– bribery
– brutal violence against children
RON QUOTES FROM THE RESPONSIBILITY OF LEADERS
"He (Bolivar) never began to recognize a Suppressive and never considered anyone needed killing except on a battlefield" (murder)
"It is a frightening level of bravery to use men you know can be cruel, vicious and incompetent."  (maybe that's what LRH saw in Miscavige)
"Yet never did she (Manuela) promise some young officer a nice night or a handful of gold to do it (kill) in a day when dueling was in fashion." (having sex with someone with the exchange that he kill )
"She (Manuela) never used a penny to buy a quick knife or even a solid piece of evidence." (murder)
"She (Manuela) never bought a plank or a rope." (murder)
"She (Manuela) was not ruthless enough to make up for his (Bolivar's) lack of ruthlessness…………." (ruthlessness as a desirable virtue for successful leadership; sound familiar? And I just realized that is the name of the book David's dad wrote about his kid; Ruthless)
"She (Manuela) never handed over any daughter of a family clamoring against her to Negro troops and then said, "Which oververbal family is next?"  (child abuse and possibly child rape and murder. This was in Ron's head as a viable option!!!!!!!!!!!)
"Life bleeds. It suffers. It hungers. And it has to have the right to shoot its enemies until such time as comes a golden age." (murder)
"When you move off a point of power, pay all your obligations on the nail, empower all your friends completely and move off with your pockets full of artillery, potential blackmail on every erstwhile rival, unlimited funds in your private account and the addresses of experienced assassins and go live in Bulgravia and bribe the police." (sounds like a successful mafia boss giving advice, not a prophet of the Buddha)
This last quote is an instruction for those who serve a leader. It instructs them to commit assault and battery and murder, but don't bother the person in charge with the details.
"He (the person in power) doesn't have to know all the bad news and if he's a power really, he won't ask all the time, "What are all those dead bodies doing at the door?" And if you are clever, you never let it be thought he killed them—that weakens you and also hurts the power source. "Well, boss, about all those dead bodies, nobody at all will suppose you did it. She over there, those pink legs sticking out, didn't like me." "Well," he'll say if he really is a power, "why are you bothering me with it if it's done and you did it. Where's my blue ink?" Or "Skipper, three shore patrolmen will be along soon with your cook, Dober, and they'll want to tell you he beat up Simson." "Who's Simson?" "He's a clerk in the enemy office downtown." "Good. When they've done it, take Dober down to the dispensary for any treatment he needs. Oh yes. Raise his pay." Or "Sir, could I have the power to sign divisional orders?" "Sure." ( this is LRH instructing the GO/OSA/Sea Org and devoted disciples in the proper etiquette of crime around a leader)
CONNECTING THE DOTS
I am not attempting to lessen David Miscavige's responsibility with his inhumane acts. I am trying to connect the dots between the doctrinal ideology that entered his mind as a young naive boy. And having entered his mind, now becomes action; an application of a philosophy.
In the post World War Two Nuremberg trials, many nazis said, "we were just following orders." There are two things in play here: 1) the ideology of Adolf Hitler and 2) the agreement and activation of that ideology by willing subordinates.
The Responsibility of Leaders is the doctrine that became an obsession for David Miscavige. It became his character. It became his leadership style. It gave him the blueprint for taking over the church by justified, Ron sanctioned brutality. And anyone that got in his way was ruthlessly dealt with. After all, L Ron Hubbard said,
"She (Manuela) was not ruthless enough to make up for his (Bolivar's) lack of ruthlessness…………."
L Ron Hubbard right here, with these words, is instructing to not be a pussy, a panty waist dilettante, and to develop ruthlessness as a trait of successful leadership.
ruthless adj:  ruthless killers: merciless, pitiless, cruel, heartless, hard-hearted, cold-hearted, cold-blooded, harsh, callous, unmerciful, unforgiving, uncaring, unsympathetic, uncharitable;  remorseless, unbending, inflexible, implacable; brutal, inhuman, inhumane, barbarous, barbaric, savage, sadistic, vicious.  ANTONYMS  merciful.
So tell me — who comes to mind when reading this definition?
Imagine David Miscavige studying, word clearing and clay demoing this sentence on Bolivar's lack of ruthlessness. Connect those dots. Ron's words are meant to be applied. Ron's words are the source of David Miscavige's character development.
"It is a frightening level of bravery to use men you know can be cruel, vicious and incompetent." 
This idea is the stuff of mafia. Ron here is equating the virtue of bravery with using cruel and vicious people to serve under you. And that to be brave, you have to overcome fear of using vicious people. I say it is not fear that needs to be overcome;
It is one's innate, spiritual, natural sense of conscience, natural sense of right and wrong that gets denied, numbed and overcome. And that is what happened to David Miscavige. These instructions, studied and applied, created a ruthless madman devoid of conscience and decency.
THE DEATH OF CONSCIENCE
conscience n. 1. The awareness of a moral or ethical aspect to one's conduct together with the urge to prefer right over wrong: Let your conscience be your guide.  2. A source of moral or ethical judgment or pronouncement: a document that serves as the nation's conscience. 3. Conformity to one's own sense of right conduct: a person of unflagging conscience. 4. The part of the superego in psychoanalysis that judges the ethical nature of one's actions and thoughts and then transmits such determinations to the ego for consideration.
David Miscavige was a youth when he met Ron. He met Ron during his angry, looney, rage fits phase while filming those tech films. So here is the king of the universe, the prophet of the Buddha, the savior of mankind acting like an asshole. Conclusion: powerful messiahs need to punish and yell to get things done.
Add to all of this Ron's doctrines on the evils of critics, Bolivar and actively seeking to destroy people and you have; the death of conscience.
Could it be that David Miscavige is also a victim of Scientology? And his belief in Ron's unique messiahship? Of following blindly the advice in Bolivar?
Could it be that David Miscavige had issues, personal and emotional issues, as a young boy, that were made diabolically worse by the insane brutality that inhabited L Ron Hubbard's thoughts?
The advice in The Responsibility of Leaders leads faithfully and most assuredly to a demoralizing corruption of the soul and the death of conscience.
LINK TO THE RESPONSIBILITY OF LEADERS
Thank you for your time,
Brian Thomas Lambert
Hiddenstory Productions
Mystic Romance Music