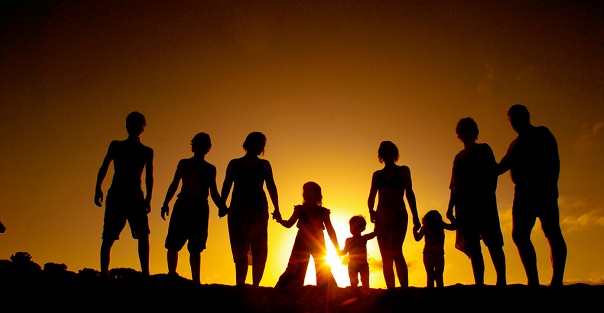 This article is contributed by one of long-term commenters on this blog, Brian. Always welcome different views and perspectives.
The GE is a Family Man: How L. Ron Hubbard severs the sacred bonds of Family
(Note: GE means Genetic Entity. I will discuss what that is in this essay)
"Your beliefs become your thoughts,
Your thoughts become your words,
Your words become your actions,
Your actions become your habits,
Your habits become your values,
Your values become your destiny."  
—Mahatma Gandhi
My purpose for writing this post is to connect the dots between L Ron Hubbard's writing called "The GE Is A Family Man" and the heartless disregard that Scientology exhibits when destroying the sacred bonds of family. Since Ron has always drummed into us that Scientology is an applied philosophy, I will take him at his word, that he wants us to actually apply, in the real world, his words, theories and instructions.
Before I enter the GE Is A Family Man writing on this page, I want to first show you that it IS applied in the church. On a post on Marty Rathbun's site Moving On Up A Little Higher dated October 11, 2013 named "Scientology and the Sea Org" I presented this writing,The GE Is A Family Man, and theorized that this denigrating doctrine is a basic basic doctrine that instructs the Scientologist to see family bonding and loving emotional connection as an aberration and weakness.
One of the respondents to my post was Laura DeCrescenzo. She is presently suing the church for enforced abortion. This was her response to my post:
"Thank you for posting that — I remember being shown that exact quote while in the RPF being handled to "not want kids."
Ron's words have consequences in the real world. They do get applied.
Ron defines what a GE (Genetic Entity) is in his incredibly wild and strange book A History Of Man. Here is a link to a pdf of this book. You'll find the description of the GE on page 6.
https://vinaire.files.wordpress.com/2013/07/history_of_man.pdf
.
One line in this definition I want you to remember is "This is the "mind" of an animal, a dog or a cat or a cow."
For those who do not want to wade through the amazing imaginings of L. Ron Hubbard, basically Ron postulates that there is a low quality non-physical being. A sort of stupid psycho ghost that inhabits our physical body. It is not a soul (thetan) but a kind of unthinking force that builds the body and craves to build other bodies.
No one philosopher or sage has ever come up with this theory. Like much of Ron's work, he is the "only one" intelligent enough to discover this stuff.
I present to you the family destroying doctrine of The GE is Family Man
LRH, From the taped lecture "Flows: Patterns of Interaction" 10 December 1952:
"The GE is a family man; the GE is lost without a family. It's very strange, but Homo sap (homo sapien) is a family unit. The GE is built on that basis. It's fascinating, fascinating. It's not important to know it but a lot of your urges toward families and so forth are not thetan urges at all, they're the GE. The GE can't survive at all without a family unit. He's just as dead as a mackerel if he isn't a family unit, whereas your thetan is just dead as a mackerel if he gets too mixed up in family units.
You can't talk to GEs; they're kind of psycho. And by the way, you can fall into this dreadful trap with a GE. You see, he uses the MEST universe with which to build. He's gotten very, very bad off and he has to use MEST materials all the time.
So, you get this situation here with the GE, and your GE is busy: build, build, build, build, and build. And, of course he's got to have a family to build with.
You get this terrific family thirst. And you get your GE surviving best and being loused up the most because of inter-family relationships.
And your thetan, by the way, can much more easily go into a group. Families are not good groups; they're bad groups."
What Hubbard is doing here is denigrating the need for families by assigning the source of that need to a psychotic entity. Not a sacred spiritual need between mothers, sons, daughters, fathers, aunts, uncles etc. etc.
Ron has the nerve to say it's not important to know about this, yet he denigrates the sacred bonds of family in one fell swoop. And that is not important? My theory is that once this delusional doctrine is agreed to, those natural needs of family bonding then gets redirected to Hubbard and Scientology. Those needs do not go away. The must go somewhere. They go to Hubbard and Scientology. Probably now to Miscavige.
Remember the line above:
"This is the "mind" of an animal, a dog or a cat or a cow.
" 
OUR NEED FOR LOVE AND FAMILY CONNECTION IS NO BETTER THAN THE MIND OF AN ANIMAL!
The "GE Is A Family Man" is L. Ron Hubbard's redefinition of family connection. It IS insidious. This doctrine has been used to justify family neglect and abuse within the church. It is evil. My definition of evil is that which causes suffering. Just look at how callous the church is towards the family unit and the emotional suffering it has caused. Just look at how easy it is for the church to split up families, children and loving sacred connections.
The reason it is easy is because Scientology is an applied "religious" philosophy. And the agreement and application of this doctrine relegates the sacred bonds of family to a psychotic genetic ghost who cannot be reasoned with. Family love, in essence, and the pain of enforced disconnection, is an aberration that needs to be audited out. "You can't talk to GE's; they're kind of psycho." Thus there is no patience or empathy for the heart-wrenching grief of families who are forced to disconnect.
All those banky (reactive mind) griefy mothers and fathers I guess needed to realize their love  for family is really the animal urges of the GE. Then get back onto clearing the planet unobstructed by loving families! On to making a sane, clear planet!
The emotional bonds to Hubbard, then become stronger than bonds to children, mothers and fathers. Just remember the disconnection horrors on Leah's show. And remember that Laura DeCrescenzo was given this garbage to read to undermine her natural instincts of motherhood. This doctrine is evil. It needs to be revealed and destroyed with reason and intelligence.
I end my essay with it with:
"Families are not good groups; they're bad groups." 
"And your thetan, by the way, can much more easily go into a group."
No doubt in my mind he is implying
Scientology. So your family love and bonding comes from a psychotic ghost and your desire for becoming a Scientologist is what real thetans do! That my good friends is the doctrine of a madman. And the source doctrine for the destruction of the family unit.
Brian Thomas Lambert (Brian)