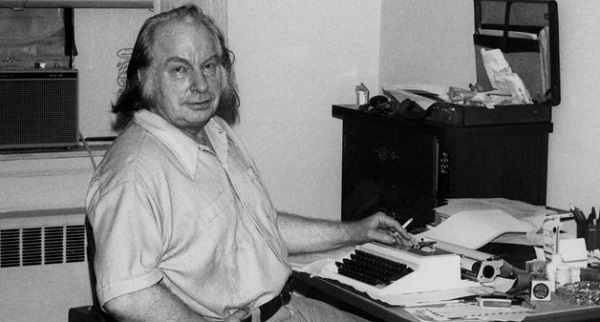 From our friend Brian Lambert, another in his series of essays about the Tone Scale.

These affirmations are the true representation of L Ron Hubbard. These affirmations are who he was – hidden behind the hypno-manipulation of his marketed messiahship.
Wrapping up my analysis of the Tone Scale
I cannot get past the thought that L. Ron Hubbard's tone scale is his delivery system for manipulating "meanings and melodies" of words. He states it in the affirmations as a goal. And what is the tone scale in essence? It's all simple words given a value, by numbers, which alter their "melodies" according to Hubbard's strategic, well thought through placement. Hubbard was not stupid. He knew the power of definitions. He created extremely exacting Scientology courses based on understanding the power of word definitions. This master of word definitions did not give number value to tone scale words arbitrarily.
Assigning low numbers to words like sympathy, that defines vital emotional intimacy, devalues the interpersonal loyalties of our human connections, through the redefining (demonizing) of emotions. The same redefining and demonization of familial loyalty is imprinted in the Scientologist's mind by Hubbard declaring "families are bad groups" in the GE is a Family Man.
Yet, there are just enough common sense linear numerical relations in the tone scale to make the mind say,"this is ALL true". Then, with the perverted numerical relations like grief, sympathy and accountable we simply accepted their position on the tone scale because "Ron said so." After all, it is in writing, so it's demanded to be perceived as true and enforced to be true under threat of punishment.
The tone scale seems so harmless and benevolent. But just look at what he did to grief, sympathy and accountability.
Without sympathy, accountability and sometimes tears there is no deep intimate familial relation. Through this perversion of words, loyalty and love between friends and family can be unwittingly devalued. It certainly is devalued in Scientology.
I sympathize with the pain of my family and friends, I cop to my shit with my wife (accountable) and sometimes cry for losing my mom or cry when I make a difficult learning breakthrough in my relationship with my wife. These are not "misemotions". They are the normal, natural tools and means of our emotional intimacy; something that is foreign to psychopaths and sociopaths who consider sympathetic emotions a weakness – lower on the tone scale.
Ron got us all to agree with the hypnotic command "Ron said so" and "if it's not in writing it's not true". The idea, "Ron said so," is the very mindset of freely accepting his ideas into our minds, that causes a bypassing of our ability to reason, doubt, question and be constructively critical. These sovereign powers of intellectual freedom are outlawed, hunted down, punished and destroyed in Scientology, by Ron's Stasi mind control of ethics (now there's a word: ethics – that has been definitionally degraded) and threats of black ops military style violence against families and individuals who dare to be free thinkers.
How Ron accomplished the enslavement of the minds of others is a never ending curiosity for me.I deconstruct sympathy, grief and accountable in earlier posts on this blog.
Now I'd like to take a look at 'body death' and it's perverted numerical relation with other words:
It is "Higher Toned" to be dead than accountable
How is it we never saw this absurdity?
Has anyone else ever thought about this? Please chime in and communicate your views.
Body Death is not an emotion! That is completely false. Body Death is a process of nature. Death is the destruction of forms and objects. It is NOT an emotion. It is definitional manipulation to define death as an emotion.
We can certainly have emotions regarding the idea or reality of body death: we can be happy, sad, afraid or feel terror towards death. Those are real emotions.
Death 0.0 on the tone scale is a physical process, it's not an emotion!
So why did he place this non emotion on the Emotional Tone Scale as a demarcation between positive and negative numbers? Those tones below death must be pretty darn non survival and aberated one would think.
Let's take a look at those words below death. Get ready for a WTF moment:
It's higher toned to be dead than be accountable!
It's higher toned to be dead than making amends!
It's higher toned to be dead than having pity!
It's higher toned to be dead than having regrets!
It's higher toned to be dead than feeling ashamed!
It's higher toned to be dead than blaming or being blamed!
It's higher toned to be dead than to have failed!
Anyone who attempts to justify and agree with these absurd numerical relations is experiencing mind control and is in a hypnotic state. They should be treated as a casualty of Hubbard's accomplishment of controlling the minds of men.
Tell me, do you think it's higher toned to be DEAD or ACCOUNTABLE?
Reason: Hubbard's Real SP
Only a little bit of reason and questioning will reveal the answer to the above question.
But the believing Scientologist cannot be reasonable or question or be open minded. It's a High Crime to question Ron. Teaching that questions and free thinking are High Crimes is the lynch pin that secures an enslaved mind.
Whatever Ron says goes directly into the mind and bypasses reason and logic – the essential intellectual powers of mind needed to separates lies from truth and acquire accurate knowledge.
If you cannot question something you cannot know it's nature. Unquestioned acceptance of information is a form of hypnotism.
Last Thoughts
Where are the affirmations:
My work will heal people
My knowledge brings happiness to others
I bring truth to confusion for others
I bring peace to discord
I transform hate into love – etc etc etc.
Compare these to "all men are my slaves" and you will know who this man was.
Lafayette Ronald Hubbard was a supreme master at psycho-manipulation to acquire power and status. Changing the meaning and melody of words is only one of the ways he accomplishes taking over your mind.
By degenerating the value and meanings of words that represent familial and friendship loyalties, Hubbard redirected those loyalties to him and his money making machine called Scientology.
Hubbard unwittingly reveals, with disturbing accuracy, the true character of Scientology in the definition of psycho-politics that HE wrote in the Brain Washing Manual:
"The art and science of asserting and maintaining dominion over the thoughts and loyalties of individuals, officers, bureaus, and masses, and the effecting of the conquest of enemy nations through 'mental healing."
Welcome to the world of Scientology. To quote Mike Rinder – "What the f#@k were we part of?"
The Tone Scale

Brian