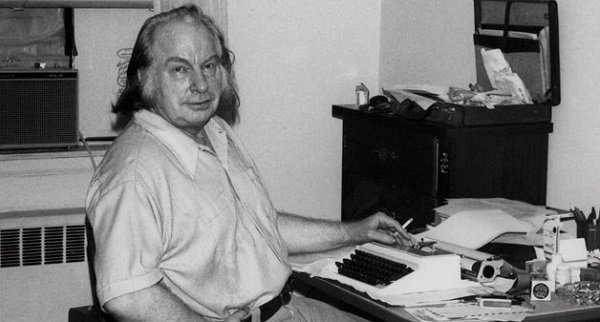 Another essay from our old friend Brian Lambert about the writings of L. Ron Hubbard. 
"You are grandmaster of words and can do with them as you will. You know what they mean to others. You know how their meanings and melodies affect others"
– from L Ron Hubbard's Affirmations.
Grief
In my past experience with studying Scientology, I noticed some sane human traits being definitionally degraded by some of Ron's doctrines.
And as these redefinitions became part of my personality, I found one of the casualties to be……………..grief.
It's hard enough sometimes for us men to cry without Hubbard's added burden of assigning grief to a low position on the tone scale. What Hubbard did to grief, by putting it in a lower position below hate and hostility was definitional rape.
Hubbard's redefinition, by assigning gradient number values to words, as he does in the Tone Scale, have powerful consequences in how Scientologists live their lives, how they interact with people and how they express their humanity or lack of it.
The Tone Scale is instructional. It's application becomes behavioral.
An example of Hubbard's doctrines becoming behavioral is illustrated in the parlance of the Scientology community: shedding tears is called being "griefy" – a condescending term. That condescension of grief became part of Scientology group think on how to react and deal with the deep feeling of loss and emotional intimacy.
I wrote an essay called Thoughts on the Tone Scale  which appeared earlier on this blog.
In this essay I take a look at the perverted numerical relationship between hate and sympathy that the tone scale teaches.
Now I'd like to include the human emotion of grief in that observation:
Hubbard put grief, as well as sympathy, below hate and hostility on the Tone Scale.
What can be the implications of this? – coupled with the "100% Standard Scientology Tech" which states that grief is also part of the reactive mind: a secondary.
Hubbard put grief at .5 on the tone scale. That's even lower than sympathy! And disturbingly, lower than hate and hostility!
Tears then, for the loss of a loved one, is an aberration in Scientology.
In Scientology grief is handled. In other words – it's suppressed and erased in auditing.
Hubbard placed grief in his chain of engrams. By so doing Hubbard effectively transformed grief also into an aberration – a mental illness. Just like what he did to the family unit (see my earlier essay The GE is a Family Man).
He changed our perception of the value of family by defining family urges as being the product of a low, stupid, psychotic entity who is incapable of being reasoned with.
He also degraded how we perceive the sadness of loss, and how we deal with others when they are experiencing grief. Maybe that is why it's so easy for Scientology thugs to break up families. The whole subject of loss and grief was made into a mental illness, an aberration, a weakness.
The devastation of broken families, the heart wrenching tears of disconnection, is perceived by the Scientology power brokers as unhandled aberrations. That no sympathy trait was trained into the Scientologist with Hubbard's doctrines.
Their tears are something to erase with auditing.
Their tears are defined as having their source from pain and unconscious, not from emotional intimacy and familial love.
A Post Scientology Understanding of Grief
Grief is a measurement of the love and deep connection we have for those we love. Grief is sacred. Animals and liberated beings cry.
Grief is a natural , emotionally appropriate reaction to human loss.
If I did not know you and you died, it would be no big deal to me. But if my friends or family died, I'd be devastated. That devastation, is a precise measure of the sacred human love I have for my own people; those whose lives are sacred to me.
Grief is not below hate on the tone scale. That is definition rape. I can't emphasize that enough.
Grief does not find its source and resolution from auditing the engram chain, which, cements grief in association, doctrinally and psychologically- always to physical pain and unconsciousness.
That engram association is a degradation of the positive utility of grief.
Grief comes from the heart. Grief comes from the open heart. Grief is painful. Grief is natural. Grief is transformational.
The conscious embracing and direct experience of grief, is one of the vital steps to healing psychologically from that loss. Google it!
Final Thoughts
This is yet another revelation that, in my view, Hubbard was a sociopath. He was angry when he found out his son died.
If you are a father, could you even imagine that state of mind if your beloved son died?
No tears, no sympathy, just anger and rage because that poor sweet boy sullied the public relation of a man who was, in my opinion, devoid of feeling intimately the suffering of others.
In Hubbard's valuation of words on the Tone Scale, it would be higher toned to start a hostile and angry fight at grandma's memorial than shed tears for the moving on of a beloved family member.
By defining grief as a mental illness, the Scientologist then has justification, by way of the application of the "tech", to interpret the sad terrible anguish of enforced disconnection as part of the reactive mind – a mental problem to be hunted down and destroyed in auditing.
That is a crime of philosophy, a crime of psychology and an attack on the humanity and sacredness of the intimate bonds between friends and family during times of loss.
Embracing totally the heart wrenching feeling of losing a loved one is the very road to healing that loss. Google it. Grief IS part of the healing process.
Seeking to erase, deny and denigrate grief is a bad doctrine. And it may very well be a training step to sociopathy: creating people devoid of our feeling nature through the Hubbard-valuation of vital and healthy human emotions.
Grief is something to embrace and be healed by, not erased.
What do you think? I'd love to know. Disagreements welcomed.
Warm Regards,
Brian