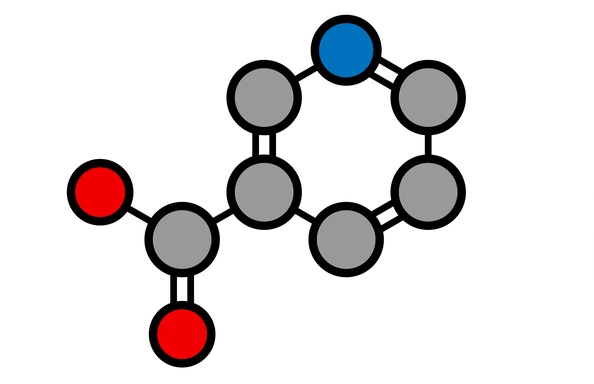 I note at the outset, I am not a chemist or biologist.
But I can read.
This post was prompted by the ongoing saga of Narconon's implosion and many recent comments that niacin can be dangerous. I didn't pay a lot of attention as the comments usually went along with noting that it can be dangerous to sit in the sauna for too long. And my view of that is Duh.  Walking across the street is dangerous too. The claims for the wonders of the Purif may be typical scientology style hype, but the program itself seems generally benign and helpful. How can exercising, going in the sauna, sleeping well and taking vitamins harm anyone?
But then in the course of doing something completely disrelated (gathering information about a new drug) a leading medical expert made mention of the fact that niacin was NOT considered a safe treatment for elevated cholesterol levels like it used to be. Then another mentioned the same thing.
It piqued my curiosity, so I did some quick research.
Let me note as a preamble that L. Ron Hubbard has taken things that fit his theories and run with them in the past. He has then presented them as "researched fact." All the way back to Dianetics.
But just because he asserted them, and even claimed them to be the result of "scientific testing," does not make them fact.
A History of Man
Perhaps the most egregious and easily demonstrated example is the "Piltdown Man" found in his book History of Man. 
For the unfamiliar, the so-called Piltdown Man was a hoax, perpetrated for 40 years. It was eventually exposed in 1953.
But when History of Man (then called "What To Audit") was written in 1952 it was still part of "accepted science."
So, Hubbard took it – hook, line and sinker – and presented it in his book as "researched fact" discovered through a great deal of auditing of past lives.
The book's subtitle is:
A LIST AND DESCRIPTION OF THE PRINCIPAL INCIDENTS TO BE FOUND IN A HUMAN BEING
The first sentence of the Foreword is:
This is a cold-blooded and factual account of your last sixty trillion years.
And he goes on to say:
This work is honest research, done with considerable care. And it will bear up under survey by any competent auditor or investigator.
And here is what it says in chapter 4:
The Piltdown Man
Man's first real Manhood is found in the PILTDOWN, a creature not an ape, yet not entirely a Man. It is so named not because it is accurately the real Piltdown Man but because it has some similarity.
The PILTDOWN contains freakish acts of strange "logic," of demonstrating dangerous on one's fellows, of eating one's wife and other somewhat illogical activities. The PILTDOWN teeth were ENORMOUS and he was quite careless as to whom and what he bit and often very much surprised at the resulting damage.
Obsessions about biting, efforts to hide the mouth and early familial troubles can be found in the PILTDOWN. It is a wonderful area in which to locate GE overt acts.
In case you wondered, this section is in the "Basics" version of the book (ie current editions), even though I pointed out to Miscavige that the Piltdown Man had subsequently been proven a sham. But of course, it would be heresy to "alter" an LRH writing. There never was anything like a "Piltdown Man." But L. Ron Hubbard's "research" says there was, so like the earth being 6,000 years old to fundamentalist christians, to scientologists there was most definitely a Piltdown Man. They know this because LRH discovered it in his research of the "whole track."
But that is not the subject of this post, it is simply an easily understood illustration of how something could be grabbed by Hubbard, inserted into his "discoveries" and then asserted to be part of his "research."
Niacin
Now, let's take a look at niacin.
Until a few years ago, niacin was considered to be beneficial in controlling cholesterol levels, though it was known to cause skin flushes and other relatively minor side effects. The flushing could be avoided by gradiently increasing doses or adding other compounds such as laropiprant which dilates blood vessels.
Since the 1950's niacin had been considered a safe and effective vitamin. In the 1970's (and I have NOT spent a lot of time looking into this) not long before the unveiling of the "Sweat Pgm" and its successor the Purification program, there was research being done into the use of niacin to "cure" criminal drug addicts. I don't want to spend $50 to buy the book that contains the reference I found on Google because it is not that important, but if you search Samuel Yochelson (of the infamous St. Elizabeth's hospital in DC) and his 3 volumes called The Criminal Personality and the niacin studies are mentioned. Published in the mid 70's, I would not be surprised if Hubbard had read about this at some point.
But that is speculation.
What is not speculation are the following passages contained in Clear Body, Clear Mind about niacin.
NIACIN RESEARCH AND RADIATION
I conducted some research using niacin in 1950. At that time we referred to niacin as nicotinic acid and the beginning dosage used was 200 mg. (milligrams).
This research was very interesting. Odd manifestations occurred when this vitamin was administered to individuals. Its most startling effect was that it would turn on, in a red flush, a sunburn on the person's body in an exact pattern of a bathing suit! These were very neat patterns. The bathing suit outline was unmistakable.
Coincidentally, in the late 1940's and early 50's there were extensive studies done in the US to solve niacin deficiency and subsequently the discovery in 1955 that it helped with cholesterol.
NIACIN REACTION—1956
In 1956 I put this vitamin to use again.
At that time there was a lot of bomb testing going on and general radiation exposure. We were working with individuals who had been subjected to atomic tests, atomic accidents and, in at least one case, to materials that had been part of an old atomic explosion. We were engaged in salvaging these people, handling the mental image pictures, stress and upset attendant on these experiences and we succeeded.
But in 1956 niacin was reacting differently on people than it had in 1950, and the effects were more severe.
People on the research program in 1950 had experienced only past sunburn flushes. In 1956 people on the research program, while experiencing a flush, were also experiencing nausea, skin irritations, hives, colitis and other uncomfortable manifestations, on the same vitamin and in the same dosages as had been used in 1950.
There are no specifics here, just generalized statements and reference to people who had been "subjected to atomic tests"(really?), "atomic accidents"(?) and one person who had been "subjected to" materials that had been part of an old atomic explosion. From this, he concluded that niacin was "running out" radiation.
Yet, the known side effects of niacin include not only skin flushing, but also itching, dry skin, skin rashes, eczema, indigestion, nausea and liver toxicity among other things (see Wiki entry). That did NOT change from 1950. But somehow, he reached the conclusion that there was something new and different happening. This is not explained other than the conclusion he then draws:
Niacin, then, apparently seems to have a catalytic effect on running out radiation exposure. It seems to give it a kick and run it through. It will often cause a very hot flush and prickly, itchy skin, which can last up to an hour or longer. It may also bring on chills or make one feel tired. Medical thinking has been that niacin itself turned on a flush. Something called "niacinamide" was then invented to keep from turning on this flush. Niacin all by itself does not turn on any flush. What it starts to do is immediately run out sunburn or radiation. 
"Apparently" now becomes a fact. It "seems" to do X. Also now a "fact" as you can see by the declarative sentence at the end of the paragraph.
And here there is an absolutely false statement that niacin all by itself does not turn on any flush.
Hubbard had a lot to say about logic and the ability to think. This is a wonderful example of illogics that are the exact sort of things that are used to test logic. "If A is true and B is not true, is C true, false or uncertain?"
As a logical progression of thought, this paragraph is a flunk.
But whether this is real science or not, doesn't much matter. Any more than it matters whether fundamentalist christians believe the world is 6,000 years old.
But let's continue just a but to get to another point about the drugs niacin "unleashes"?
UNLEASHING DRUGS AND TOXINS
Taken in sufficient quantities niacin appears to break up and unleash LSD, marijuana and other drugs and poisons from the tissues and cells. It can rapidly release LSD crystals into the system and send a person who has taken LSD on a "trip." (One fellow who had done the earlier Sweat Program for a period of months, and who believed he had no more LSD in his system, took 100 milligrams of niacin and promptly turned on a restimulation of a full-blown LSD experience.)
Again, it "appears to" do something, and that then becomes Hubbard's researched "fact."
He then cites the extent of the "research" that proves niacin removes toxic substances from the body:  One person who had an LSD flashback after taking 100mg of niacin.
I don't really think it matters much whether the claims are true or false. Who cares if people get some sort of gain out of it?
Well, here is the kicker.
It DOES matter if there is potential harm involved.
And this is where the story gets interesting.
Tredaptive
In 2008 Merck marketed a drug called Tredaptive which was a combination of niacin and laropiprant (enough to prevent flushing because it is an uncomfortable side effect).
It was approved in Europe and 40 other countries around the world, but not approved by the FDA for sale in the United States.
As a result of it being on the market and consumed by tens of thousands of people around the world for some years, broad tests were able to be conducted on its efficacy and side effects.
In fact, niacin had never before been clinically and scientifically tested on a large number of people. Not since its introduction in the 1950's.
Nearly 26,000 were enrolled in the test and studied over 3 years. The full report on this study can be found in the New England Journal of Medicine but it is pretty dense and hard to read.
So here is a summary of the findings and some commentary by prominent doctors reported on by AP.
The highlighting is mine.
Of course, there are many variables. This is niacin WITH an anti-flushing agent. But the concern is about the niacin, not the anti-flushing compound mixed with it.
The people on the test were taking niacin for longer periods of time than one would be on the Purif Pgm.
But on the other hand, the people in this test were being given 1500-2000mg of niacin daily — and the "new" Purif REQUIRES people to get up to 5000mg of niacin a day.
These findings are pretty startling. This is science, based on real research, not what "appears to be" or one person who had an LSD flashback:
For every 200 people that we treat with niacin, there is one excess death.
Higher rates of bleeding, infections and other problems
A 9 percent increase in the risk of death
Higher rates of gastrointestinal and muscle problems, infections and bleeding.
More diabetics lost control of their blood sugar
More new cases of diabetes among niacin users.
Higher rate of infections and a trend toward higher rates of serious bleeding.
Responsible doctors all over the world have, as a result, stopped using niacin.
The question here is if anyone who is currently using the Purification program — whether it is scientology, narconon or the "detox" pgms for vets — is paying attention? Or taking any sort of precautions to protect against negative health outcomes?
The answer is almost certainly No. They don't need anything other than pronouncements from L. Ron Hubbard — and they transcend science.
But what if his pronouncements were lifted from what was thought to be sound medical thinking AT THE TIME?  And it is presented as "researched" and "scientific" when it really is not? It doesnt matter to scientologists — the science he took from others became HIS research as soon as he published it, and now it's the law of God that cannot be changed. Because to change it now would be to violate "Keeping Scientology Working." Even though the science from 30 or 50 years ago is now known to be faulty.
Flights of fancy like the Piltdown Man and many other things don't have much impact on anyone. But this might.
As a result of this being presented as proven fact people are being fed high doses of what has now proven to be unsafe.
I fear the arrogance of scientology is going to (or perhaps already has) result in people being hurt.
And as a final note, isn't it incredibly ironic that scientology constantly rails against the FDA as being the agents of the psychs and "Big Pharma" and that they are letting things "slip through" that are going to harm people — yet the FDA prevented Tredaptive from being sold in the US. But alas, they have no oversight over the use of niacin in the Purif. If they did, it would not be approved and scientology would be demanding a "fast track loophole" for it.
At the very least, the doctors (mostly local scientologists) who rubber stamp the approvals for people to do the Purif should be made aware of this. Of course, if they protested or "stopped people moving up the Bridge" they would be declared and some other doctor would just be found to replace them. Such is the bubble world of "we know all, you wogs know nothing" scientology.
Perhaps this blog posting will help even one person to prevent suffering unnecessary harm. If so, it has been worthwhile.