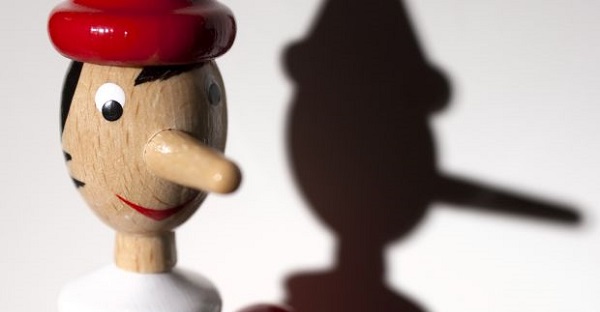 While there have been many, many lies propagated by scientology about me, it still surprises me sometimes when they offer up new ones.
This appeared a few days ago on my daughter's blog (though she is just the name and face that is used — this garbage is written by the same people that churn out the drivel that appears on the STAND League and Freedom smear sites).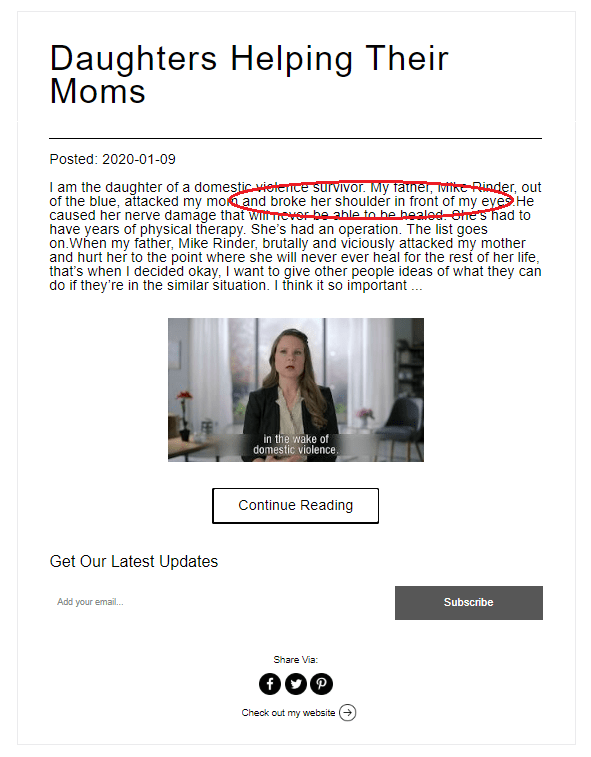 The idea that I committed some grievous bodily harm on my ex-wife when she and 6 others stalked and accosted me in a doctors parking lot in 2010 has been thoroughly debunked on this blog (see Mike Rinder: "Lady Killer") and in even more detail on Jeffrey Augustine's blog  where he has systematically tracked and debunked the stream of viciously false claims about me.
Though the report by the Pinellas County Sheriff's (who I called, not scientology) makes clear the scientology hit squad of 7 people and 2 PI's had followed and accosted me, that I was trying to leave the scene, there was "incidental contact" and no charges were filed — scientology has continued to use the very incident they created to claim I am a wife beater and many other things.
And now, the latest ridiculous (and documented false) assertion that I "broke her shoulder in front of my eyes."
Here is the Pinellas County Sheriff report of the incident once again: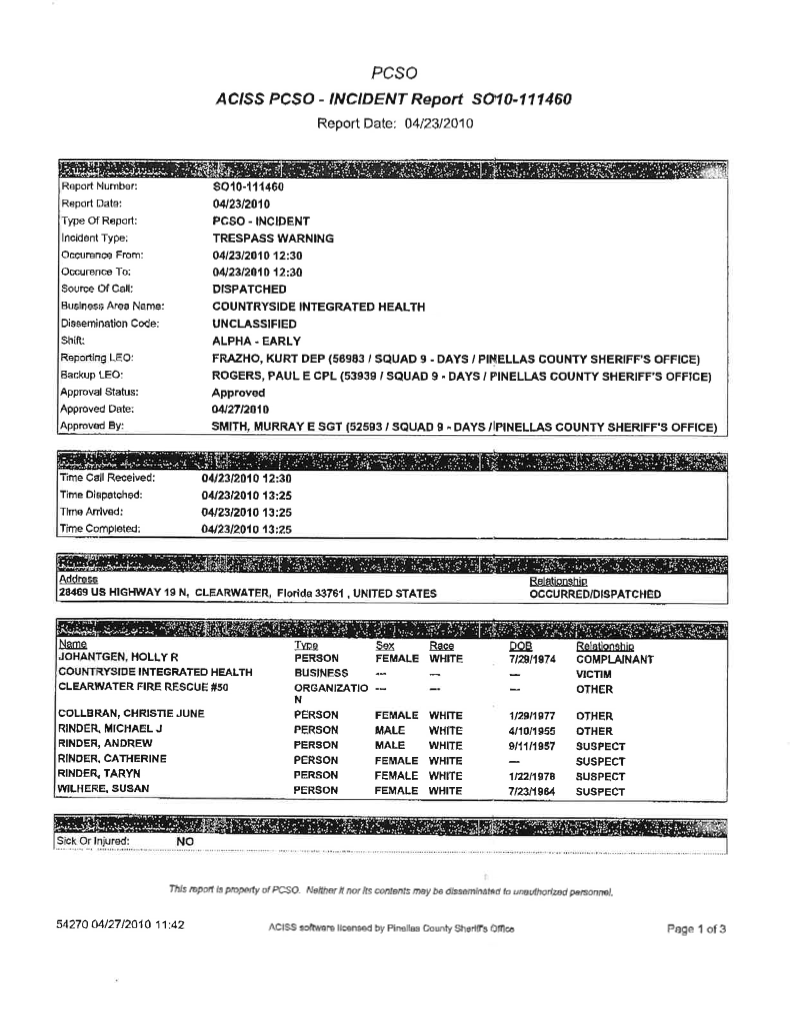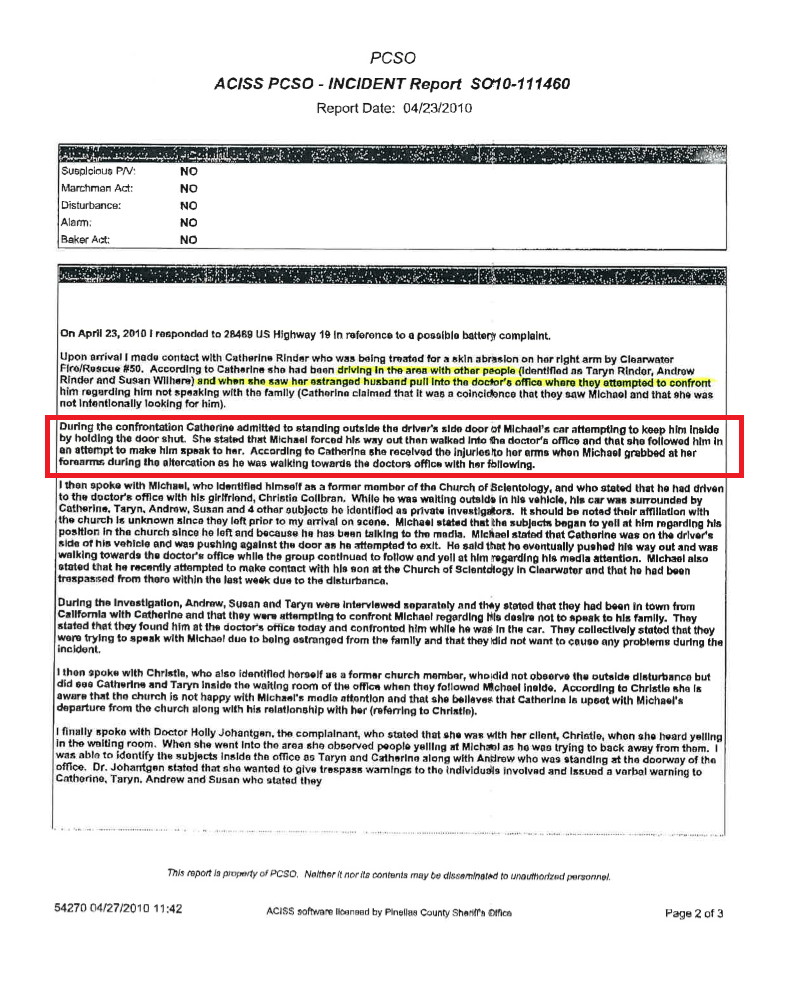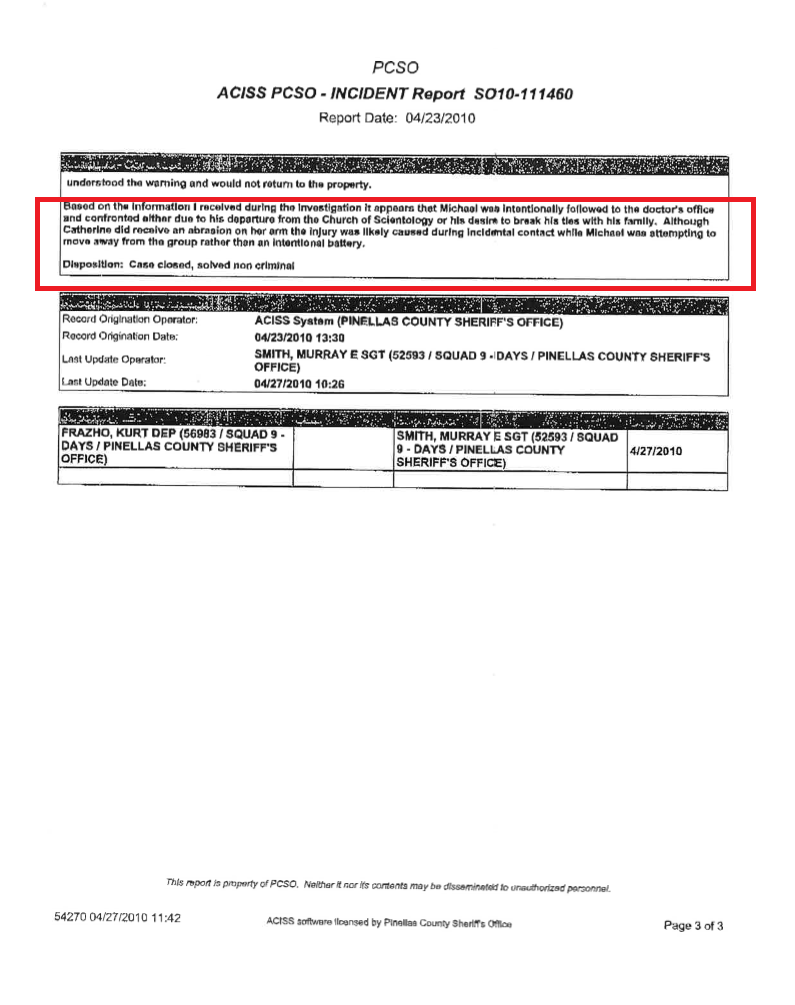 No mention of shoulder breaking, even though Taryn, my ex-wife, brother and Sue Wilhere were all interviewed by the Sheriff's deputies. The others, Jenny Linson, Guillaume Lesevre and David Bloomberg fled the scene the minute they heard the Sheriff's had been called — why did they run? If I had in fact assaulted my ex-wife, surely they would have stayed around to press charges and try to get me arrested on the spot? Of course, they were there doing something highly improper and they did not want to be on the record with law enforcement.
In the past they have claimed that I caused "permanent neurological damage", it is a new, even more over-the-top claim that I "broke her shoulder."
The graze on my ex-wife's arm — which came from her attempting to pull open the door to my car while I was trying to get in to drive away — and then when my brother took the car keys, she tried to prevent me from getting out of the car to go into the doctor's office — was treated by paramedics who came to the scene when the Sheriffs arrived. It is hard to imagine that even with proof to the contrary, scientology continues to double-down on their false claims.
You can see in the paramedics notes  below, and Jeffrey Augustine's excellent commentary which I have also included (his article contains further detail) that this allegation is entirely debunked:
One can only assume they continue to perpetrate these lies for two reasons:
Scientologists inside the bubble simply accept every official church utterance as true and would never think to question them
There are some who are so intimidated when someone claims, even falsely, to be a victim that they do not dare question the veracity of their claims. Especially when they are with the notorious church of scientology. In this regard, take a bow LA DA Jackie Lacey: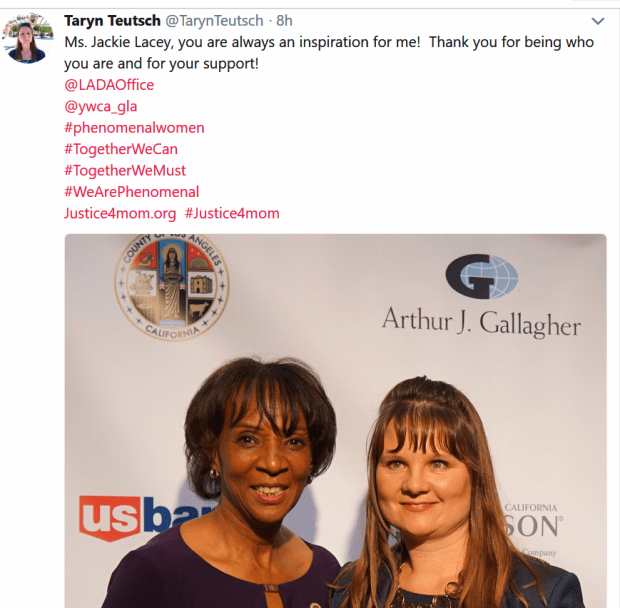 Jackie Lacey on the other hand doesn't seem to side with the victims of Danny Masterson — she has been sitting on the evidence for years and doing nothing. Intimidated by scientology perhaps?
And here are a few others who have been duped by this scam:
And finally, Gretchen Carlson was scammed. To her credit, when she was informed of the true facts, she asked that this image be removed.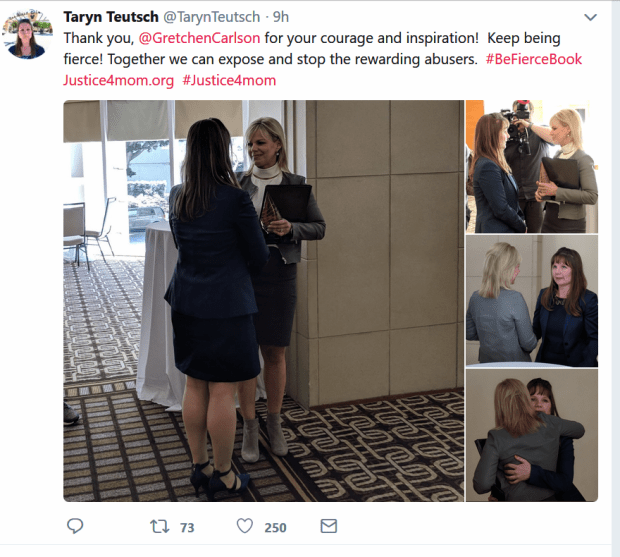 But Jackie Lacey and others have not followed her lead.
This smear campaign is being carried out pursuant to L. Ron Hubbard's policy.
Here is a summary of the technique he espouses: Find a topical issue, cozy up to "allied groups" and then position your enemies with "hated buttons" by accusing them of crimes on the basis that everyone who speaks against scientology has crimes — and if you don't know what those crimes are just accuse them anyway.
For a longer dissertation — including the exact words of Hubbard — on how scientology goes about "destroying" their "enemies" read this article: Dealing with Critics of Scientology — The L. Ron Hubbard Playbook