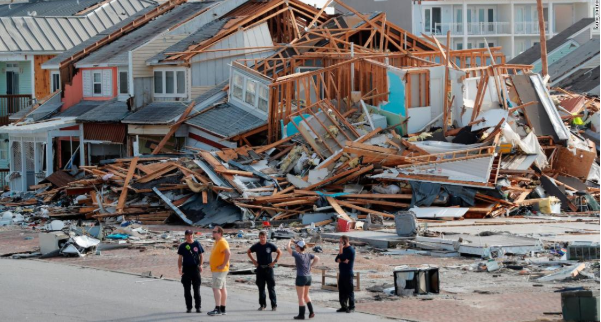 The latest natural disaster in the US, Hurricane Michael, caused massive destruction in the Panhandle of Florida.
In some ways this is a "perfect storm." For here we have an ALL IDEAL Florida confronting a major catastrophe. There is also another ideal org nearby in Atlanta. And then there is Clearwater, the largest concentration of scientologists on earth. (And just for good measure, let's throw in the "ideal" Ocala Mission which is the closest of all to the disaster zone). Wow, it's literally an "ideal" scene.
That largest private relief force on earth should find this an easy one to mobilize for. Nobody even had to fly to the disaster zone. They can just jump in their cars and hey presto, they are there in a few hours.
So, here was the first notification that went out. Trying to recruit VMs in LOS ANGELES? Wow, if they are bringing in the troops from the West Coast as well as Ideal Florida there must be thousands of them on the scene….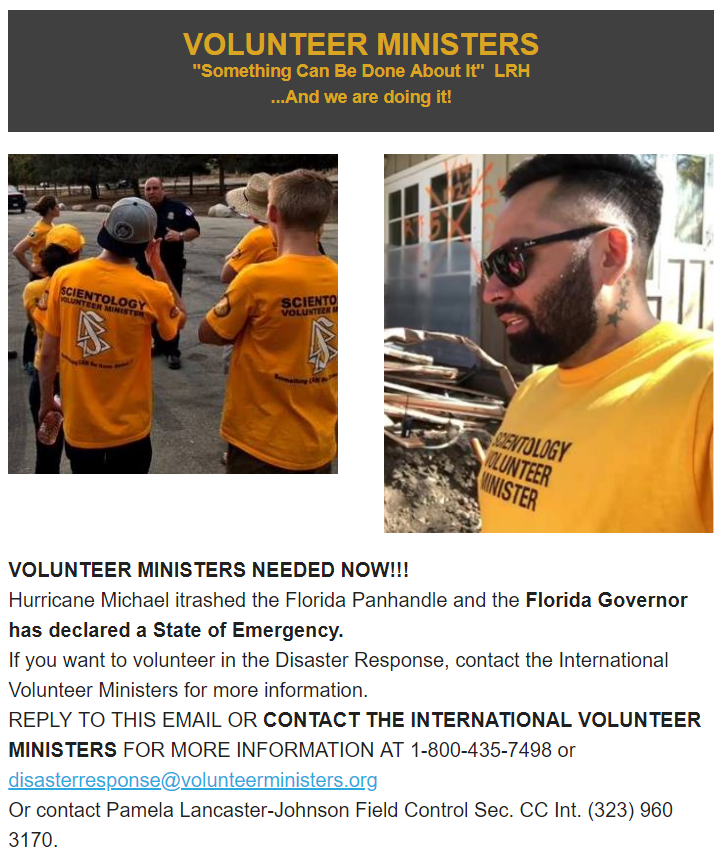 Odd, the photos show 5 people.
And now this just went out.
One person in a yellow shirt.
Yes, ONE.
Even though they claim IAS money was given to deploy hundreds of VMs. Hundreds. (And ou can bet if they had even dozens there would be photos — the single thing VMs are hammered to do above all is get photos).
No specifics about anything actually being DONE. No details about how many VMs.
But of course, a pitch to give more money.
These people have no shame. None.
At the IAS event that was held concurrent with the hurricane they probably collected another $50 million from the beached whales. That should have been plenty already to bu6 gas for one VM to show up for a photo op.