As always, interested to hear your views on season 3's first episode.
Of course, before it even aired, scientology put out their attempted "Dead Agent" smear of Valerie.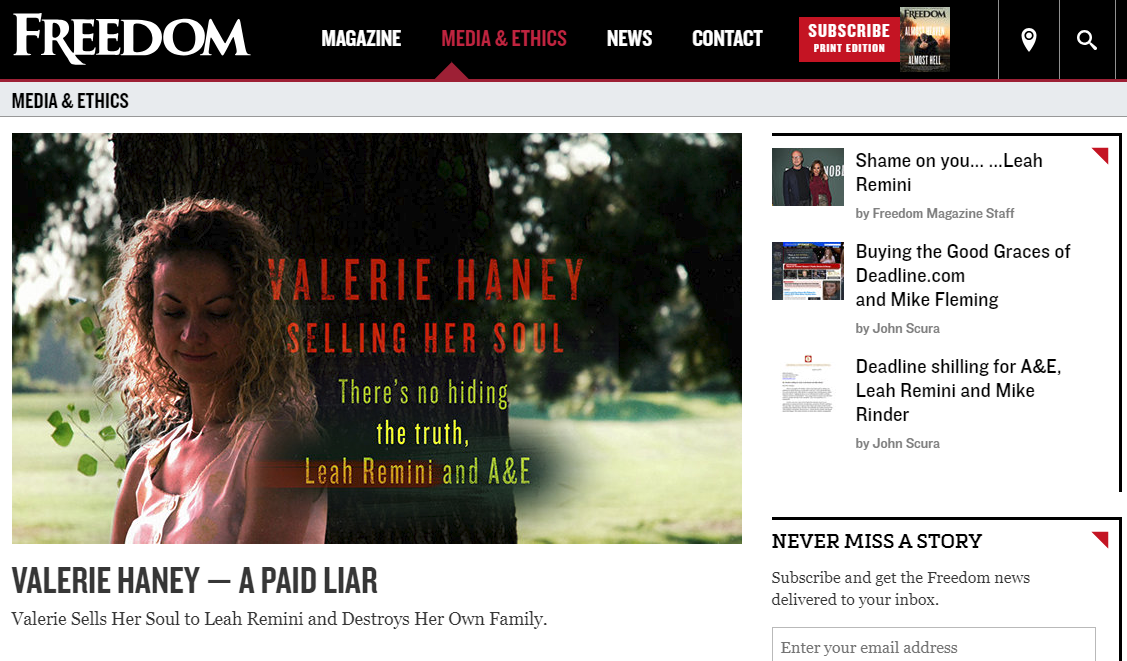 This consists entirely of claims made by her deadbeat brother and his wife  — neither of whom know ANYTHING about Valerie's experiences in the Sea Org and with David Miscavige, and yet assert that Valerie is "selling her soul by telling lies for the attempted creation of 'reality TV'" …
Jeffrey Haney cries about how Valerie "cut us off" to "destroy their family". This is the guy who never had a thought about Valerie when she was in the Sea Org. Apparently had no concern over the abuses she suffered or that she became suicidal and eventually escaped in the trunk of a car. This is the guy who "disconnected" at the behest of scientology and then became a "video star" in their newest POW video offering. ( No doubt they will round up some other glassy eyed "former colleagues" of Valerie to shoot some additional videos in the coming days — these scientology videos all have such a "look" to them whether it is sliming former scientologists, telling the world about the wonders of the "Golden Age of Tech" or praising the True Leader David Miscavige, you always know you are looking at a scientology propaganda piece).
Of course, not a SINGLE abuse detailed in the episode is responded to by scientology. All they do is assert it's all just "lies" and The Aftermath is "designed to break apart families for the sake of emotional impact with a false story that is supposed 'reality'". Jeffrey also asserts that Valerie is being "instructed" to do all this "for money, extra furniture, and other perks." I guess he forgot the bit about how she went to law enforcement BEFORE she appeared on the show? Maybe he thinks the government hands out chairs and beds for anyone who comes in to report a crime? Oh, yeah, he has not seen the show. But he KNOWS it is all lies….
Of course, scientology cannot resist recounting that Valerie failed as a "condom saleswoman" — conveniently omitting the fact that the business where she worked is owned and operated by a prominent and upstanding member of the scientology community in Portland. Somehow this is supposed to taint her reliability? Such odd things scientology thinks make people look bad. They always used to describe me (it was their go-to line before "wife-beater" became the thing) as a "used-car salesman" because I worked at a Toyota dealership. I am absolutely unashamed of making a living selling cars. I met a lot of great people — many of whom are still friends, and actually HELPED people with something they needed in their life. Not like those salesmen that populate the scientology world. Perhaps we should start calling scientologists "failed hype salespeople" or something. Apparently this would be a stinging blow…
Amazingly, they also include a quote from Shakespeare: "An evil soul using a holy story is like a criminal who smiles at you. He looks like a good apple but he's rotten at the core. Oh, liars can look so honest!"  Methinks they should be heeding another great quote from Shakespeare: Those who dwell in houses of glass, should not throw stones. Truly, this is just "filler" as they really have nothing to say — they just want to sound cool by quoting The Bard to repeat the same empty bs "she's a liar".
While accusing Leah of paying Valerie to lie by hiring her as her assistant (again, AFTER she had told all to law enforcement), old Jeffrey speaks out the other side of his mouth, claiming she is trying to "make a buck" off her former Church in any way possible. Which is it Jeffrey, is she paying people to lie or making a buck?
I would normally just wrap this up with a quote from Yogi Berra "It's deja vu all over again." But Jeffrey Haney is nothing if not creative. He saved the best for me. This is someone I have never met and had never even heard of until shooting this episode.
This is a screen shot of the link that Freedom "Media and Ethics" has to Haney's letter on their site — I did not want anyone thinking I must have made this up:

Scientology does it again. Smearing. Sliming. Lying.
And proving everything that is said in the show week after week.