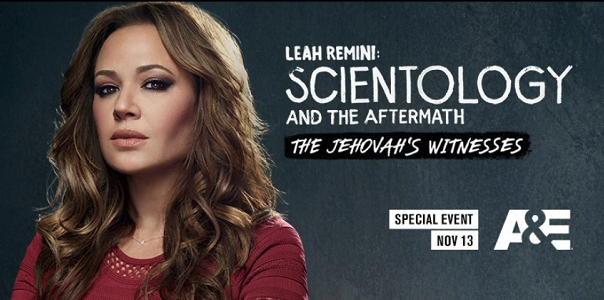 Leah Remini: Scientology and the Aftermath is back tonight. It is the first episode of Season 3 — though it is a "special".  There is another "Special" coming next Sunday night (18 November) and then the season proper begins on 27 November.
Tonight's special episode is at 9pm on A&E.  It covers the Jehovah's Witnesses. We felt an obligation to the MANY former Jehovah's Witnesses who reached out to us letting us know of the pain they had suffered — many of which are eerily similar to the experiences of former scientologists. They did not have a voice like Leah to speak on their behalf. Tony Ortega has an excellent piece about the show on his blog this morning.
I want to thank the contributors who stepped forward to tell their stories on the show — they are brave people willing to expose their pain to the world in order to try to put an end to abuses of others. And a special thank you to my friend Lloyd Evans who has been a very vocal advocate for victims of JW abuses for years, and who helped mightily in getting this show to come together. Without him I doubt this would have been pulled off.
Tune in and let us know what you think.