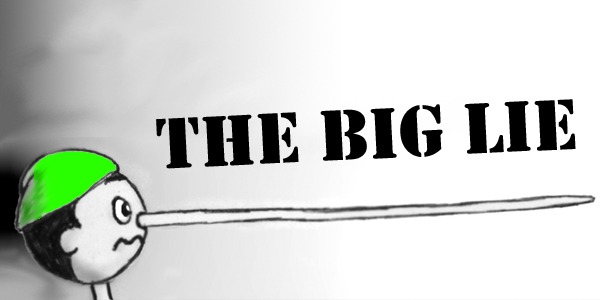 This is one of the more amazing pieces of bubble-think…
It was sent to me for the Thursday Funnies, but this little piece of Facebook genius deserves its own post.

What a HUGE accomplishment this is — they got 2 new people doing OCA's! The Cult Shopping Network is clearly flooding the orgs and missions with curious people.  OMG, 2 OCA's is a "Win, win, win." If that is true, and these people are not overwhelmed with new public, then the CSN is a complete failure.
But even more interesting: Sunland/Tujunga, according to Lydia Hopwood, consists of 30% scientologists. The population is 60,000 or so. Meaning Lydia believes that in this small enclave there are more than 15,000 scientologists. More than scientology even claims for Clearwater.
If this were true, or even partly true (and obviously it is not), then one failing mission and exuberant announcements about getting 2 people to do OCA's would be even more telling. How could this be the state of affairs with 15,000 flourishing and disseminating scientologists within 5 miles? None of those scientologists are actually reaching any new public? The failing Foothills Mission is open about 3 hours a week.
What a stark admission of failure. Clearing the planet is such a joke, even with an "ideal Southern California" (at least south of Santa Barbara). Pasadena and Valley ideal orgs are both within 10 miles.
Just out of curiosity, I looked at another group intent on "clearing the planet" (at least in their style of saving those everyone who will then survive Armageddon). If they were actually going to make any progress they would need to be at least as pervasive as the Jehovah's Witnesses — a group scientology considers "fringe".
Here is the yellow pages for Kingdom Hall Los Angeles: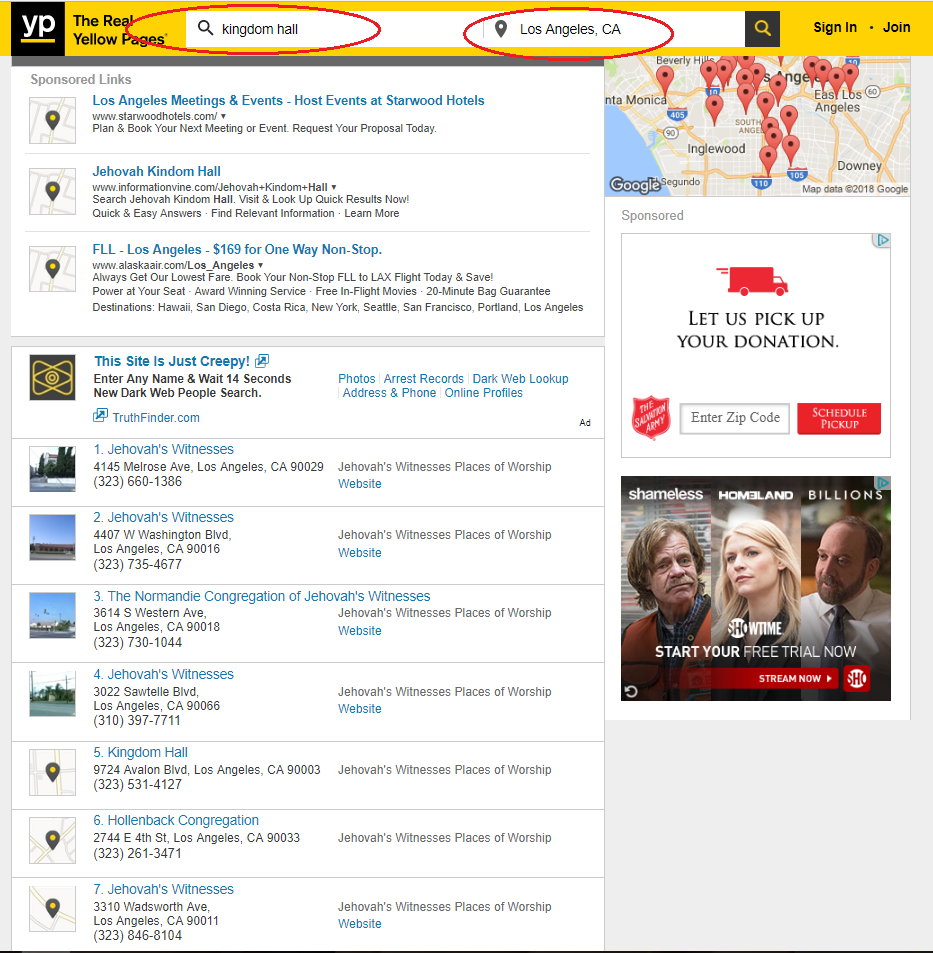 There are 73 entries: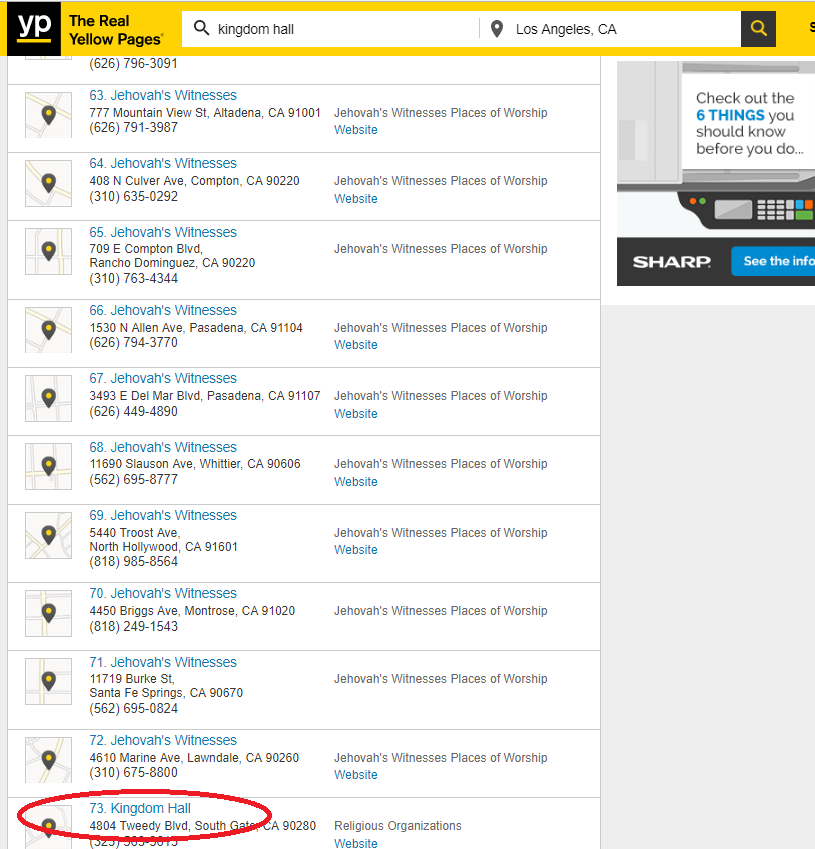 Here is the yellow pages for "Church of scientology Los Angeles" — there are 18, including the second one which is a Christian Science Reading room, the Golden Era offices, Bridge Publications and CSI.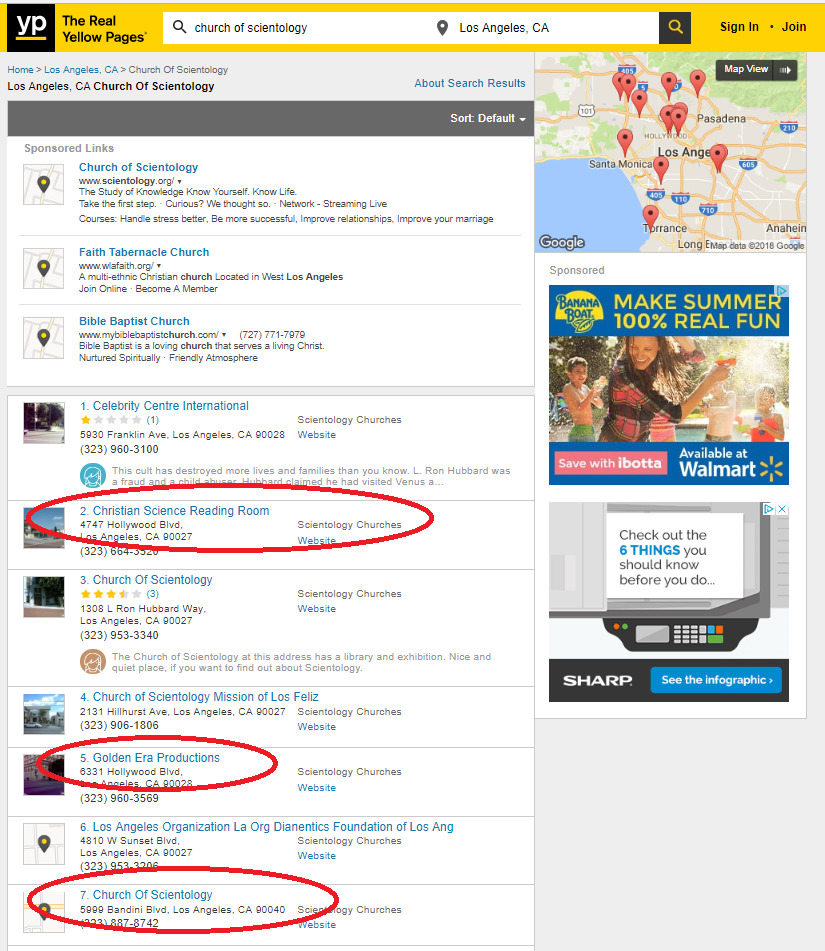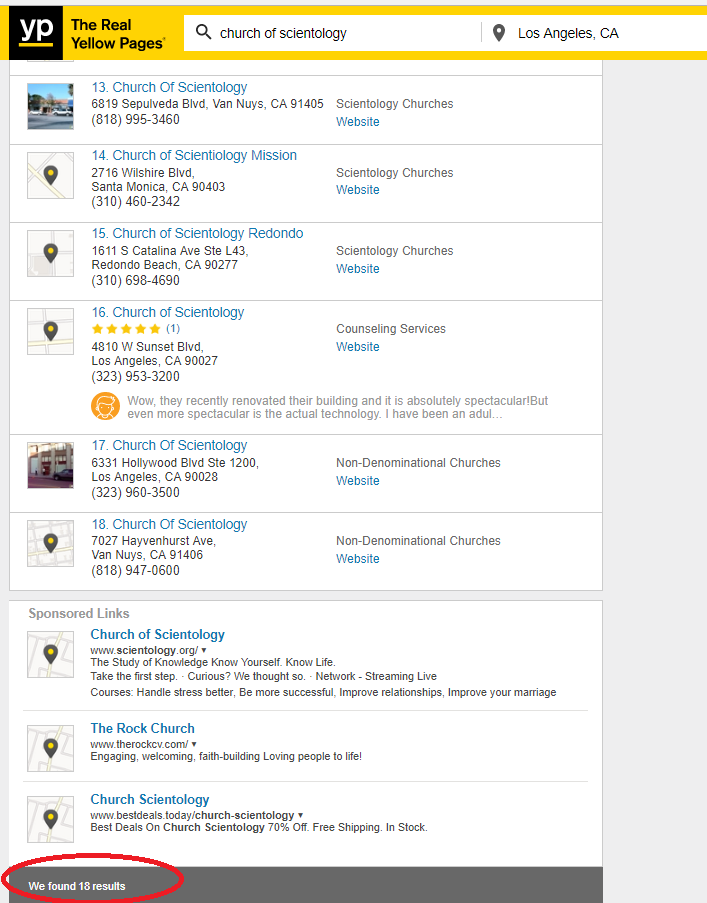 So, in fact, in the stronghold of scientology, there nearly 5 times as many Jehovah Witness "churches" as there are scientology "churches".
Imagine what the ratio is like in Jehovah's Witness stronghold in NY? 50 to 1?
And the Jehovah's Witnesses claim 8 million members wordwide, less than scientology claims! But the JW's seem to have more basis for their numbers — they claim to have 120,000 congregations, which would be more realistic at less than 100 members per congregation than scientology's bizarre figures of 10 million from 500 orgs and missions or 20,000 per.
Just another reality check on the ludicrous "Big Lie" that scientology is expanding at record pace and planetary clearing is being made a reality.