So, the building is done and is being yanked into life on Saturday.
But scientology NEVER tires of collecting money for their worthy causes (anything that results in more money for scientology is worthy/humanitarian).
Though they collect tens of millions for "dissemination campaigns" and "planetary dissemination" and "ideal orgs" (beyond just the building fundraising) there is NOTHING in scientology that is identified as a valuable CAUSE on which to spend money, unless it is also a cause to COLLECT money. And they ALWAYS collect more than they spend.
Apparently they cannot spend a few thousand on a new Ideal Org to "get out of Non Existence" from the tens of millions they have already collected.  Nope, instead they continue to try to collect more to pay for "dissemination." They never tire of going to the well to ask for money.
And this does not even take into account that L. Ron Hubbard clearly states that the money paid for SERVICES is what funds broad dissemination activities.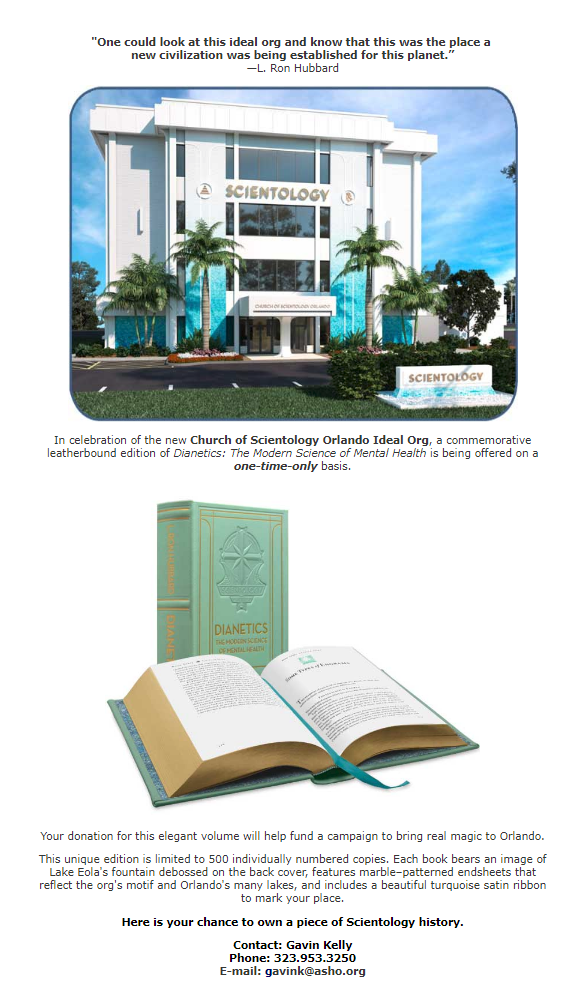 Own a piece of scientology history — like those worthless "leatherbounds" and "special editions" that have gone before. The only history they represent is a reminder of the foolishness of the buyer.
Scientology worships upon altar of money and Dianetics is its cash bible.
As with all things scientology: caveat emptor.