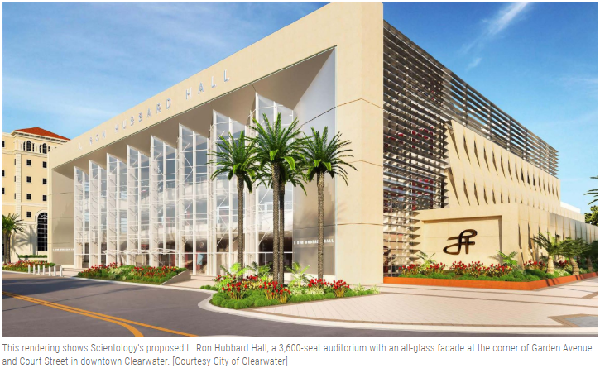 Scientology is still hard at it, raising money for the completely superfluous auditorium they say they are going to construct next to the Super Power building. And they are sending out new promotional pieces about it at an increasing rate.
This is a very recent fundraising letter and there is also a whole magazine devoted to the subject: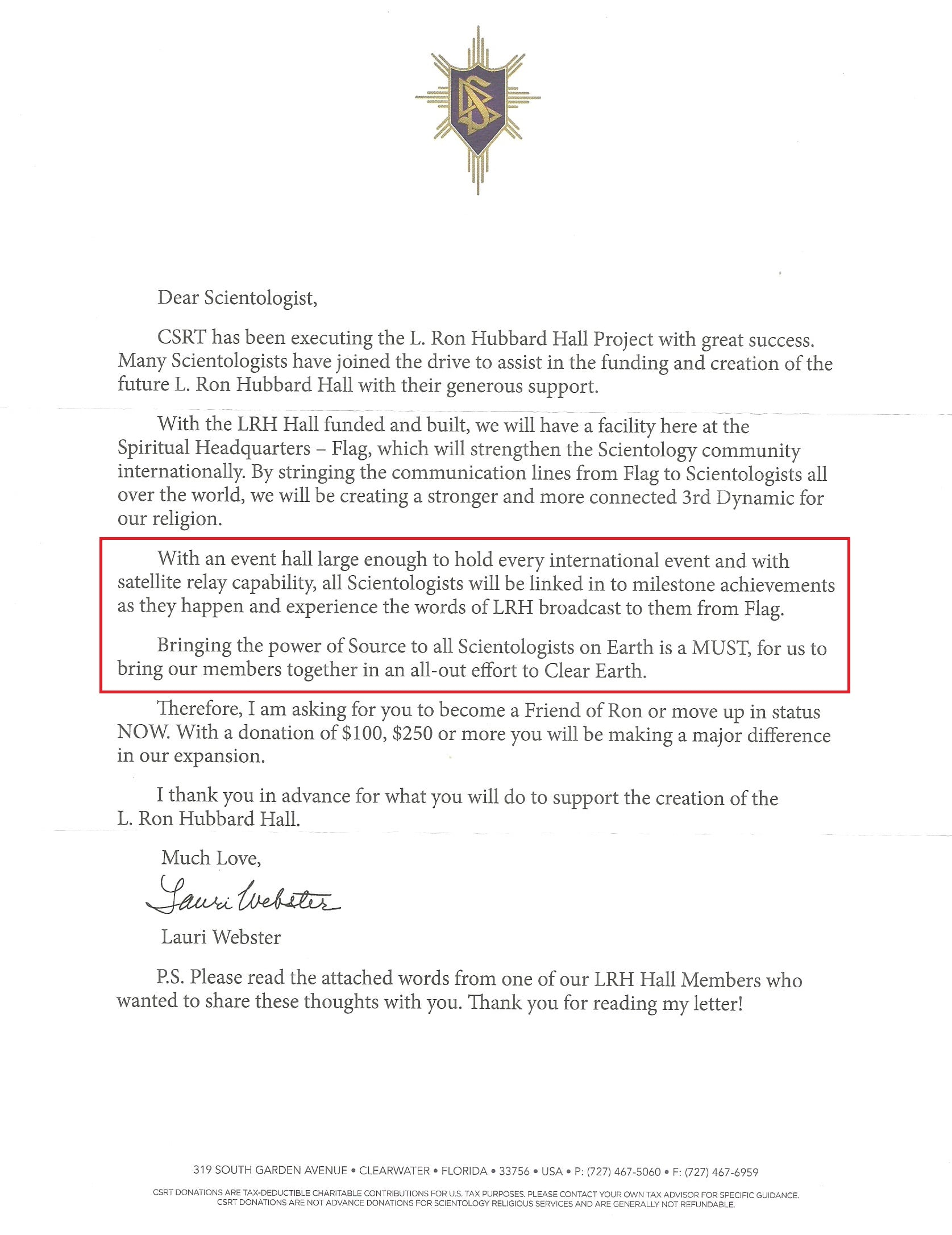 This is the cover of the mag…
It is a strain for them to come up with reasons why anyone should be giving money to such a boondoggle.
That this is going to be an event hall "large enough to hold every international event" is a very revealing statement. The plan only calls for 3600 seats. Back in 1993 scientology held an event with 10,000 people in attendance. Since then, attendance has been steadily decreasing. That they only see a need for 3600 seats says a lot about the "expansion" of scientology.
That it has "satellite relay capability" is like saying it will have "internet capability" — this is not something they have lacked for the last 3 DECADES in any event hall they have used.
And that this is somehow going to "bring the power of Source to all Scientologists on earth" is a very odd pitch. Hearing Miscavige babble on in Shermanspeak is now the "power of source" apparently?
Obviously they don't need a lot of good reasons for people to hand over cash. They have been at this for 25 years, collecting money for this "planned" hall that has no real purpose (as I have said before they already have a hard time filling Ruth Eckerd Hall… they don't need something else), and there seems to be no shortage of suckers. Just look at the SP building that is virtually empty and how much money they raised for this, though it did have the advantage of bringing with it "Super Power" — though of course that could have have been delivered anywhere.
This is the list of people and their "status" though I have no idea what the numbers are associated with each of these spectacular sounding "titles" they have been bestowed — illuminare?? Here is the latest list for posterity's sake.
But like the Super Power building, this is better as a fundraising idea than an actuality.
They are in no hurry to build the thing because once it is built then they have no reason to suck more money out of people.
Tracey McManus wrote an article earlier this month about the Hall — Scientology hypes downtown auditorium but still lacks a building permit.
In that article, Tracey reveals the reality behind the hype:
"As designs are finalized, permits acquired and land prepared, the buzz is speeding around the globe," the publication declared, adding that Scientologists were spreading the news "like wildfire."
Since then, Scientology has pushed social media ads calling the project "the largest architectural undertaking in Clearwater's history" and suggested it was ready to start.
However, 26 years after first announcing the project, it appears the church is still far from breaking ground.
Scientology applied in November 2018 for a building permit to construct a $137 million auditorium on the 2-acre site on Garden Avenue that is now a vacant lot with a small office building. More than a year later, the church has not secured approval from the city of Clearwater to begin construction.
The permit is held up because Scientology has not responded to minor feedback from the city: requirements to install erosion control measures and tree barricades, according to building records.
The SP Building finally got done when the Garcia's sued. Wonder if that is what it will take before the L. Ron Hubbard Hall gets done?
Meanwhile, scientology is also trying to sell it to the community as a good thing and these lies are even more ridiculous.
In their recent Freedom mag article they went all in, claiming this hall will bring 200,000 "through its doors" — implying that this means an extra 200,000 "visitors" to Clearwater. First, if there are 200,000 people going through its doors, this means they are rotating Sea Org members through a turnstile as a daily routine in order to get their count up. Even if they fill the hall to capacity for their "international events" that is only March 13th, Maiden Voyage (some "voyage" that will be landlocked in Clearwater), IAS and New Years. In reality, 3 events per year. Which accounts for 10,000 people — the same people that already attend the March 13th event held annually at Ruth Eckerd Hall. Most of them are Sea Org members, the rest live in the local area. This 200,000 number is as inflated as their hype about 11,000 churches, missions and affiliated organizations.
And then they try to sell the idea it will generate income for the local community. If they pay $1.8 million in bed tax now, just think how much it would be then? Actually, the REAL equation is "if we are paying $1.8 million in bed tax now, if we were not tax exempt we would be paying $100 million"… That IS the solution for the city of Clearwater.
I guess there are some who take them at their word. But I cannot imagine it is anyone in Clearwater.