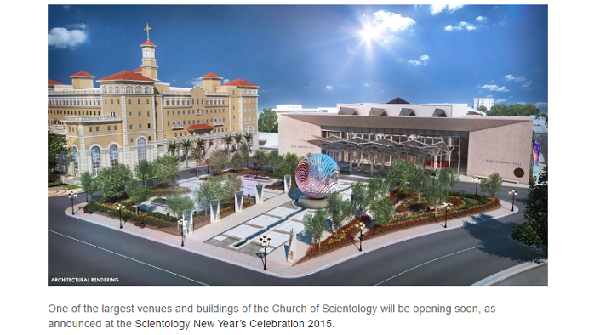 The L. Ron Hubbard Hall will be "opening soon" as announced by David Miscavige in December 2014.
It is absolutely amazing how they can keep coming up with new ways to bamboozle the sheeple into handing over money.
Predictably, this "L. Ron Hubbard Hall" is going to be one of the harder pitches to make. Apart from its name, it has NOTHING to do with L. Ron Hubbard. It is simply a forum for David Miscavige to hold his events instead of Ruth Eckerd Hall (the same 2300 seat venue they have been using for 20 years or more despite their "unprecedented growth"). This is even less appealing than SuMP — and less needed. But they are in no hurry, as long as they have SOMETHING the former regges for Super Power can try to sell, they will be pulling in some cash.
But it is looking more and more like a Time Share sales pitch – except instead of a free cruise, you pay for yourself to make the trip to "experience LRH's life."
And that was Lisbon?
What an absolute waste. The Sea Org was not "formed" in Lisbon. In fact, L. Ron Hubbard was off in hiding in New York for the largest period of time the Apollo was in Lisbon…
Should have headed for Corfu or Alicante or Tangier for more pertinent "milestones" in the history of the Sea Org. And they could have been regaled with the stories of LRH and the Apollo being thrown out of each of those ports – escorted by naval gunboats in Morocco. That would have been some enlightening fun.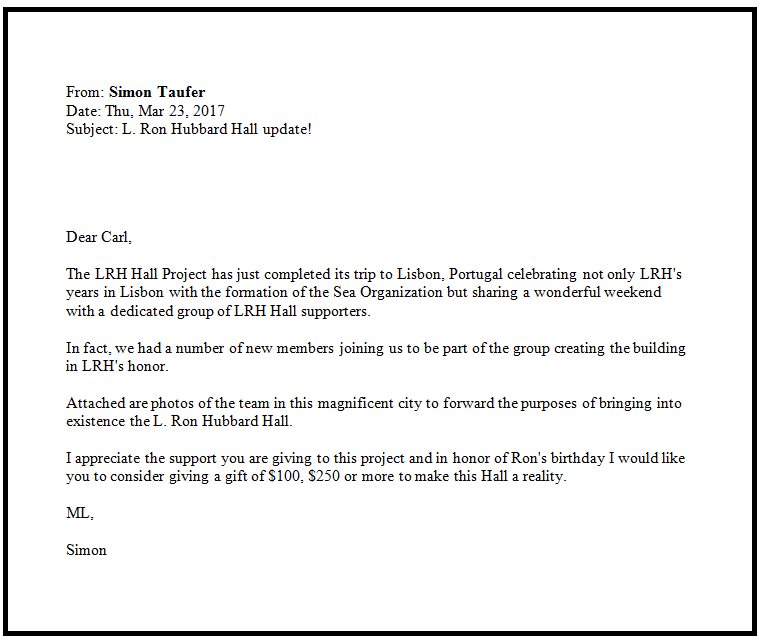 The pitch line is really bizarre "photos of the team in this magnificent city to forward the purposes of bringing into existence the L. Ron Hubbard Hall."
They could have saved themselves a LOT of time and money by going to Universal Studios in Orlando and taken group shots in front of the Wizarding World of Harry Potter. Somehow it would have seemed  more appropriate.
Of course, it is the same old group — and I do mean old now — with the smiling vampire Laurie Webster. And I guess they were so desperate to get the fundraising happening that they scheduled a trip to Lisbon in the middle of winter…
Must be big brownie points with the Flag OT Committee to have your picture displayed in a promo piece like this. Though for some reason Bubbles Champagne didn't make the trip?
THIS