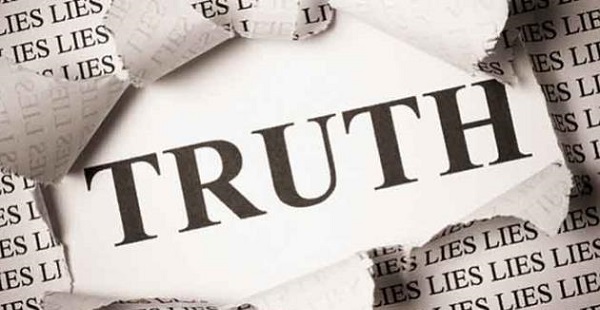 Another thought-provoking essay from our old friend Brian Lambert.
This essay was triggered by watching politicians lie on my iPad screen and then my mind went naturally to Scientology and Hubbard. It was REASONABLE to do so.
Lately I've been studying, meditating and thinking very deeply on the words: reason, intelligence and conscience. I've been inquiring in myself when I've lacked these positive virtues, at various times and various degrees; from teen to adulthood
Today I just now realized that there is one word; when it is not honored and lived that actually erodes and destroys reason, intelligence and conscience; and that word is……
TRUTH!
When the ability to reason is used for lying, when the ability to reason is used for treachery, subterfuge, the justification of harming others for personal gain; then that is the very process of destroying the ability to actually reason and see the mind and the world with clarity. Thinking then becomes distorted. When we use reason to camouflage the truth, when we use reason to hide from the truth; it is at that starting point that intelligence starts to also degrade.
If intelligence is the recognition of truth, and if a person has lived a life of lies then that person's intelligence and ability to reason will become inaccurate and degraded. Stupidity is the next obvious step.
When using the powers of reason and intelligence to rape the truth for personal gain, that person surrenders their own power to see the truth as a result of creating the mental habit of denying the truth. Denying truth becomes a mental characteristic process for that person. Then the ability to see truth starts to fade away.
Truth then, in my view, is up there with the words: God, intimacy, trust, reason, intelligence, conscience and many more.
If truth is not held high as a behavior modification, as a standard of thinking, living, experiencing, communicating, as a moral imperative; if truth is not honored as the same importance as God himself/herself/itself; then that person starts to descend into the human and spiritual dark side of ignorance and idiocy.
Gone is the ability to differentiate between truth and lie, love and hate. The positive powers of the cognitive faculties become corrupted.
The word conscience comes from the word science. The Proto Indo European root of science means to cut or split. Science divides what it is observing into individual parts, isolates them in order to observe their nature and observe their relations to other elements and form new theories or discoveries of observable truth.
The Proto Indo European root of the word reason is: to fit together.
So our conscience looks at something and weighs the consequences of an action, splits the observation in two between two outcomes.
Then the power of reason fits them back together again using intelligence.
For example: I just had a bowl of Chunky Monkey ice cream, my tongue wants another bowl, my conscience steps in and weighs the consequences or splits the outcomes in order to observe. One side says I like the taste let's eat, and the other says I'll pay the price because of sugar and my lactose intolerance. If I am honoring the virtue of siding with truth my ability to reason will then "fit" these two outcomes together with a resounding reasoned "no!" health is more important than the needs of my tongue. That was an intelligent decision keeping my virtue of intelligence, reason and conscience intact.
All three elements can be seen as working harmoniously together in a healthy interaction which leads to optimum health. And they all work in harmony because TRUTH was the goal. Conscience looked at the event, truth was considered by reason and the outcome is optimum survival and the support and development of my intelligence.
The reason Scientology is so screwed up is because Hubbard was a congenital liar.
And because Scientologist's opened their minds to doctrines from a pathological liar, three important and indispensable traits and positive virtues are missing in Scientology and Scientologists:
1- having a conscience whereby the person can look at something, split them apart for observation and see clearly.
2- the ability to then think with those elements – CLEARLY- and fit them back to together with reason in an optimum survival decision
3- having the truth as the pole star so that reason and conscience can operate in harmony and produce a more survival outcome.
When truth is not the goal for all cognitive processes, the ability of the mind to function becomes degraded.
What has come out of the mind of L Ron Hubbard is the result of his devaluation of truth which then led to his degradation of reason, conscience and the recognition that truth is the only virtue that can make conscience, intelligence and reason function correctly.
In Scientology, truth is the first casualty. The next casualty is sanity as a result of the degradation of reason, intelligence and conscience.
These are the simple steps to the destruction of a harmoniously functioning mind.
Scientology was never a road to truth. That was the first lie.
Scientology is the road to the destruction of reason, intelligence, conscience and the recognition of truth.