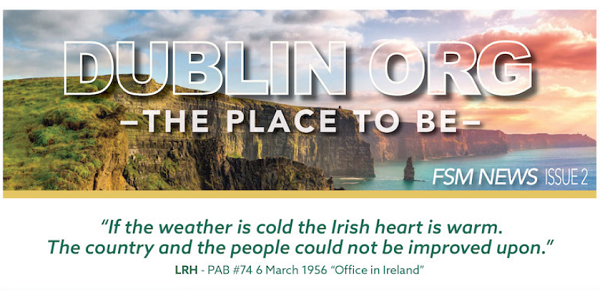 We keep seeing promotional pieces from Dublin "ideal org" that features people from other countries around Europe and the world. Almost every one of their "public" is NOT Irish.
The absence of Irish completions in the Dublin "ideal" org is hardly surprising.
Dublin only ever had a small, failing mission that was propped up by the Sea Org in order to keep its doors open. It suffered a massive blow from a legal case and the disclosure of its bankrupt condition.
But why invest enormous sums in a country that could not sustain a single mission?
There are a couple of possible answers to this:
Scientology has spent a lot of money over the years purchasing properties once used by L. Ron Hubbard. It is a way to spend some of the avalanche of cash on real property that is retained as an asset. They have bought Hubbard houses in Joburg, Phoenix, Bay Head NJ, the old DC org building, his office in Fitzroy St London and then his former office building in Merrion Square Dublin.
They had no real use for this building, claiming it was a "National Affairs" (PR) office, but that's pretty silly in a country where there is no scientology.
It was embarrassing to have to admit that the very locale where Hubbard developed his "famous" Personal Efficiency Course — the greatest development reaching "new public" — was such a failure that there was not even a scientology org in the entire country. That sort of obvious question is one that weighs heavily on the mind of David Miscavige.
A second reason might be that scientology has traditionally banked a lot of money in Ireland. I don't know that this is STILL the case, but in years gone by the Bank of Ireland was a favored institution by the IAS and Sea Org Reserves. Perhaps investment in the local economy was seen as a good "safepointing" action.
Perhaps Tom Cruise had plans to shoot another movie in Ireland? Ideal Orgs in Madrid, New York, Auckland were given high priority due to him needing to have a "good org" for him to bring public into when he was in town…
Who really knows. Only Miscavige.
But what is clear — as with the AO Africa — this new org was NOT based on a need to deliver scientology to anyone. They are having to import people from all over the planet as no locals want any part of it.
Can you imagine spending millions to construct a burger joint in a Hindu city? That would be scientology-style expansion.