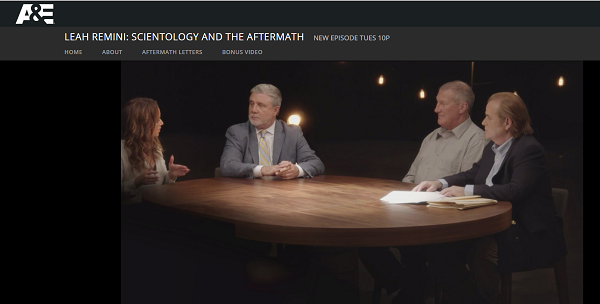 Scientology's usual response to each episode of The Aftermath appeared on their hate site before the show had even finished airing.
They focused their attention on Mat Pesch and Jeffrey Augustine. They KNOW they cannot make the same sort of insane rants about Luis Garcia or Ted Babbitt because they will present it before the Judge in their case. So, they stay mum and pretend they did not appear on the show. How embarrassing it would be to have a judge read their drivel.
But Mat and Jeffrey of course got the full "scientology treatment."
Mat of course is the "unvetted Mat Pesch" invited to Leah's  "roundtable of bigotry." These days everyone is "unvetted" because Leah commented that this is not her job, legal vets the stories. Of course, that adjective is now thrown before every person who appears on the show.
First, scientology's response to all the documents, the numbers, the policy letters, the video of Hy Levy, Big League Sales that Mat discussed?  Nada. Zip. Not a word.
Instead, they take the patented scientology low road — they "kicked him out 12 years ago" and he was working "in the wood mill" because "he was unable to uphold the ethical standards of the religious order and ecclesiastical justice removed him". Apparently the vast majority of people who have ever held executive positions in scientology have had to be removed for being unable to uphold the ethical standards of scientology. Which does not say much about scientology. This also only ever comes to light AFTER the person has left…
They do admit that was the Treasury Secretary, but once again,  "he was removed for dishonesty and falsifying records." Of course, this is irrelevant to whether he has KNOWLEDGE and though they have documents for EVERYTHING they show no document about his supposed "removal." But in the next sentence they claim that his years as the Treasury Secretary (one of the most senior positions in a scientology org) was "a stint in the local bookkeeping department of a Scientology Church"… Well, even that would corroborate his claims about knowing how much money the church had and how it was collected. And "a scientology church" happens to be the largest scientology organization on earth that takes in $2 million per week. Funny how they try to dismiss it as "just another church" when their own promotion about Flag talks about it in such glowing terms as the biggest, baddest and best church ever.
And this is the best they can do, though apparently they could not resist throwing in some innuendo and lies about Mat's wife, Amy Scobee and her alleged "sexual transgressions." Even though Amy did not appear in this episode — her alleged sexual exploits are evidence that the scientology policies and practices shown in this episode were untrue. That is classic scientology think. And even if everything they said about Amy was true (it isn't) — how does that change whether Mat knows about how money was made and how much at the FSO?
Then they turn their poison pen to the "unvetted" Jeffrey Augustine.
Note — they do not comment in ANY WAY about all the contracts Jeffrey showed. Nor the Orientation Film. This was the SUBSTANCE of what he brought to the table. Virtually all Jeffrey did was hold up copies of documents and say what they were. Come on scientology — were those not REAL documents? Does it make any difference whether the hand that was holding them up was Jeffrey Augustine or Pope Francis or Howard Stern? Are you denying the veracity of those documents? Nothing to say about that?
No, instead they try to assassinate Jeffrey's character.
But they go about this in a very odd fashion, choosing to deride Jeff because he wrote a book: What Caused the Big Bang? Citing passages as "incomprehensible" and that he "incoherently pontificates about "bubble universes" this apparently makes the contracts he held up invalid.  But let's not forget, these words are coming from the same people that sit and drool while David Miscavige rambles about being on the porch of infinity, L. Ron Hubbard presents the evil Lord Xenu as the mastermind of a plot to round up billions of people from all over the galaxy, transport them in DC8 looking space ships to earth, blow them up with atomic bombs after dropping them in volcanoes, and scientology espouses the idea that people get sore jaws because they were once clams on the seashore…
Pot. Kettle. Black.
And by the way, I am pretty certain that "bubble universe" perfectly describes the world of scientology.
And it just would not be an authentic scientology smear site without the obligatory allegations about Jeff's wife being a sex fiend.
And that is the BEST they got.
Not a single word about the money, the discounts, the policy on refunds, the Catch 22, the listen-in systems, the contracts, the lies, the phony arbitration, the US Supreme Court ruling, the lies to the IRS, the billions of dollars they are hoarding. Not. One. Word.
Their silence is deafening.
And for new readers of the blog, and for those who just want a refresher on how this all follows the policy of L. Ron Hubbard, read this earlier post: Dealing with Critics of Scientology – The L. Ron Hubbard Playbook
Thanks as always to the brave people who speak out about the abuses of scientology, this week we salute Mat Pesch, Jeffrey Augustine, Luis Garcia and Ted Babbitt.