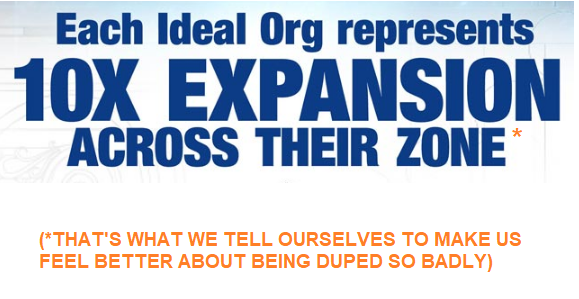 The bs just keeps rolling when it comes to the "ideal orgs" campaign.
The small, failing org that was originally in Ann Arbor, Michigan has never been more than a tiny mission. This "ideal org" story begins back in 2001, even BEFORE the official launch of the Ideal Org program. They were unable to pay their rent and had to move. A building was on the market in Battle Creek for cheap.
This is a small town 50 miles west of Ann Arbor (which is on the outskirts of Detroit metropolitan area and is home to the huge University of Michigan) in the middle of nowhere. Battle Creek only has a population of about 50,000.
Here is how it was reported in the press at the time (2001):
The Church of Scientology – which has been criticized in California, Florida and other states for its business and spiritual practices – has two churches in Michigan, one in Detroit and the other in Ann Arbor.
Now that the group has purchased the 71-year-old, four-story downtown structure from a Grand Rapids bank for $235,000, the Ann Arbor church may eventually close.
Parishioners in western Michigan and northern Indiana will likely be able to attend services in a temporary location in Battle Creek by early July. It will take at least a year to refurbish the first floor of the hotel for church purposes.
No doubt it was a steal.
But there was NO logic to it except this.  Battle Creek is famous for one thing — it is the "cereal capital of the world" because both Kellogg's and Post have a long history there.
It is where one of the Kellogg brothers established a sanitarium providing "sometimes bizarre treatments" as featured in the movie The Road to Wellville.
This hotel was formerly known as the Kellogg hotel, and that made it extra valuable for David Miscavige. Just think of the cache of owning the former "Kellogg Hotel". I recall him announcing this to a standing ovation — as if scientology had achieved a status that now put it on equal footing with the Kellogg cereal empire.
What Miscavige probably didn't bother to look into was that the Kellogg's also funded organizations that promoted eugenics theories such as the Better Race Institute. And of course everyone knows that eugenics is a psych program – CCHR's "Industry of Death" museum makes that point repeatedly.
So, Ann Arbor org became "Battle Creek" org and for nearly 20 YEARS they have been waiting to raise enough money to move into the old hotel they bought.
You can see how close they are…
They can only round up 4 or 5 people for a PHOTO SHOOT, and that of course includes the symbol of dedicated determination, Tony the Tiger of Frosted Flakes fame.
The story of Battle Creek is a microcosm of the story of ideal orgs around the world. Despite the claims that it is proof of "massive expansion" it is in fact the best evidence of massive failure. As scientology tries to scrape together more money and find a handful of people interested in participating in these failed projects in city after city, the propaganda lines about "unprecedented demand" and "fastest growing" and "coolest religion on earth" become increasingly laughable.