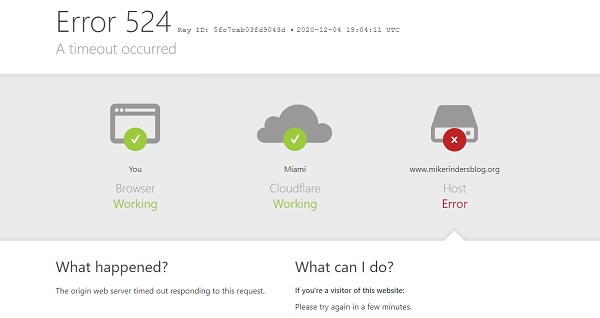 As you may have noticed, there have been some issues in the last couple of days with the blog. They may continue for a bit while things are sorted out. Please have patience. Taking the lead from Miscavige, I declare this to be a cyberspace bullbait.
Here is what I know. While the number of visits to this site has increased steadily following the Netflix airings of The Aftermath it did not create an issue until a few days ago when things started to ramp up with bots putting a lot of demand on the site, and then seeking to login (none succeeded).
This is not uncommon in the cyberworld, but given the topic of this blog, and the repeated lashing out at Leah and I by scientology as they flail around trying to deal with the fallout of The Aftermath, it is not unreasonable to assume that this is not merely a random coincidence. Let's not forget, a PI hired by scientology (Saldarriaga) was already convicted for trying to hack Tony Ortega and me. And that in the past, scientology has spent a lot of money to try to "control" the internet with fake ID's, click farms and other shady activities. When the demand comes down from on high to "do something to stop this shit," the call goes out from OSA to all their "resources" to "get effective." It's probably what preceded Saldarriaga being hired to do the hacking by Dave Lubow. The ends justified the means. As they always do in scientology.
There are a couple of people who have been working very hard to solve the problems, and I am greatly appreciative of their skill and time they are putting into this.
I also want to take a minute to thank those who click on the "Donate" button on the home page. It is your support that makes it possible to keep this blog going. It does cost money to host a website and to install the needed security protections and upgrade memory capacity and whatever else it is that has to be done. Without your help, I would be unable to afford the expenses. So, thank you to those who have contributed. Take a bow and know that it is your support that has come to the rescue.
Both Leah and I have said many times that we could not do what we do without the support of so many people around the world. And this is not merely in reference to monetary support. There is an army that has been created and it gives us the strength to carry on.
So, thank you. And I hope you will be patient and know that this is part of the battle.
Update:
Thanks to some excellent work by the blog Admin(s) normal service is now returned and upgrades are being put in place to prevent further issues. Some comments may have been lost, and a couple of postings. Small price to pay for being back to normal….