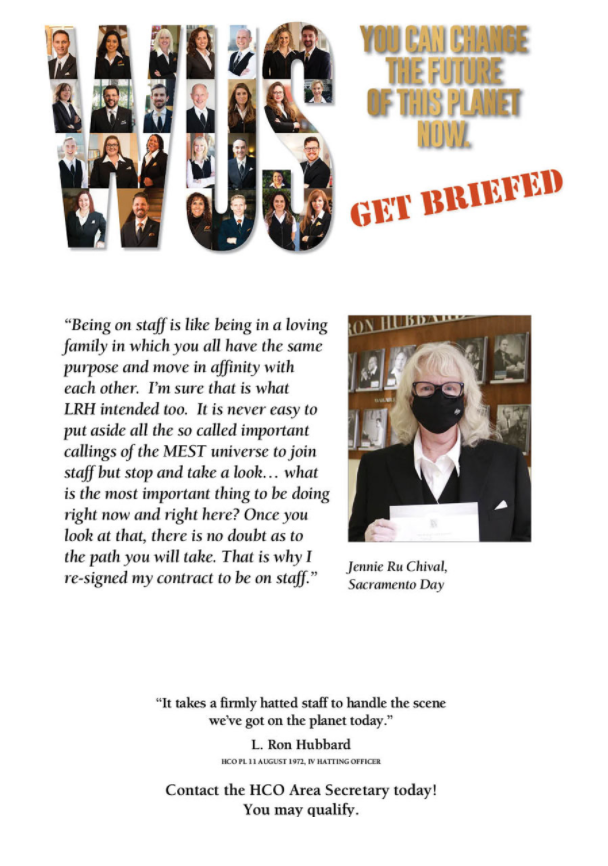 This is one of the more egregiously dishonest and distorted promo pieces I have seen from scientology in a while. And that is saying something.
Of course, the first thing to note is that being on staff does absolutely nothing about the future of this planet. It doesn't even do anything about the future of the neighborhood these orgs are in. Not a thing changes with their presence. Though in many jurisdictions they are a drain on tax revenues that would otherwise generate from the property they occupy. But apart from that, zilch impact.
But then it devolves into absurdity.
Staff is like a "loving family" and you "move in affinity" with each other (whatever that means, I guess it sounds good). The reality is that staff in a scientology organization is a dog-eat-dog world where you are required to report on your fellow staff if they deviate in any way from the rules and regulations of the organization or policy of Hubbard, and where you are only as good as your last week's stats. Mail out one less letter this week than last and you are a "downstat" not to be afforded any compassion or leeway, and in fact suffer penalties. Little or no thanks for your dedication, working extremely long hours doing often unpleasant tasks, for no money.
What IS true about this is that being on staff does require you to "put aside" the "important callings" of the MEST Universe. Like having enough money to live and eat. Or time with family. Or for leisure or hobbies. It's a dog's life on staff in a scientology organization — in many ways worse than being in the Sea Org, where at least you can usually expect a roof over your head and some sort of food to be provided, low quality as it may be.
The final joke: "You may qualify."
Everyone who is not on psych drugs or a wanted felon WILL "qualify." Pretty much the ONLY qualification required to joining staff in a scientology org is that you are willing to sign away the rights to your life to the organization for nothing in return except promises that you will be saving mankind and will make tons of money "depending on your production."
The life of a "sciento0logy staff member (volunteer)" fulfills many of the elements of someone who is a victim of human trafficking.