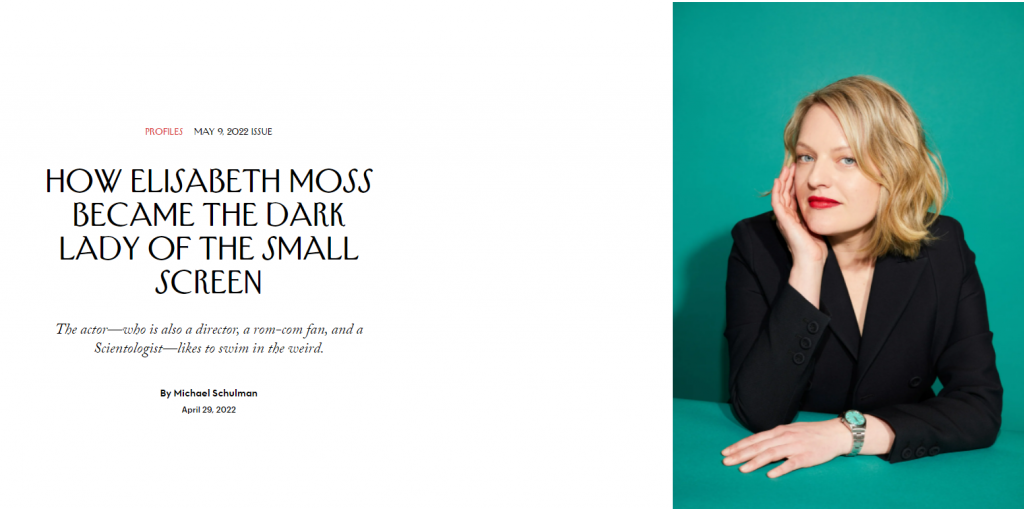 The recent New Yorker article piece by Michael Shulman has resulted in a ton of media pickups, mostly focused on her responses to questions about scientology.
There have been a number of takes on this of interest:
Martha Ross wrote an excellent piece in the SJ Mercury News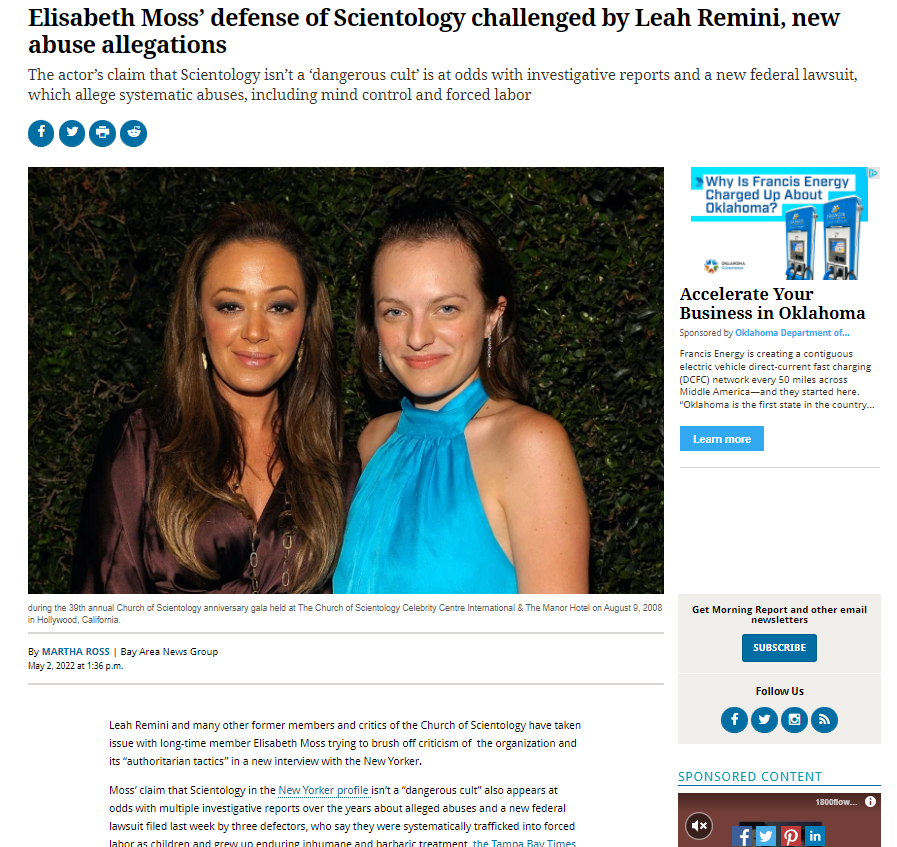 Martha quotes journalist Yashar Ali who tweeted: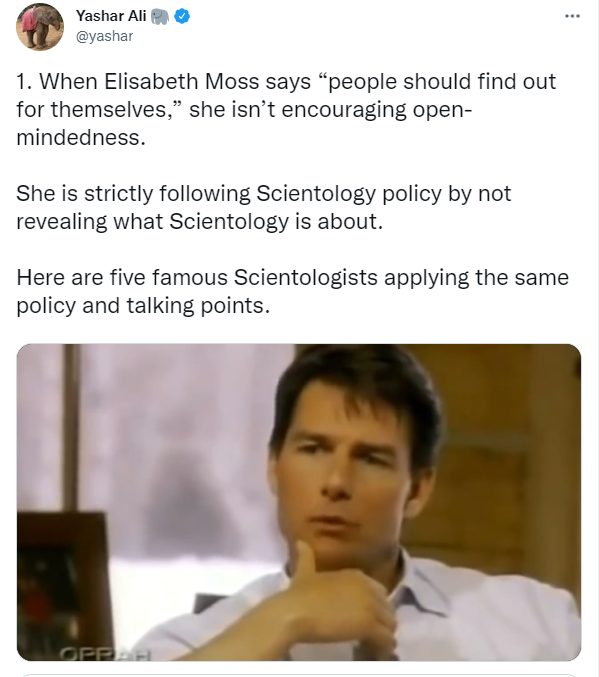 And Tony Ortega added some thoughts from Geoff Levin who was extensively interviewed for the story, but little of it made it into print: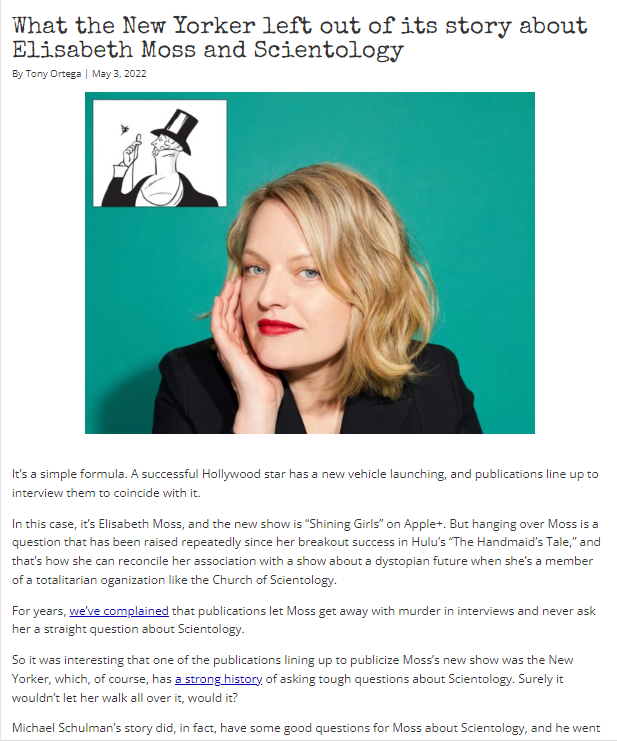 Now, let me add some of my thoughts, as it was my job back in the day to prepare celebrities for interviews and how to respond to scientology-related questions. Elisabeth Moss followed the playbook to the letter.
Elisabeth is a good scientologist. Raised in a scientology family and surrounded by scientologists, including her manager Gay Ribisi, she knows the party lines she is supposed to repeat and has learned how to be evasive on touchy issues.
The first rule of scientology celebrity PR is "Don't ever talk about scientology other than to recount personal anecdotal experiences and tell people to read a book and find out for yourself." See the video compilation clip in Yashar's tweet above of celebrities doing just that — and there could be a clip of every single one of saying exactly the same.
Shulman says: "It's tempting to imagine that she's just culturally Scientologist, like a Jew who goes to temple only on Yom Kippur." But as I have said before, there is no such thing. Every scientologist is a fundamentalist. You cannot be "half-in" scientology. Ron says so.
Moss hit him with another perfectly rehearsed line that works for her as she has never been a vocal scientology salesperson like Cruise, Travolta or Alley, "I don't want to come off as being cagey. If you and I met, just hanging out as friends, I'm, like, an open book about it." But "I don't want people to be distracted by something when they're watching me." So, there you go, I'm open and talk about it, except if I am interviewed for something about my career. So, don't ask me anything more. The real truth is that even if she was just hanging out as friends, she would employ exactly the same techniques.  Walk into any scientology org and start asking tough questions and you will hear "find out for yourself, don't just believe what you read in the media."
Then a further explanation which is another rehearsed line: "It's not really a closed-off religion. It's a place that is very open to, like, welcoming in somebody who wants to learn more about it. I think that's the thing that is probably the most misunderstood." Well, that is not "misunderstood" — it is true and she knows it. But it sounds acceptable. You can't know about the real beliefs of scientology because they are "confidential" and would "harm you spiritually if you are not ready for them." You can't walk in to any scientology building and wander around freely, you will quickly be accosted and guided to the "public areas." You don't get to see the confidential directives about how to deal with enemies or litigation. You're not supposed to talk to anyone who had actually experienced life in the SO or near David Miscavige because they are all "unreliable, bitter apostates who make up terrible horror stories." If that is your definition of open and welcoming, you need to clear up your misunderstood word.
When pressed a little more about what scientology does for her, she used another standard party line: "Communication is something that I obviously use so much, not only in my job but in my interpersonal relationships as well. That is probably one of the No. 1 basic things that I grew up learning and grew up using and use every day: the power of just being able to listen to somebody, of making somebody feel heard, of not belittling them for what they think or believe, even if you think it's wrong. "
I was quoted in the article about this: "That's a fundamental concept that is sold to new people to get them into Scientology. You'll hear a lot of Scientologists say, 'It taught me to communicate,' because it's a simple, uncontroversial thing. Lizzie is good at communicating her roles to audiences, so you can't say that's a lie. It's a great line to use, because it's one of those things that you can't really challenge."
But what about getting rid of body thetans and curing cancer? Do you believe the Xenu and volcanos story? What about Hubbard's claims that Clears don't get colds? Have you had a cold?
And when Shulman pressed a little further, asking how she could reconcile the reported abuses perpetrated by Scientology—mind control, Disconnection, assigning troublesome members to hard labor which echo the authoritarian tactics of Gilead, she fell back on the "no answer" response:  "I would just encourage people to find out for themselves." With this response she did not acknowledge that disconnection even exists, or that people are assigned to hard labor. She implied these claims are not true, but didn't actually say so. I have heard John Travolta when pressed say: "I have never experienced any of those things, and I can only speak to what I know."
Finally, Shulman asked her about the 2017 Television Critics Association Awards. She was nominated for "The Handmaid's Tale" and we were nominated for "The Aftermath." I was there and it was VERY obvious that Lizzie and her entourage pointedly left the room when our category came up. She did not want to be seen either applauding or not applauding if we won. Applaud and scientology bosses would be VERY unhappy. Not applaud and everyone in the room would notice. She claimed: "I went to the bathroom, I wish it was more exciting than that." Blown off again with an "acceptable truth." Had she been asked if she was permitted to talk to Leah and me she would have had a more difficult time responding with even an acceptable truth. Instead she claimed, "I have never been approached by her" like there is no issue at all and had we approached her she of course would have been gracious.  This is not the only time this happened.  Giovanni Ribisi did not show up at all to an event with his co-star Bryan Cranston (Sneaky Pete) because he knew Leah and I were going to be there.
While Elisabeth did her job as a good scientologist, I am sure she will NOT be thrilled about the focus on her involvement in scientology and the obvious parallels between it and Handmaid's Tale. No matter how you slice it, scientology never ends up looking good.