AS IT APPEARS SCIENTOLOGY DID NOT PUT UP THIS POSTER — BUT IT IS BEING TROLLED BY IT (AS WAS I) I AM REPLACING THIS POST.
BUT IT WAS FUN WHILE IT LASTED….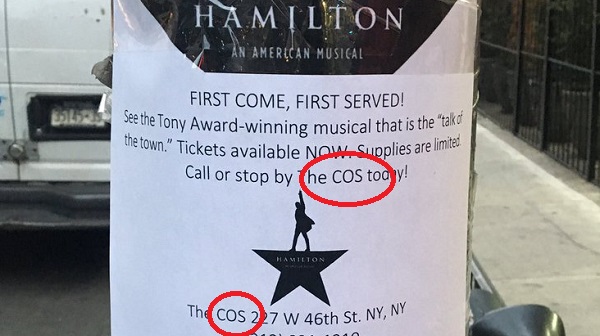 This has to be one of the more remarkable things in the history of scientology "dissemination" efforts. And there have been plenty of really bizarre episodes.
New York "ideal" org is trying to attract people to "The COS" (they do NOT use the word scientology) with Hamilton tickets for $20. Like anyone who is not on staff in scientology would ever know what "The COS" is…
Scientology claims to have the answers to all of life, the solutions to the problems of mankind and can hand you the keys to eternity — but they cannot get anyone interested, so they pretend they are offering theater tickets on the cheap to get anyone to talk to them.
I know Tony Ortega put a shot of one of these posters at the end of his blog post yesterday (obviously someone else was just as fascinated by this new "tech" and also took a photo) but I felt this worthy of further commentary because this tells a LOT about the lies of scientology.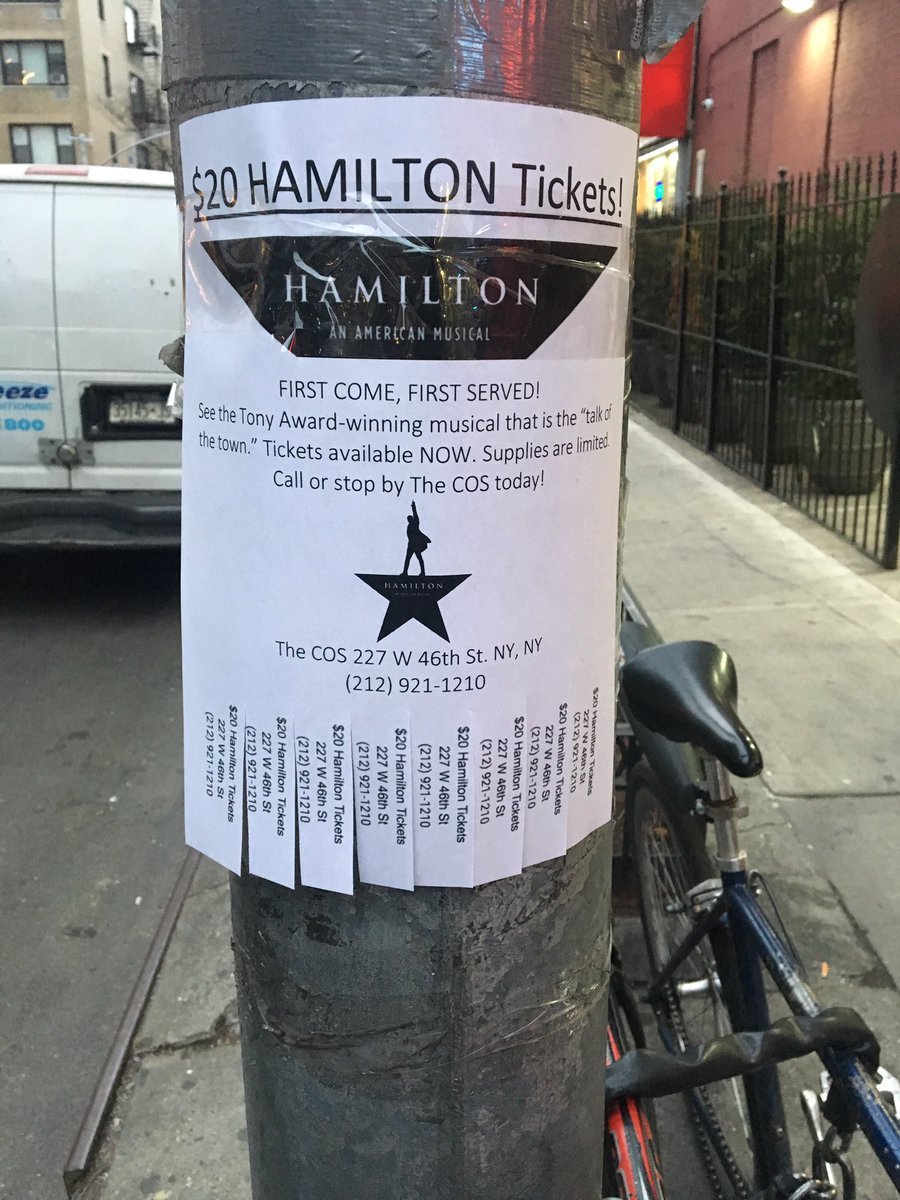 This is the organization that proclaims they are in the midst of an "era of unprecedented expansion". They claim there is "unparalleled" interested in scientology on the internet and stemming from the ads they put on the Super Bowl and Grammy Awards. If that was true the most important thing to note on this poster would be the word SCIENTOLOGY.
This poster proves otherwise.
New York is one of the oldest orgs in the US. One of the oldest "ideal" orgs – 5th or 6th on the planet. One of the few orgs that has NOT been moved into the backwaters of industrial parks or low rent suburbia. It sits within half a block of the most heavily trafficked intersection in the United States – Times Square. Hundreds of thousands of people pass through there every DAY.
And the masters of communication are clearly unable to convince people they should find out about themselves and their mind and their eternity and all the answers to life in the "coolest" and "fastest growing" religion on earth.  No, instead they stick a black and white sign on a light pole, trying to bait and switch ANYONE to pass through their doors. Because they believe theater tickets are more likely to get someone to talk to them than scientology…
As Donald Trump would say: Their ratings are terrible. Awful. Sad!
PS: I hope they sold every one of their $20 tickets to scalpers who took them back to Times Square and resold them at market price…