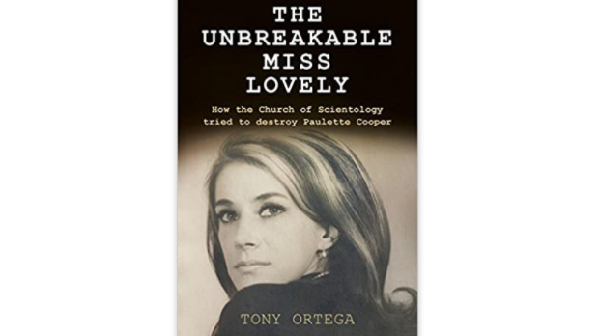 The newest episode of the Scientology Fair Game podcast features one of my favorite scientology survivors, Paulette Cooper.
Her life story is amazing, and if you have not read Tony Ortega's excellent The Unbreakable Miss Lovely, I recommend you do so.
The story of what scientology did to try to destroy her is unbelievable. Literally. And unless the FBI had recovered documents in the raid on scientology in 1977, what scientology had done to her was not believed by anyone — it was so far-fetched it seemed it could only have been lifted from the pages of a cheap spy novel.
Paulette mentions in the episode that she has made her original book available for free (Scandal of Scientology) at her website PauletteCooper.com.
In this episode we talk about "dismissed attackers" — which is covered in my earlier blog post Dealing with Critics of Scientology– The L. Ron Hubbard Playbook.
That post also includes the documents from Hubbard calling for hiring Private Investigators and "Noisy Investigations", and how one goes about finding "buttons" and what someone is "seeking to protect."
We also mention R2-45 — where Hubbard says Sea Org members are to employ this piece of his "technology" (shooting someone in the head with a .45 pistol) on someone.
Here is that document, where Hubbard proclaims some "squirrels" are "Enemies of mankind, the planet and all of life" for pretending to have upper level materials!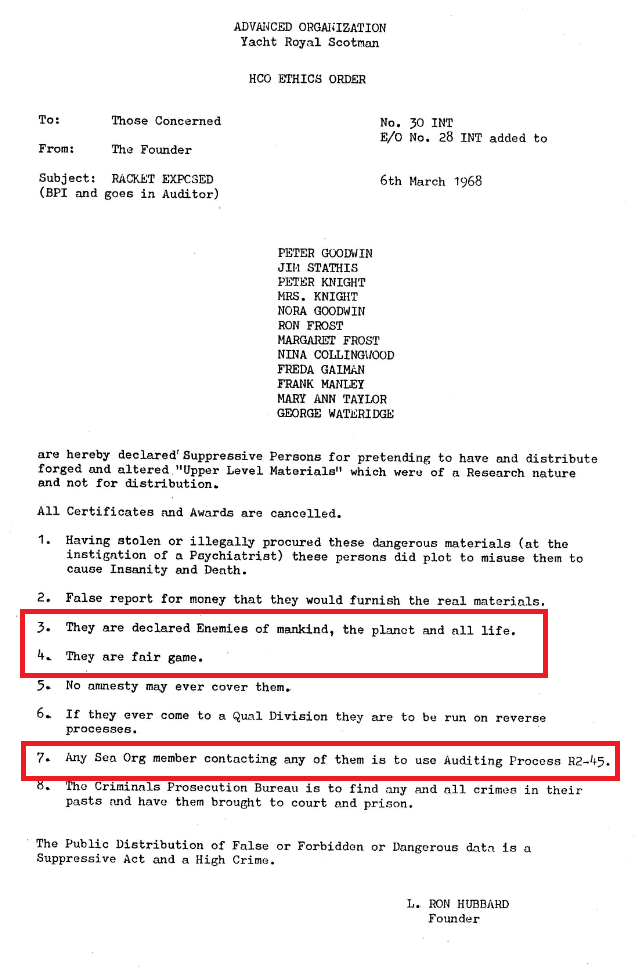 Scientology claimed R2-45 was a "joke" but as Leah points out, joking is NOT a thing in scientology. In fact, there is a Hubbard "bulletin" on this too…
Here is one of the forged bomb threats the Guardian's Office used to get Paulette indicted: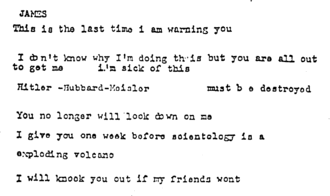 And some of the documentation concerning Operation Freakout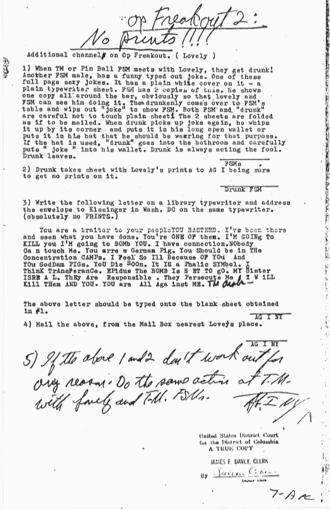 You may also want to look at the Wikipedia entry on the Snow White Program.
And we make reference to scientologists lying which is covered in detail in my earlier posting, Why Do Scientologists Lie? 
Listen to the podcast. It opens the door to a whole dark world of scientology. that unfortunately, is not "historical" as though it happened in the 70's and 80's, nothing changes in scientology because it is all etched in stone (or perhaps on stainless steel plates in titanium capsules in nuclear proof vaults) in the words of L. Ron Hubbard. And his words are unalterable and must be followed.