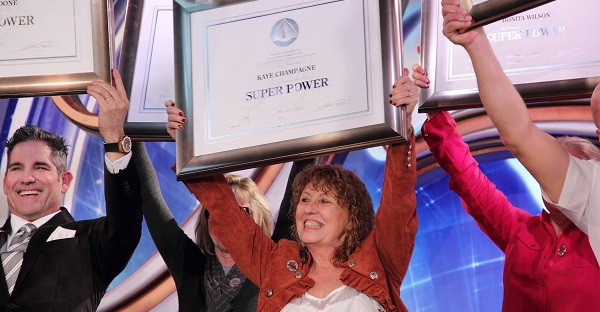 One of our regular, if irregular, features:  the often odd, sometimes silly, but always informative and entertaining "minutes" from the Flag OTC.
Super Powered Bubbles Champagne and her crew — supposedly the top tier of the scientology public world — are poster children for the bubble-think that is endemic in scientology. They literally see what they are told to see. Period.
I have highlighted just a few of the most notable points in their latest edition of "pat ourselves on the back" news.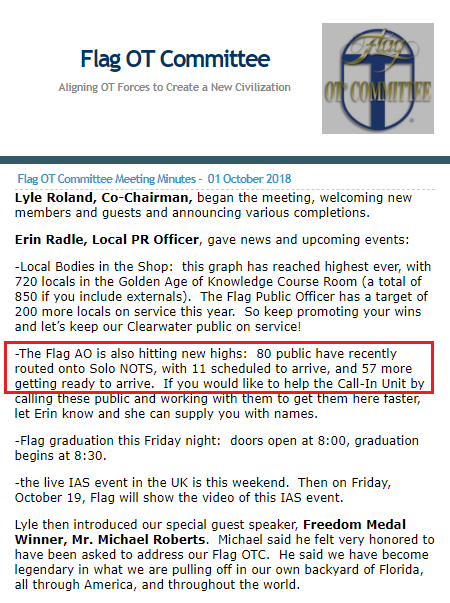 80 public "recently" routed onto Solo NOTs. Wonder how recently? No specifics is always an indicator that it's not good. But there are 11 "scheduled to arrive" and 57 more "getting ready to arrive. " They forgot to mention the 204 who are "thinking about getting ready to plan to start making arrangements to arrive".
i guess it doesn't occur to them that with these numbers, they are NEVER going to make 10,000.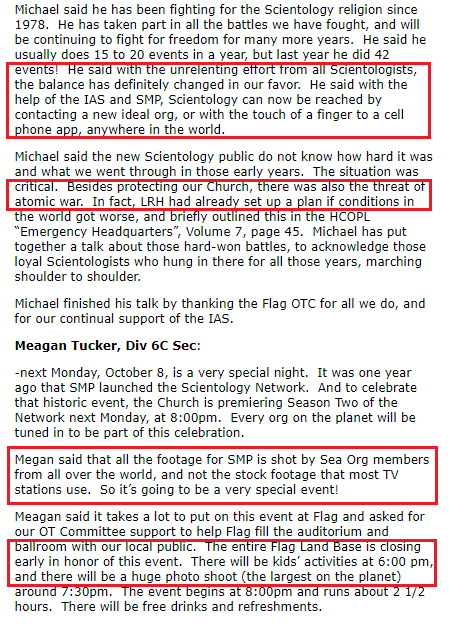 Rooster really got the crowd going with some great stroking at the outset. "Legendary"?
Everyone was thrilled to hear that the "balance has definitely changed in our favor" — how do we know? With a touch of a finger to cell phone you can now reach scientology from anywhere in the world. This is some mighty earth-shattering news. Clearly, it's all downhill from here…
Not to be a party-pooper, but you know with the touch of a finger to a cell phone anywhere in the world you can also reach me. So perhaps the balance has definitely shifted in my favor too?
Oh, he is still riding on the threat of atomic war? And the great plan that Hubbard had for it? Really? Everyone should move to S Africa?
It appears Rooster is still living in the glory days back when things were "hard". The newbies obviously don't understand the great sacrifices the heros like Michael, Jeff Pomerantz and Andrik Schapers gave to make it possible for the massive international expansion scientology is experiencing today. Just think – without those brave  champions (and your support of the IAS), scientology would not have been shrinking at an even faster rate than it is!
And hold the presses — the "launch" of "Season Two" of the Cult Shopping Network is happening. And you know that ALL the footage is shot by Sea Org members and they don't use stock footage? Isn't that amazing. I guess that makes Scientology and The Aftermath pretty amazing too…
They're closing down the entire Flag Landbase for this watershed, epic event. You can bet the ONLY people watching this "launch" will be the people who are suckered into going into an org to watch it.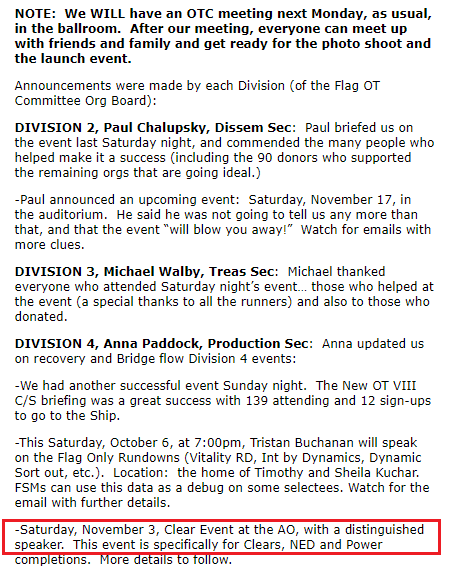 A distinguished mystery speaker?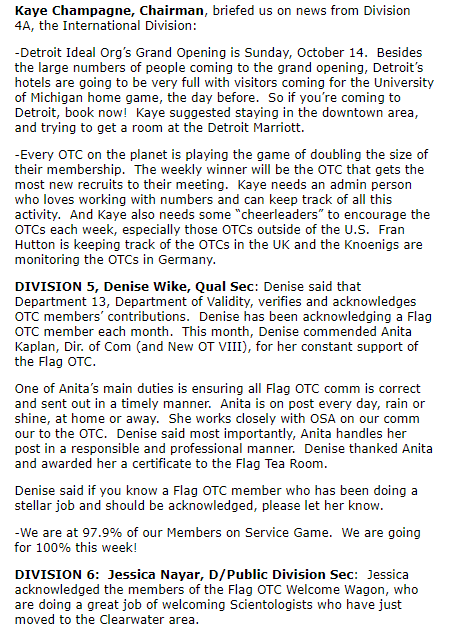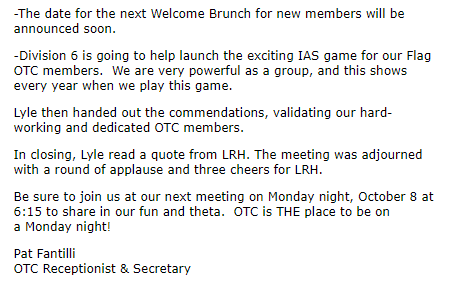 That's all the amazing information there is for this week. I am sure readers will note other items of interest.