It was a rough night for Dear Leader.
First, Going Clear was presented an Emmy Award for best documentary, best director and best writer.
Bam.
Tons of media coverage about it. But I loved the quote at the end of this article:
Regarding a possible followup, Gibney noted, "There's a lot more material already that I've received, more to come out — and so far the IRS has not revoked its [tax-exemption] protection so there's a lot more to be done."
Alex Gibney​ is a REAL champion of human rights — not because someone handed him a certificate that says so after he handed over some cash to them.
He has the courage to stand up and speak out loudly about abuses and refuse to be bullied into silence. He is a national treasure who should be widely and uniformly lauded and supported.
So too Lawrence Wright​.
And also HBO, who had the courage to back this program and other similar docs (watch CitizenFour if you have not already done so – it is on HBO On Demand) to expose rotten things in society that should not go unnoticed. HBO has become a powerful and important voice for social justice in the US and the world. Kudos to Sheila Nevins and HBO Documentary Films​.
And then on top of this, Joe Childs has a new piece about Jim Jackson and corporate shenanigans inside scientology in the Tampa Bay Times Sunday edition.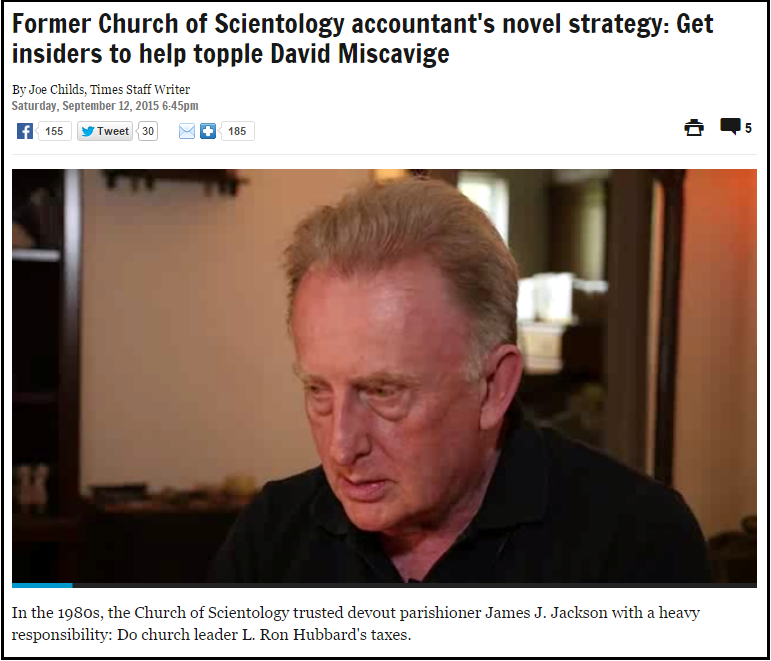 What is MOST remarkable to me about this story is Miscavige's desperation to try and discredit Jim Jackson.
Jim Jackson was not only the hand selected accountant that did both Hubbard and Miscavige's personal tax returns, he IS AN OT VIII.
Yet the church is trying to "dead agent" him by claiming he has "memory loss."  So I guess this OT VIII didnt achieve an end to amnesia on the whole track, in fact, he didn't even achieve it in this lifetime according to the church (a neurologist who tested him says his memory is perfect…)
It really sucks to be Miscavige today…
Really.
And things are only looking worse in the future.