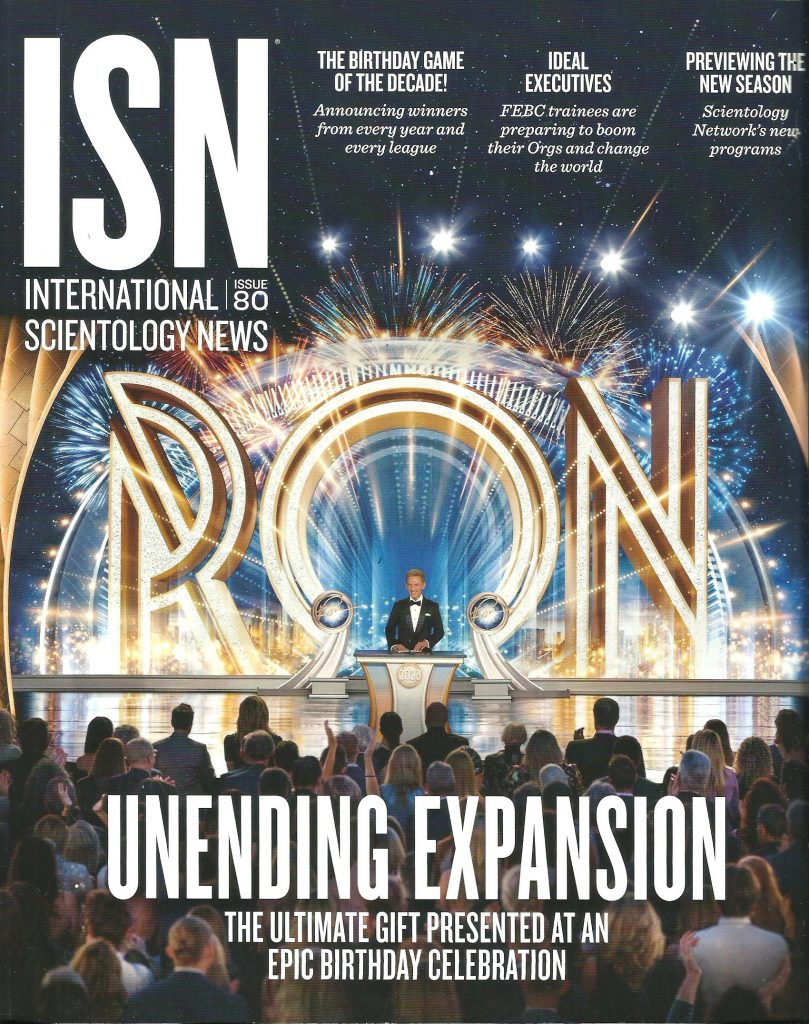 The latest edition of the International Scientology News magazine arrived in my mailbox, and apart from the glossy puffery and fake stats, what was most remarkable was how many times they felt the need to show Miscavige's face.
Of course, he is the focus of the cover of the magazine supposedly celebrating the birthday of L. Ron Hubbard.
His plastic smile and lacquered bouffant appear 16 more times — with 4 of these full page glamor shots, as well as the back cover taken from behind him on stage.
I would be embarrassed by this level of brown-nosing, but that is not an emotion felt by sociopaths. He is probably wondering who is trying to undermine his authority by including so FEW images.
I have not yet had a chance to analyze the false claims made in this magazine, but I did note at the end , along with the final full-page glamor shot (you don't want anyone getting to the last page and not remembering who was really important) they included his "In Closing" from the event and that is an interesting piece. Of course, the author of Shermanspeak is no longer available to write his purple prose, so he seems to have tried his hand at it himself — and it is an absolute farce. This stuff makes even less sense than when Sherman did it, and grammatically it is horrendous. Repetitive. Half sentences. Run on sentences. Jumbled syntax. You can be sure everyone stood up and cheered like this was the Gettysburg addresses, but if you take a few minutes to to wade your way through it, there is no question it's just embarrassing nonsense.