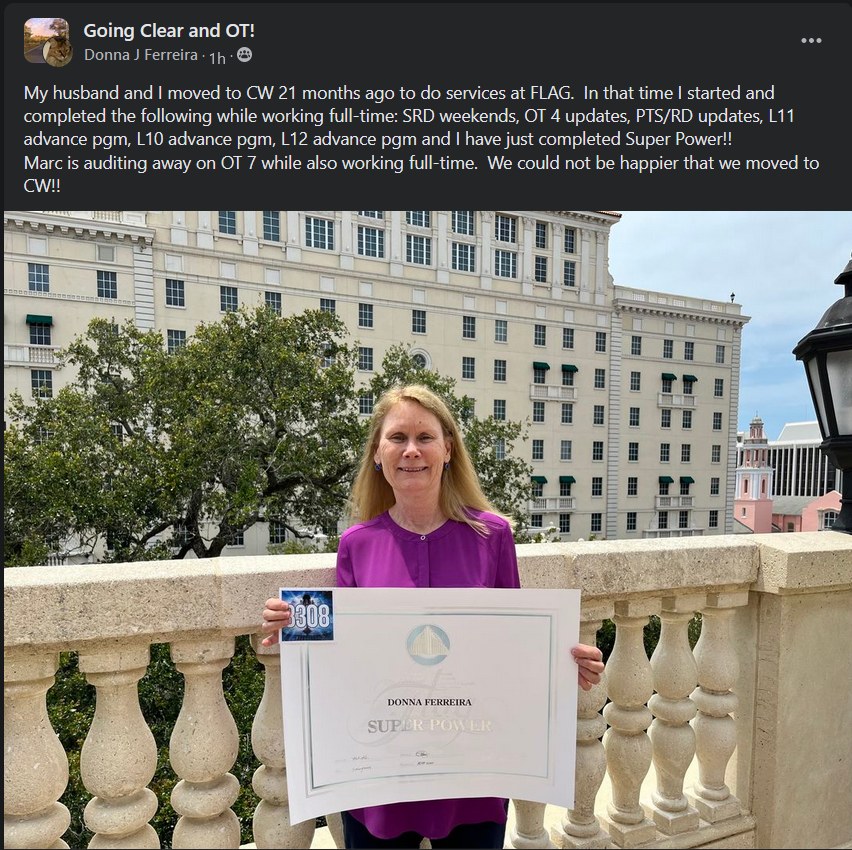 Donna Ferreira was formerly a Sea Org member at Golden Era production. She was in tape production as I recall, her husband, Marc ("Muff") was one of the original LRH AV technicians (his brother Craig was a guitarist in the Apollo Stars). It's possible her husband is Craig, it's one or the other for sure.
Somehow she is still around. But what is interesting is that she has a number of her certificate: 3308 (I guess there is a chance it could be 8308, but for orders of magnitude purposes, the difference is insignificant).
Super Power was released to the public in 2013 (they actually SOLD it at ASHO in 1978 when it was announced it would be available shortly).
That's 10 years. Super Power can be done by anyone at any level of the Bridge.  They could get EVERY scientologist on earth to do this service, and have been trying since its release to do so.
300 people a year is all they have managed.
Scientology claims there are 10,000 scientologist in Clearwater! "Tens of millions" around the world.
That's not what this number represents. This is further confirmation that there are only tens of thousands of scientologists on earth.
The cult continues to shrink before our eyes.