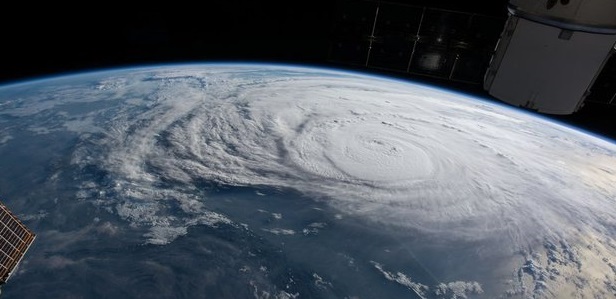 Our thoughts are with those in South Texas, hoping they are dry and safe. We have a lot of friends in those parts from Ray Jeffrey and his co-counsel to Mike Laws and plenty of others in between. I hope the Rathbun's weathered this storm OK as they were in the most vulnerable location of all and I do not wish ill on anyone – only that they stop abusing others.
That being said, of course scientology is busy as little beavers collecting money and activating their VM's.
I have written many blog posts in the past about scientology's disaster capitalism — using disasters as a way to milk money from the sheeple.
This time I want to focus on a different aspect.
David Miscavige has repeatedly claimed the Scientology Volunteer Ministers are "the largest private relief force on earth." On their official website they claim they are "over 200,000 strong"…
Yet the only thing they actually appear to DO is pose for photos and videos — usually one or two people or a handful at most. With 200,000 VMs in the world, it would mean AT LEAST 100,000 of them are in the US. That is a VERY conservative estimate as the total number of scientologists in the world is biased MUCH in favor of the US.
And of course, the IAS has billions of dollars. They can afford to fly in VMs from all over the US, buy massive quantities of whatever supplies are needed, even recompense people for missing time from work. It would not make a dent in their "war" chest.
And, there is an Ideal Org in Dallas and another "soon to be ideal" org in Austin.
With all of this, you should be expecting to see TV and print media coverage featuring the VMs in their yellow shirts helping the victims of Hurricane Harvey.
Not so fast…
Here is what is going out to the scientology world — just a few examples of the urgent pleas that have hit the airwaves.
Our old buddy Colin is one of the first out of the blocks with a plea to scientologists (and non-scientologists) from all over the US to make their way to South Texas.
It will be interesting to see how many of the 100,000 show up.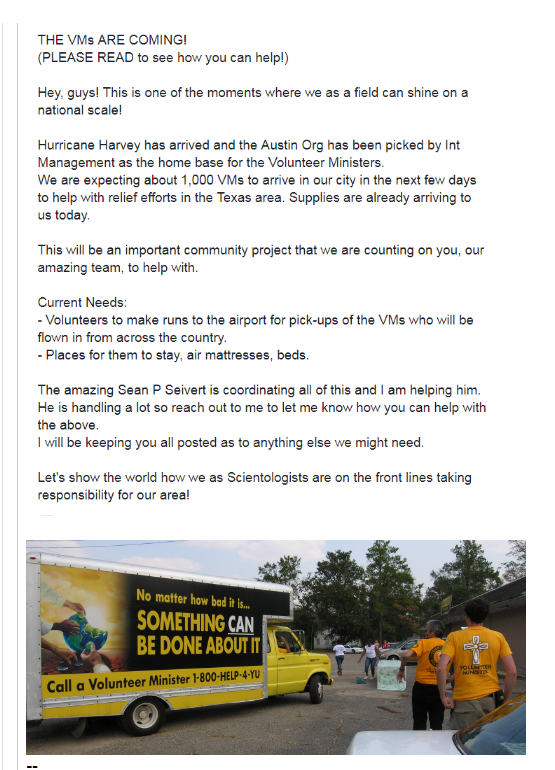 Well, apparently 1,000 are expected…
And Austin Org has been "picked" as the home base for the VM's. Isn't that astounding… There is no org in Corpus Christi. Nor San Antonio. Not even Houston. The only other org in all of Texas is in Dallas and that is a ways further north.
What I am REALLY interested in is this last statement: "Let's show the world how we as Scientologists are on the front lines taking responsibility for our area!"
Yes, as part of the world I am waiting to see you all on the front lines there. It is going to be an interesting test how close you come to 1,000 (only 1%) VM's showing up. After all, according to Kenya Smith this is one of the most destructive hurricanes in US history… DAMAGE IS NOT GOING TO BE MINOR!!!!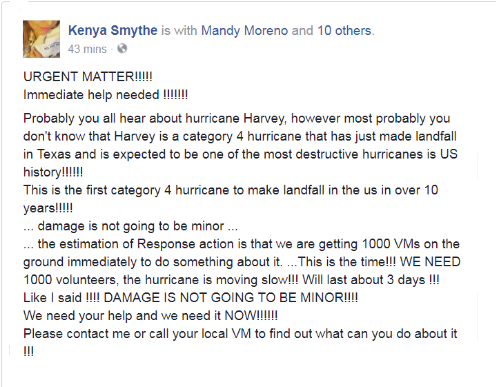 Apparently, the IAS is even chartering planes. Which means they are probably rounding up staff from Los Angeles and flying them out so they can get their best video footage.
Clearly, they are trying to make a big splash (chartering planes is a VERY unusual step) to try and do something to help their horrendous PR. I think Scientology sees Hurricane Harvey as a timely opportunity to try to get some positive PR "look at all the great work we do and these nasty bigots are attacking us."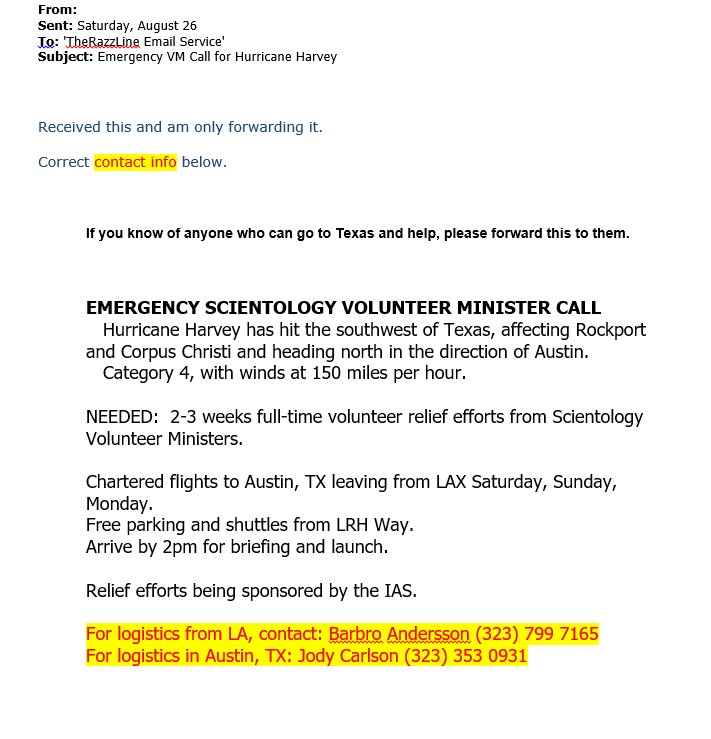 So, with all this in play:
Virtually unlimited resources of the IAS and chartered flights from Los Angeles
200,000 VMs in the world — at least half of them in the US
A booming Ideal Org in Dallas and a booming soon to be ideal org in Austin
Urgent calls to all scientologists to show up at once
A desperate need for scientology to do SOMETHING about their horrendous PR
And one of the worst natural disasters in US history…
There should be a MASSIVE showing of VM power and effectiveness appearing on the scene in South Texas.
I shall be on the lookout for evidence of how many VMs show up. It will be an excellent measure of how many VM's there REALLY are. Everything is in place for scientology to demonstrate in the real world just how effective they are.
Hopefully they will use this challenge as another incentive to round up more people to get there just to prove my prediction wrong: because I don't think they can muster 100 people from the entire United States to show up (they can order a bunch of LA staff to go — but if they are in photos they will be identified). You can be certain that the MAXIMUM number of people they can get there WILL be photographed and will be used in promotional items to collect more money.
Here you go scientology. Your chance to prove the doubters wrong.
Or once again demonstrate that everything you say about your great humanitarian work is just hot air.
PS: Love the promotion of this blog on the van…