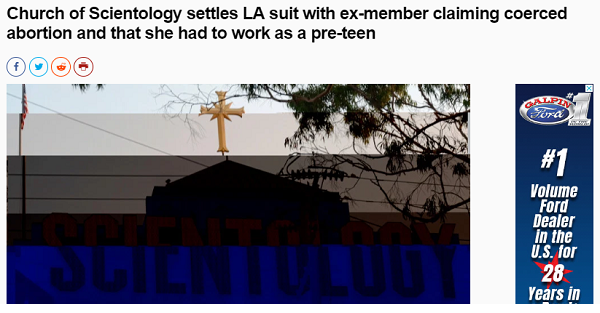 Some thoughts about the settlement of Laura's case.
For the few Monday Morning Quarterbacks out there who think she should have gone through to trial — please read this earlier post about Debbie Cook settling her case. Of course the circumstances are different, but the sentiment remains. Unless you have walked in the shoes of someone engaged in litigation with scientology, you should not dare be critical.
I believe there are many more who have congratulated Laura for her persistence and are happy she was able to get to a successful outcome, especially in light of this: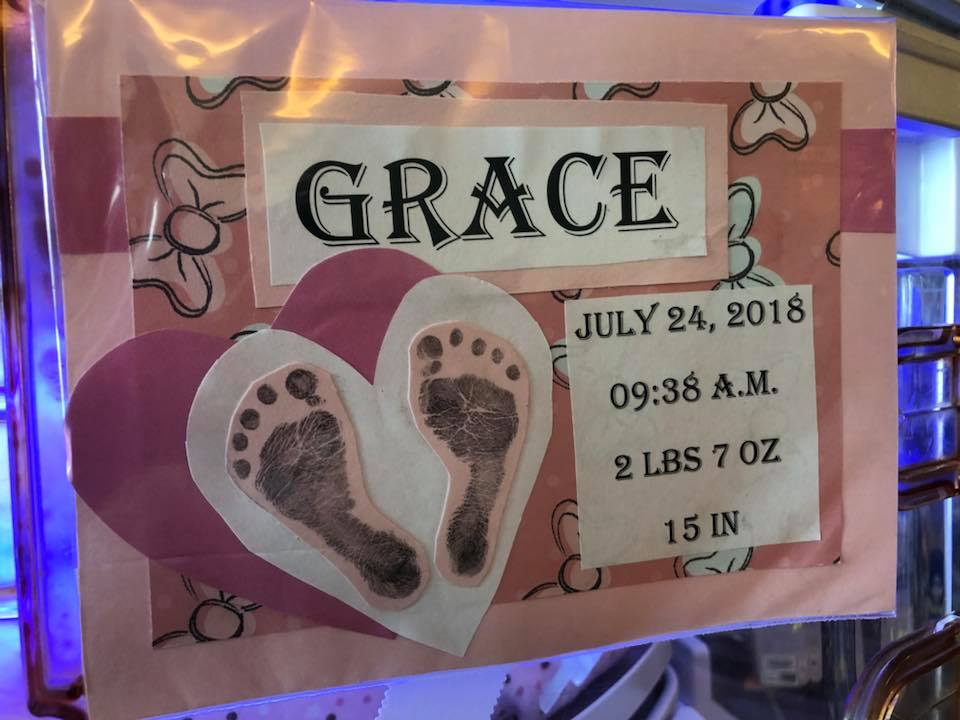 The newest addition to their family is THE most important thing to be cared for and protected. It was not a time to be going to trial. Grace is doing well according to Laura's FB page. For any of you who know Laura's history you will know her last child was a touch and go situation (Oliver is a strapping young boy now) and that preeclampsia is serious. Laura was admitted to hospital due to high blood pressure this time too — the only know cure is delivery of the baby. Grace was born at 29 weeks.
Since the early days of Laura's case I have not really commented about it on my blog as I was assisting the legal team and was a witness to be called at trial. I withheld commentary because I did not want to compromise my potential help to Laura. I left the commentary on the case to Tony Ortega. Same with the Garcia case — I will perhaps now write something about that too. Tony Ortega has done a wonderful job of documenting the events, the only journalist anywhere who understood the significance of this case and treated it as important.
I do not know anything about the settlement other than what I read in the media. I don't even care to know any details. I have not even spoken with Laura about it since the settlement was done, she has been busy bringing her daughter into the world.
But I do have some observations given my experience and what I know about the case.
Laura DeCrescenzo inflicted serious and permanent damage on scientology.
I knew they would be desperate to settle and had told Laura for two years or more scientology would never allow this case to go to trial, the closer it got, the more desperate they would become. And once a trial was inevitable scientology would pay whatever she asked. The trial date was fast approaching, and with no further realistic avenues for them to pursue to avoid it, the rubber finally met the road.
Laura and her legal team persisted for 9 years. Few make it that far.
We must never forget the legacy of this lawsuit — things that will never change and help anyone else in the future who might have been harmed by scientology's abusive practices:
1. A ruling from the California Appeals Court that set aside scientology's argument that she was barred from bringing her case by the statute of limitations. The Appeals Court ruled that the actions of scientology, including the unenforceable "contracts" and gag agreements they had her sign, made her falsely believe she had no claims against them and had waived all her rights. The court found that scientology could not benefit by reason of having brainwashed and tricked her to then claim she had been too slow in bringing her lawsuit. Everyone who has signed any sort of agreement with scientology when they left the Sea Org should be eternally thankful to Laura and her legal team for this. (See more below)
2. Laura obtained her pc folders. These contained proof of many of her claims. Scientology fought this tooth and nail, all the way to the United States Supreme Court and LOST. Their arguments about protecting their "priest/penitent" documents failed to persuade the Judge in the case, the California Appellate Court, the California Supreme Court and ultimately the USSC. Scientology was forced to turn over her pc folders to her. Again, everyone who has a pc folder owes a debt of thanks to Laura and her team. It is a precedent that will benefit many in the future.
3. Scientology no longer even TALKS to Sea Org members who get pregnant about getting an abortion. Laura brought to light the incredible pressure on her to get an abortion. Those Sea Org couples who have become pregnant in the last few years may or may not know that their ability to have a family and escape the Sea Org was in large part because of Laura's courage and persistence.  But whether they know, those children are in the world today thanks to Laura.
Just to be very clear on the significance of point 1 above, here are some quotes from the California Appeals Court for those who are interested in the legal impact of this. Scientology tried mightily to get this Appeals Court decision overturned and failed — asking for the Appeals Court to review, the Supreme Court to review and the trial court to revisit and reconsider again throwing out Laura's case. They failed at every turn.
Following are direct quotes from the Appellate Court decision:
Court of Appeal, Second District, California.
LAURA ANN DeCRESCENZO, Plaintiff and Appellant, v. CHURCH OF SCIENTOLOGY INTERNATIONAL et al., Defendants and Respondents.
Decided: June 24, 2011
Laura Ann DeCrescenzo appeals a judgment dismissing her complaint against Church of Scientology International (Scientology) and Religious Technology Center (collectively, defendants) after the sustaining of demurrers without leave to amend based on the statutes of limitations.   Plaintiff contends she has adequately pled a combination of delayed discovery of her causes of action and a basis for equitable estoppel precluding defendants from asserting a statute of limitations defense.   Our review of this record compels the conclusion that plaintiff has adequately alleged that (1) she was unable to comprehend the wrongfulness of the defendants' conduct for a period of time and that her causes of action did not accrue until she did so and (2) even after her delayed discovery of her causes of action, the defendants' threats and intimidation caused her to delay filing her complaint.
We therefore will reverse the judgment with directions.
FACTUAL AND PROCEDURAL BACKGROUND
Plaintiff filed a complaint against Scientology in April 2009 alleging that she began working for that organization at the age of nine, became effectively a full-time employee at the age of ten, and later left her home and family in another state to work for Scientology in California.   She alleged that she married a co-worker at the age of sixteen, became pregnant, and that Scientology forced her to have an abortion at the age of seventeen.   She also alleged that during the time she was employed by Scientology, from 1991 to 2004, she was paid less than the minimum wage and worked under other illegal conditions.
Plaintiff further alleged that (1) Scientology severely restricted her personal freedom and applied repressive measures to enforce her loyalty to the organization;  (2) she was allowed to leave her employment in 2004, at the age of 25, only after she had attempted suicide;  (3) she had little formal education at that time, was unsophisticated, and had been isolated from mainstream society and culture;  (4) she was subjected to a coercive exit interview and required to sign documents purportedly exculpating Scientology, and that the documents were illegal and unenforceable;  (5) she was not given a copy of the documents that she signed and (6) Scientology falsely represented to her in the exit interview that she had no claims and no recourse against Scientology and others and that she owed Scientology approximately $120,000 for her job training.
CONTENTIONS
Plaintiff contends (1) she adequately had alleged delayed discovery of each count alleged in the complaint, so the causes of action did not accrue until 2004;  (2) defendants are equitably estopped from asserting the statute of limitations for the period from 2004 to July 2008 because (a) they falsely represented that the documents she signed released them from liability and (b) they threatened and intimidated her;  (3) she is entitled to leave to amend her complaint to allege additional facts establishing a basis for equitable estoppel, if necessary;  and (4) collateral estoppel is inapplicable.
…
Plaintiff alleged in her second amended complaint that she worked and resided at Scientology's facilities from the age of 12 until she was 25 years old, that she was isolated from mainstream society and deprived of her personal freedom, and that she was "brainwashed" and did not comprehend her legal rights.   She alleged that (1) she was forced to work in harsh conditions and subjected to punishment;  (2) at the time she terminated her employment and left the facility in 2004, she was required to sign documents purporting to exculpate defendants and requiring her to keep certain information confidential or suffer penalties and fines;  (3) defendants knew that those documents were contrary to law and unenforceable, and that defendants intended to intimidate her into believing that she had no legal rights against them;  (4) she was told at that time that she owed defendants approximately $120,000 for her job training;  (5) she remained a loyal Scientology follower until July 2008 and that, as a loyal follower, she was forbidden from reading or thinking anything negative about Scientology;  (6) she was threatened with harassment and banishment from her family and friends who remained at the Scientology facilities if she were deemed an enemy of Scientology;  (7) after leaving the facility, she made payments on her purported debt for some time because she believed that she was obligated to do so and she reasonably believed that she had no legal rights or claims against defendants because of their representations concerning the documents that she had signed;  and (8) she first realized in July 2008 that she might have legal claims against defendants despite the documents she had previously signed, when she happened upon some information on the Internet and her family members then shared their concerns.
While it is arguably true that defendants' alleged representations concerning the legal effect of documents that plaintiff signed amount to a denial of legal liability – which is not sufficient to support a claim of equitable estoppel (Lantzy, supra, 31 Cal.4th at p. 384, fn. 18;  Vu, supra, 26 Cal.4th at p. 1152) – plaintiff has alleged more than simply defendants' denial of liability.   She has also alleged threats of banishment and harassment.   Plaintiff has further alleged that she was particularly vulnerable to defendants' influence, both during her formative years as a child and young adult, and after the time that she left the facility when she remained an adherent.   In these circumstances, including particularly the context of her long subservient relationship with Scientology, we believe that the alleged intimidation and threats of banishment and harassment, if true, may preclude defendants, in equity, from asserting the statute of limitations as a defense.  
Those are amazing accomplishments and that is quite a legacy.
I tip my hat to Laura and her legal team. Well done!
And an even bigger congratulations to her for doing the most important thing on earth — being a wonderful mother who always puts her family first. You rock Laura.