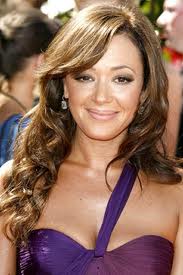 See the story posted this morning on Tony Ortega's blog Scientology Celebrity Rebellion.
I have heard a lot of the same things Ortega reports. The drama surrounding Leah has been ongoing for some time, and in what has become typical Miscavige, he has now turned her into an avowed enemy of his squirreling and heavy-handed efforts to force her into line, including attempts to control her by working over her immediate family.
I have known Leah for many years.  She is one of the most down-to-earth, honest and truly caring celebrities I came across in Scientology. Funny, endearing and abrasive all at once, she does not sit quietly when she knows something is wrong. And she is unwilling to keep her mouth shut when she knows injustices are being perpetrated on those who have no voice to speak for themselves. She is acutely aware that if things are a bit "off" in how she is being "handled" then it is probably WAY worse for those who are not accorded "VIP treatment."
I cannot imagine her not speaking out at some point, given what has transpired. But I am not walking in her shoes. I am sure when the time is right she will come out swinging for the fence.
Perhaps underplayed in Ortega's piece is the role that Tommy Davis and Jessica Feshbach played in opening Leah's eyes to the political and vindictive organization the church has become. According to what I have been told, Tomica were the designated "hatchet-men" for Miscavige following events at the Cruise/Holmes wedding. They spearheaded a campaign to "dead-agent" Leah, and Jessica was the driving force behind the squirrel Truth Rundown Leah was forced to undergo at Flag. I heard they were more than happy to try to put Leah in her place because she has dared call them out on their blossoming 2D when they were both still married.
When Tomica were no longer in favor, they were then made the scapegoats as if everything was done on their origination and they were "off the rails."  This is a typical Miscavige ploy — there is a scapegoat for EVERYTHING, whether its the SP transcriptionist or Marty Rathbun and Mike Rinder or other "unnamed SP's" that he can blame and then he is the "hero" by simply announcing they are to blame.  But I can 100% guarantee there is no handling of a celebrity of the stature of Leah that is not personally overseen by Miscavige himself. Every step of it. Especially not a "handling" so intimately connected to events relating to Tom Cruise. The Cruise/Holmes wedding was apparently more akin to the Red Wedding in Game of Thrones than the Disney fairytale it was supposed to be. Minister, the Reverend Norman Starkey, got drunk and hit on Brooke Shields until her husband complained about his behavior to Miscavige, Dave and Lou acted inappropriately in public and Leah stirred the pot about Shelly, not to mention the bride not turning out to be what Dave and Tom had planned. It is little wonder that the hatchets came out.
Reportedly at this time Tommy let fly with a classic. He told Leah: "You don't have the fucking rank to ask about Shelly." And that about sums up the RCS. One of the most prominent people in the church suddenly disappears — a no-show at an event she should have attended – and because its about "COB" it is forbidden to even inquire about her.
Leah remains convinced of the value of L. Ron Hubbard's work, but will no longer tolerate the squirreling and human rights abuses perpetrated in the church.  Nor will she allow anyone to tell her who she can and cannot talk to or associate with. As a result, the church has lost one of its most effective supporters – both in the public relations arena and their bank balances. They have also lost a 30 year member of the church and the rest of her family including her mother who has been a Scientologist since the 70's.
But most important: Leah is now free to think for herself, choose her friends and no longer lives in the shadow of Big Brother.
Update – The Church Responds!