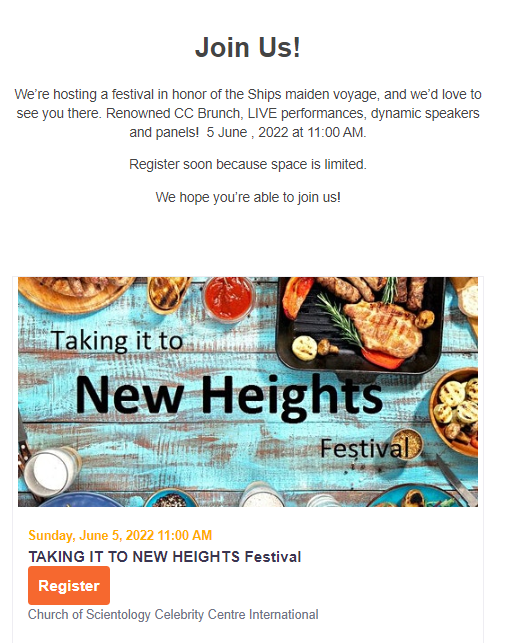 We recently saw how the May 9th celebration has been turned into a mention at graduation in local orgs. It used to be an "international event" held at the Shrine Auditorium.
Now apparently the "Maiden Voyage" is being "celebrated" as a "Taking it to New Heights" (Lows?) "festival" at CC Int.
One has to wonder whether the paranoia of Miscavige is dictating how everything is being conducted in scientology? Is there really not going to be a "Maiden Voyage" again this year? If it's not the fear of COVID dictating events, it's probably the fear of being served in lawsuits that is driving his decision-making.
This is of course good news for those seeking the end of abuses in scientology.
These events have traditionally been a key method for keeping the sheeple believing the big lie that scientology is succeeding and popular.
The less events there are, the better.
Wonder if he is ever going to yank another ribbon on an ideal org or if those days are over too? It's hard to imagine he would forgo the opportunity to bask in the adulation, but perhaps his fear of litigation is greater than his need for admiration.