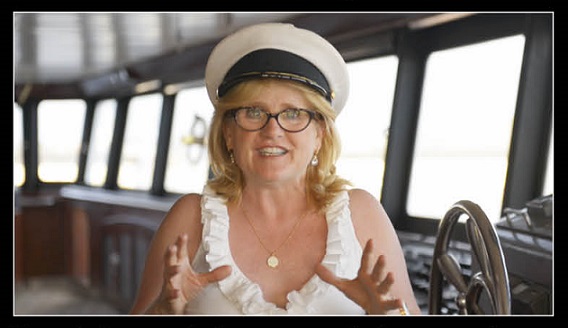 She who shall not be named coughs up another $350,000 for the Valley Ideal Org.
You gotta admit, this is a pretty good thing they have going. Bart Simpson doesn't realize he is the biggest sucker in Springfield…. HE is turning over bucketloads of cash so someone else can invest it in THEIR real estate scheme based on the false promise that this "ideal org" is somehow going to do something that the current non-ideal org is not capable of doing because it is located in an expensive building.
Apparently the approbation of titles like VALLEY SUPER ROCKSTAR OT GODDESS, is worth a chunk of change it seems.
Nancy — donate a half million to the "Families Split Apart By Cults" charity and I will proclaim you "QUEEN MUCKETY-MUCK OF ENCINO AND ALL AREAS WITHIN SIGHT, CLEOPATRA OF THE REALM OF THE VALLEY OF THE SUN AND BIGGEST LITTLE OT VOICE OF ALL THINGS GOOD AND WHOLESOME CAPTAIN OF THE FREEWINDS AND SECOND DEPUTY ASSISTANT BIG BEING ALMOST AS BIG AS TOM." You just can't beat a title like that. And for another $100,000 we will add a WHOLE LINE of exclamation points.
What all seems so strange about this is they just include it as another entry amongst the $9 and $20 donations and odd smatterings of some thousands… Why so bashful about it? She is giving more than everyone else combined by a factor of 10. So why not recognize her for what she is? The single biggest mark in Scientology.
But they DO have exclamation point tech in full force, so that's at least something.
And pretty soon they will have enough money to pay for the phase one marble purchase — not just any marble, this is the finest marble hewn directly from cliffs overlooking the Adriatic by highly skilled Albanian children. It is planned that the magnificence of the marble alone will draw crowds of new people flooding onto the Bridge. That is of course, command intention, so it must be true.
Date: Thu, 10 Jul 2014
From: LA UNITED!!! <valley@scientology.net>
Subject: WHAT!!??? OMG!!??! IT'S CRAZY FUN HERE!!!! SOOO CLOSE!

Dear All Valleyites!!!!!!

The AMAZING VALLEY VIRTUAL FUNDRAISER is going FULL SPEED this morning and it's ROLLING!!!!!!!!!! OMG!!!!!!!!! Los Angeles and beyond are going crazy to make this MV 2 target!!!!!!!!!!!!!!

We are on a huge BLITZ in the next 30 min to get to 1,000,000 for the week towards our soon to be amazing new Valley Ideal Org!!! OMG!!! Can you believe that!!!??? THIS WOULD BE THE SECOND WEEK IN A ROW!!!!!!!!!!!!! This email will go out to all Valley Humanitarians, OTC Members, Valley Org Friends etc every few minutes to keep you updated!!!!

There have been over 2,500 donations and 180 statuses just in the last 12 days!!!!!! WHAT!!!???!! Is that even possible!!!?? YES IN LA!!!!!!!!!!!!!!!

See your name here???! If not call in and BE A PART OF THE WIN!!!!!!

DONATIONS SINCE LAST NIGHT AND TODAY SO FAR………..

Daniela Juskova – $200

Joyce & Carl Wallace – $300 

STEVE & KATHIE HEARD – $11,500 – SILVER HUMANITARIANS!!!!!!!!!!!!!!

Robert Harrison – $20

Oswaldo Cortes – $100

Blanca Miranda – $20

Trisse Badger – $50

Nancy Brady – $35

Susan Parker – $25

Matt & Brittany Bartilson – $1,000

Raven C. $150

David C. $150

Wendy Ellen $100

Brad Fox $150

John Chambers $100

Nancy Roland $50

Susan Monroe $20

Heather Colson $30

Chip Chipman $500

Anne and George Dinkel $500

Andrea Zastawny $100

Fred Reno $500

Angela McCollough $20

David Mauerer $25

John and Valerie Futris $20

Tony & Sharon Lonstein $10,000!!!!

Steven Grewall $9

Diana Banderas $6

Wyatt Fair $20

Marian Stryker $19

Roberta Perry $100

Jerry Albert $25

Norbert Bacsko $100

Christine Quinn $10

Bill Price $50

Rowan Schmaus $30

Marian Stryker $25

Janet Grenslitt $25

Tom Grenslitt $25

Perry Morse $10

Angela Sharp $20

Chuck Scheuermann $1,718 – Vanguard!

Ubalo Chavez – $50

BOB & KATHY WELCH – $50,000 – SILVER HUMANITARIANS!!!!!!!!!!!

Mary Elizabeth & Dean Glosup – $5,000!!!!!!!!!

Richard & Susan Stewart – $300

Clayton McBride – $100

Marilyn Doan – $100

Jinnie Rosales – $60

Talya Carroll – $20

Ashley Doswell – $25

Betty Lou Graves – $25

Trevor Smith – $15

John Cumming – $20

Darren Shearer – $100

Carol Loweree – $43

Nola Aronson – $100

Holleigh Taufer & Aris Gregorian & Keiran – $100

THE VALLEY SUPER ROCKSTAR OT GODDESS – $350,000!!!!!!!! 😉

OMG!!!!!!! We are SOOOOOOOOOO close for the week, second week in a row we are getting to 1,000,000!!!!!!!!!!!!!!!! This is HUGE!!!!!!!! WHOA!!!!!!!!!!!!!! Valleyites are calling in from all over the US to be a part of this!!!!!

So call into the org, call Quinn, or Kathy or Susan or any staff member!!!!!! We are here and waiting and want you to be a part of this epic Maiden Voyage 2 week for Valley!!!!!!!!

call 818-947-0600 or email idealvalleynow@gmail.com

or fax 818-947-0609

Stay tuned…….. and BE a part of it!!!!!!!!!!!!!!!!!!!!!!!!

Much Love, The Official Scorekeeper of the Valley Virtual Fundraiser!!!!!