Thursday Funnies have been postponed to Friday in order to update the happenings in PAC.  I was out of town all day yesterday so didn't have a chance to compile the information sent in from various sources.
This is clearly a topic of considerable interest and The Funnies won't lose their funny in a day….
Tonight (Friday) is the Big Spin presentation of "greatest expansion ever" news with the combining of two Day and Foundation Orgs and the wholesale "letting go" of the contracted staff of the Model Ideal Org.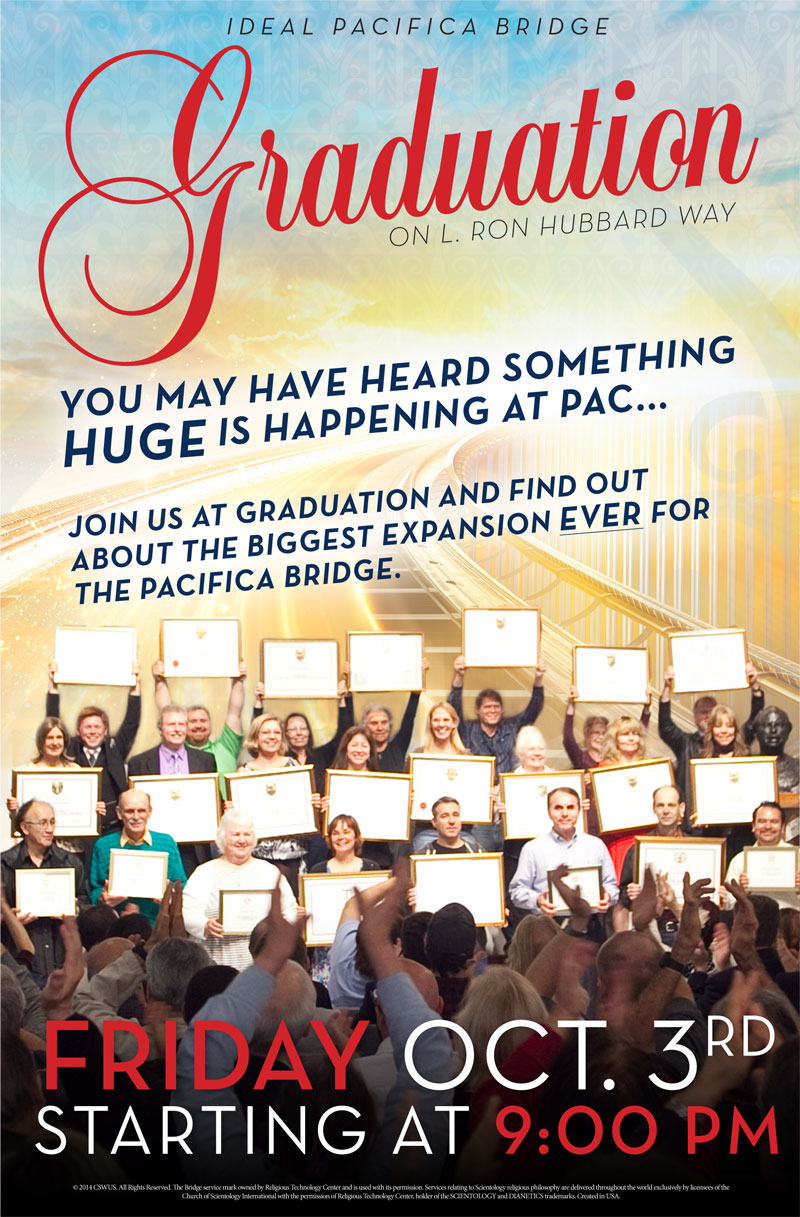 What is astonishing is that as long as ANY news is presented as "expansion" or "great news" it is apparently swallowed without even being chewed.
How the recently declared "Ideal Pacifica Bridge" and "Model St Hill Size Ideal Org" could so rapidly be replaced with something completely different is an act of sheer audacity. And not only do the sheeple not blink, they gaze glassy eyed at what is paraded before them and bleat approvingly on cue.
Just a few months ahgo, Dear Leader was proclaiming the Pacifica Bridge as the embodiment of everything LRH wanted in PAC.  Was it then just his "oversight" that he forgot that ASHO Day and Fdn should be turned into a single org and their CO's removed and the Class V staff in LA Org should all be dismissed and that too should be turned into one org? It would be like Steve Jobs announcing a new iPhone and then two months later saying "here is the real new iPhone, and this one has a color screen and you can connect it to the internet" without ANY mention of how come they made a big deal of the previous one as if it was the greatest thing on earth, but clearly they already knew what they planned to do a couple of months down the line.
Of course, the truth is that both ASHO and LA Org (like every other org on earth) have been struggling to keep their lights on. As the weeks have gone by since the big reveal of the Ideal Pacifica Bridge it has become more apparent to ANYONE who didn't walk around with a blindfold on that they are NOT expanding, but continuously contracting.
Something drastic had to change. Miscavige knows that after the big announcement of the "ideal PAC" there are too many people in LA seeing the place increasingly resemble a morgue.
A message had to be sent. The executives of ASHO had to have their heads put on a pike (they have been shipped off to Flag — out of sight, no doubt pulling weeds at the Hacienda and NOT in public view). And to demonstrate something more being done than just "bust the CO's" the orgs were "combined" in a massive "expansion move." At least that't the PR pitch. How combining two orgs equates to expansion, I guess the lucky audience will hear at graduation. I suspect the explanation will closely resemble the old standby "because we say it does."
And LA Org was even MORE dramatically failing. That Test Center is a total bust. The org is hardly capable of paying ANY bills. They have empty course room and unhappy, unpaid staff.
A BIG statement was needed for this problem. And in classic Miscavige fashion he overkills it. He has used this technique many times in the past — overwhelm with force and numbers. So, he rounds up 230 unutilized SO members (there are PLENTY of them, half of management is not on ANY post — the FSO is WAY overmanned for their measly delivery stats) and sends them in to LA Org to create a "Big Bang."  Nobody would have ever dared come up with this sort of plan. If someone had presented it to him as a "bright idea" they would have been shot for being "completely CI to LRH intention for LA Org."  But as it was HIS solution, it will proclaimed a "slam dunk" brilliant handling that only the bold genius of Dear Leader could come up with. And he will dismiss all the "LRH advices" that he has been cramming down people's throats for years about how incompetent they are for failing to make LA Org grow as being "complied to with this handling."  The truth is that he has NEVER been able to build any Class V orgs (or Missions) and scientology is dying because of it, as there is NO flow of new public.
All the other "ideal orgs" are too isolated from one another for anyone to get the big picture. But LA Org is different — it is seen by the AO public. And a LOT of SO members. And all sorts of scientologists in PAC who are told to attend different events in PAC.  The failure of LA Org could not be allowed to continue for too long. He just could not afford it. It would destroy the illusion.
As I said, he has no idea how to build a Class V org (frankly, it's not just Miscavige who has not managed this task — NOBODY has done this for any sustained period in the history of scientology).  So, the only option was to make a big show and have 230 Sea Org Members arrive all at once. That he can control. They can be ordered around. He couldn't even order Class V staff around to man up LA Org — so it HAD to be Sea Org Members.
I am sure behind the scenes he is telling everyone "this is how you do it" (like anyone else will be able to send 230 SO members to NY Org or Copenhagen Org let alone Dallas or Malmo). It's a one time desperation move that is not a pattern for anywhere else on earth….  I am also sure the poor sods who have been sent to LA Org have been informed that they have been useless, SP freeloaders sitting around doing nothing while COB has had to "do it all by himself" and this is their chance to "make up the damage" and get something useful done by getting in some GI.
Those are my speculations about the behind the scenes reasoning that has resulted in this bizarre week of events in LA.
Following is a summary of information forwarded to me from people in LA (along with a final, rather interesting commentary about the Hare Krishnas). They are in no particular order and come from 5 different sources. I have not repeated duplicated information but included what was sent pretty much verbatim:
Official number of SO at LA Org is 230 (fully manned).  There's a meeting at LA Org Thuresday night at 6:30 PM for FSMs, OTC members, and some others to do non-E with the new staff. Wider announcement at PAC graduation on Friday.
The internal PR positioning is that (a) that this is the final phase of creating the "Ideal PAC", "just like COB did for Flag"; and (b) that the Org has now gone Saint Hill size (for the 3rd or 4th time?)
They're also taking advantage of the sudden exodus of Cl V staff to man up the LIC / Test Center.
Captains of ASHO and AOLA have been replaced and sent to FSO "for training and auditing".
Staff were thanked for our work and contributions. Really??? It was not like Russia taking over Berlin, it was more like Hong Kong being handed over to China or the Canal being handed over to Panama. Today everything is different. But still the same.
All the Execs and many (most?) of the other new staff came from Flag where they had been staff for many years. Some staff came from other Sea Org orgs like ASHO. Some came from CLO which has been pared down.
There are now 3 PAC Sea Org Orgs: AOLA, ASHO and LA Org, each with a new CO (Commanding Officer). They report to a new post called CO PAC held by a guy who was a Deputy Captain at Flag for Outer Org Trainees named something like Jason Hemphill.
New ASHO CO is Sandra Colon. LA Org CO is Heather Wolfe.
The short routing form for staff leaving had them sign up to do something in the field, like become an FSM, or a bookseller, etc. Staff could just choose to leave with no strings attached. Staff were doing friendly hat turnovers to the new Sea Org post holders. One person was crying and being consoled by another staff member over the loss of their post and missing their friends at the org already. Mostly, the staff seemed to be in shock.
Staff could stay to finish their contract if they committed to a Day or Foundation schedule plus a 12 ½ hour per week enhancement time. The HCO area in the LA Org basement was extra busy as staff were working out what to do.
The org boards for ASHO and LA Org were already merged and updated with the new names as far had been pre-determined.
The LA Org HGC auditor assignment board is now filled with names pulled from the 25 new GAT2 auditors. The main goal is to "make LA Org a truly Model Class V Org" since the past staff could not make LA Org a viable, Model Org, then a wholesale infusion of Flag-trained people is the solution.
The new Sea Org staff will live in the existing Sea Org berthing in Los Angeles. But the berthing building with the Test Center on the ground floor on Hollywood Blvd. is still not opened even though COB commanded it to open.
The new Sea Org staff were on their best behavior. They were friendly and applying the non-Existence Formula. They all were wearing regular LA Org uniforms.
They are talking about having to buy more buildings to increase capacity to be at least as big as Flag because 1,000s of people will be going up the Bridge at PAC now.
Far across Hollywood, away from this turmoil, was a team of Scientologists doing the usual, manning a free stress test table at the Highland & Hollywood complex trying to compete for new members with the cheerful and animated Hare Krishnas who always attract attention with their drums and chanting. The Hare Krishnas (ISKCON) gave Scientology a 16 year head start and today they are a worldwide confederation of more than 550 centres, including 60 farm communities, 50 schools and 90 restaurants. Their Food for Life org currently serves up to 2 million free meals a day in 60 countries. Aside from their dabbling in murder, racketeering and mail fraud, they had a little bump in the road in 2002 when they responded to a $400 million Texas law suit with over 400 claims of sexual, emotional and physical abuse suffered in Krishna boarding schools during the 1970s and 80s by filing for Chapter 11 bankruptcy protection. By 2008 they were back in business. Maybe we should start tapping our cans together chanting the Dianetics Jingles on public sidewalks. ("If you want to be in chains, let some other buy your brains. LRH 21 May 1952") Although we don't allow members to molest children, we do allow our members to smoke cigarettes, drink coffee and eat meat, so it should be a cinch to out-duel those culty weirdos.
The scientology bubble is shrinking and it's a madhouse in there.