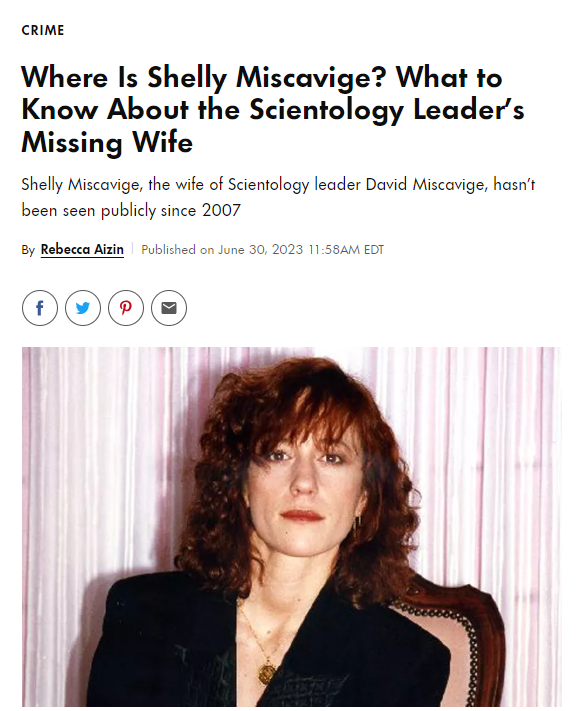 Following the excellent and extensive reporting by Yashar Ali on the disappearance of Shelly Miscavige (I just updated my blog post about this to include the latest documents from Yashar), People magazine published a piece on the subject (shallow and revealing nothing new, I wish they had followed Yashar's lead and actually dug into this subject. But, the tremendous reach of People cannot be denied and serves to raise public awareness on the issue.
You can read the People piece here.
What is also interesting is the inevitable response from the scienobots on social media.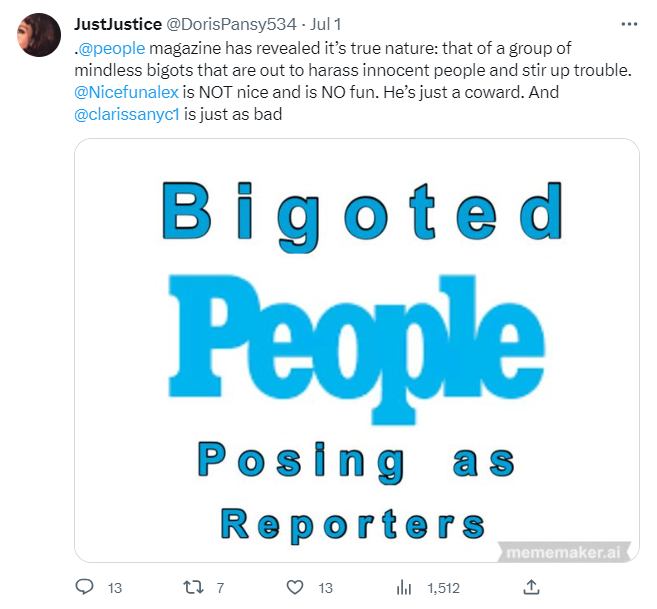 It is so scientology to roll out the fake twitter accounts to attack People magazine as "mindless bigots" who are out to "harass innocent people"… And then name some executives at People they could find — who knows if they had any involvement in the story at all (could "Doris Pansy" in fact be a mindless bigot harassing innocent people by doxing them on Twitter?)
It's the same twitterbots that constantly name-call Tracey McManus, she and all the editors at the Tampa Bay Times are also "bigots" trying to "hurt innocent people." Nothing these bots ever put on social media addresses the FACTS that are presented. Just ad hominem attacks on the character of the reporters and publications. And this is all taxpayer subsidized activity by scientology.
Apart from everything else, what is so hypocritical about these morons is that if People does a piece gushing about what a great movie star Tom Cruise is, they promote it far and wide — "see, everyone loves Mr. Cruise and he attributes his success to scientology." They're suddenly no longer bigots, they are now the bellwether of  public opinion that should be heeded by all.
Finally, the ONLY comments "Doris Pansy" gets in response to her moronic tweet, are from those wanting to know "Where is Shelly?"
So, you have to wonder — why put out such stupid tweets? Normal people would see the folly of their ways. But scientologists see everything only through the lens of what does L. Ron Hubbard say? And he says to "always attack, never defend" and "destroy the enemies of scientology." Truth and facts play no part of the equation. The media are saying things we don't want people to read or hear (even if they ARE true), thus they are enemies, thus they must be attacked. That is the entirety of the equation.