Really? The Purif is going to prevent blood brain disorders? Skin cancer? Reproductive problems?
They are actually claiming the the Purif is the "solution" — no, the only solution to the bisphenol you accumulate from drinking for plastic water bottles that can cause cancer? And the kidney/liver damage you are suffering from associating with Mr. Clean.
This is based on NOTHING. But promoted as truth.
Surely there is some prohibition against making these sort of fraudulent assertions?
When challenged on it, scientology claims this is a "spiritual" program. When they think nobody is paying attention they sell it like any old snake oil salesmen, offering miracles to the unsuspecting (as long as you are willing to hand over some cash).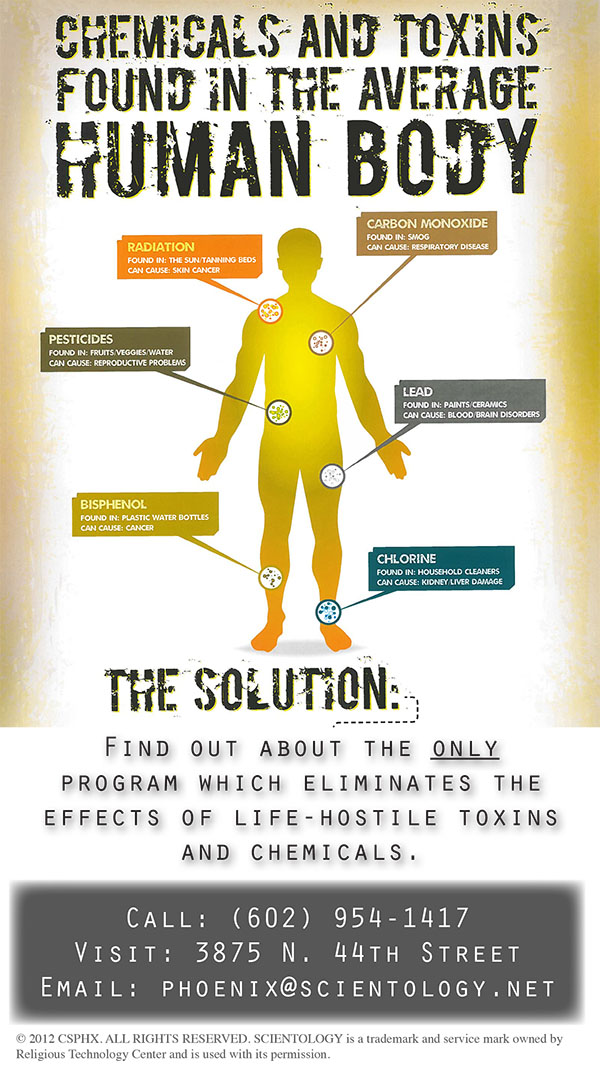 And here is another one just in from Battle Creek "org":
Hello! Here is a recent Success Story from the Purification Rundown delivered right here in Battle Creek! How awesome is this?! 
"I have had a lot of inexplicable health issues for about 10 years. It seemed to start with fatigue and chronic dehydration that never seemed to resolve. On top of this (or contributing to it) I found out I had a severe gluten allergy. Once I realized what it was I realized it would make me feel foggy and practically unconscious. I could hardly even drive a car! This would wreck me for up to 5 days after eating even a little. In January of 2014 I wound up in the ER fighting for my life without the doctors knowing what the heck was going on. Long story short, 1 ½ years, hundreds of supplements and 14 doctors later, I had some answers but certainly did not feel healthy and just got so used to feeling so badly that I just figured I would always be like that. Besides the health issues, I've lived my entire life on purpose as an artist with big goals and purposes. But a few months before I started the Purif, even those came crashing down.  I was in a terrible spiritual and physical state when I started this.
"So, a few months ago it was discussed that I'd try to do my Purif. I was scared due to my dehydration issues and intolerance to heat. But I'd been working with a cool doctor and she gave me the go ahead, so I got started!
"One of the first things I noticed is that I started feeling less and less scared of my body. I used to be very careful of my body – but now I am running! I also started to have hope! I couldn't think of anything I'd ever taken or been exposed to that could possibly be running out (I've never done any drugs or alcohol in my life- a few Motrin here and there and 2 occasions of Novocain and that's pretty much it). But then, I remembered the section in the Clear Body Clear Mind book about other chemicals like pesticides and such and started to realize that part of the problem some have with gluten has been said to be not only the GMO but also the very awful pesticides being used on it. I kid you not, as soon as I had that thought, it started to blow! I was amazed! Then, some more of my hope came back and day by day I started feeling better! I truly didn't realize how much of a cloud I had been in until it lifted! I suddenly felt in touch with my body, my mind, my emotions and my future.
"Never did I think I had enough toxins in me to actually inhibit my emotions, my goals and my ability to learn, etc. But they were there and now they are gone! I feel more able to see the world around me and comprehend things. I notice I can study faster and understand things much more easily. I notice my joy for life has come back as well as my desire to start creating again. There is no longer this odd wall between me and myself. It's like another entity moved out – something else that was controlling me! Now, I'm here without it and I'm fluid inside my own mind and emotions. I'm so happy and ready to see what new adventures await me on the next step of my Bridge. I'm so thankful for Ron and for all he did for us. Also, to my twin and my supervisors. Thank you all for helping me save my own life and for giving me hope for the first time in a long time that I can move up The Bridge. The doors lay open in a way I didn't know they could for me. You all have saved my eternity on this 1ststep – because I made it through and will make it through many beautiful steps ahead. Thank you!" -J.C.
Call now and come in to see me. Let's figure out how to get you going on your Purification Rundown!
269.965.5203