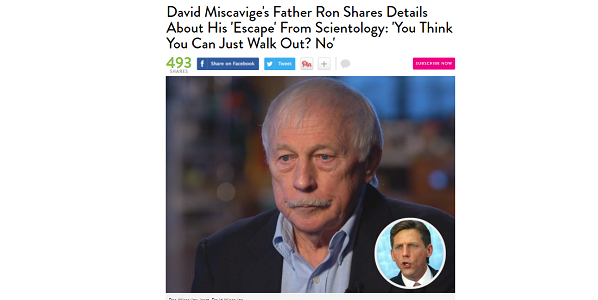 Been a few interesting days leading up to Miscavige's birthday bash.
Though they apparently sent out decoy messages that the event was canceled (maybe it was and then changed to being back on again which would not be unusual) it seems this was the "gift of expansion" that Dave wanted for his birthday. So he went ahead and yanked his ribbon to commemorate the occasion. Apparently there were dozens of security people surrounding the place yesterday as the faithful awaited the arrival of the Grand Ribbon Yanker.  The stage was built and the anticipation was high. I don't have confirmation of anyone SEEING the ribbon yanked, but it was up on the building on Friday and I suspect it isn't there today.
Earlier someone had posted their views on the purpose of the SuMP and I saved it to publish in recognition of the occasion.
The new media center is pure bullshit. It's true purpose is to,
1. Show the clams that Scientology is expanding.
2. Get clams to keep donating for future PR campaigns
3. Be a glitzy recruitment center for new people coming to Hollywood to be in the biz.
4. Get actors to work in the cherchs bullshit commercials and infomercials who would not drive to Hemet.
5. Get clams to donate now.
6. Have something new to talk about for current and upcoming events
7. Move all production to Hollywood so Gold can turn into a full blown prison camp.
8. Give Davy F–kavige the illusion he is a full blown movie studio tycoon.
9. Entice clam celebrities to participate more actively.
10. Try to impress the industry that Scientology is legit.
As far as needing the facility to expand. What is really needed of course is for the cherch to cop to all their crimes, pay restitution and hire a few computer social media geniuses and go to town. That's where their money should be spent.
Scientology is dying at an accelerated pace. And Miscavige keeps fueling the sickness that is killing it.
Some quick thoughts on ABC 20/20.
1. Monique Yingling is the best scientology spokesperson since Tommy Davis. I am surprised she didn't expire from blood loss after  blasting her Manolo Blahnik's with one footbullet after another. In the course of doing so she made some remarkable admissions. Just a few:
– of course they hire PI's to follow 80 year olds
– being thrown in the lake in your Chanel suit would be a wonderful religious experience, whether as an individual or as part of a group
– "some" things are true about the fact that all mail is screened and the Gold base is like a prison
– and that everyone who ever says anything about scientology is doing it to make a buck (rich coming from the one person on the show that UNDENIABLY was doing what she did just to make a buck – well, a few million actually).
And what is with her blinky eyes?
2. As with most network TV "news" programs, the show lacked continuity. Breaking a program into 6 segments and leaving a "cliffhanger" to intro each ad segment and then a rehash coming out of each means there is little chance of a real story being told. Combined with ABC's obvious concern to give scientology "equal time" resulted in a program that looked like a "he said, she said" competition with Dan Harris sitting on the sidelines prompting the participants. ABC doesn't seem like they want to take a position and tell a story. They just like to watch a fight from the balcony.
3. The recordings of the PI's were devastating and undeniable. Yingling looked like a fool trying to claim they were not true.
4. Miscavige did as predicted earlier and made a show-reel of testimonials of what a wonderful guy he is — by people who have never been in the same room as him. How convincing. That along with the "worker's paradise" (like North Korea perhaps?) were the best laughs in the show.
5. Keeping with the North Korea theme – shame on Peter Schless. His POW-style video diss of Ron was both disgusting and sad. Though they tried to make it look like it wasn't, it was just like the "statements" you see when terrorists kidnap someone and have them deliver a video message to the world about how wonderful their captors are and "down with the imperialist pigs".
6. ABC missed the real point – the DISCONNECTION story that prompted the book in the first place. It got lost.
7. Kudos to Ron Miscavige for standing up and refusing to go along with the efforts of scientology to keep him silent. It is not easy. He knew the smears would come and due to the nature of the beast, the lies would be VERY personal. Most men his age are sitting in a retirement home, taking it easy. He is a remarkable man fighting with courage and vigor and deserves everyone's support. There is strength in numbers. And as Leah so succinctly put it, everyone has the right to tell their story.
This is far from a complete summary of the show, I have been extremely busy of late.
While I am sure Miscavige was telling the sycophants around him what a wonderful job Monique did "she didn't agree to any entheta" (mostly to make everyone else wrong for being incapable of even appearing on TV) – the fact of the matter is it was a PR disaster for Dave and scientology. Once again, the sinister underbelly of scientology is being exposed and its spokesperson presented herself as a sleazy liar.
And a final note and perhaps the biggest outness of all — how is it that with "millions of members worldwide" who have the ONLY "tech of communication" at their disposal and they are "the top 10% of the top 10% of people on earth" there is not a SINGLE scientologist who can appear on tv to represent scientology? Instead they have to use a catholic lawyer who is paid to speak on their behalf and looks like she has had one too many cocktails?
I am hoping Ron will be afforded more opportunity to speak and tell his story when he appears on live shows — Seth Myers, Megyn Kelly etc