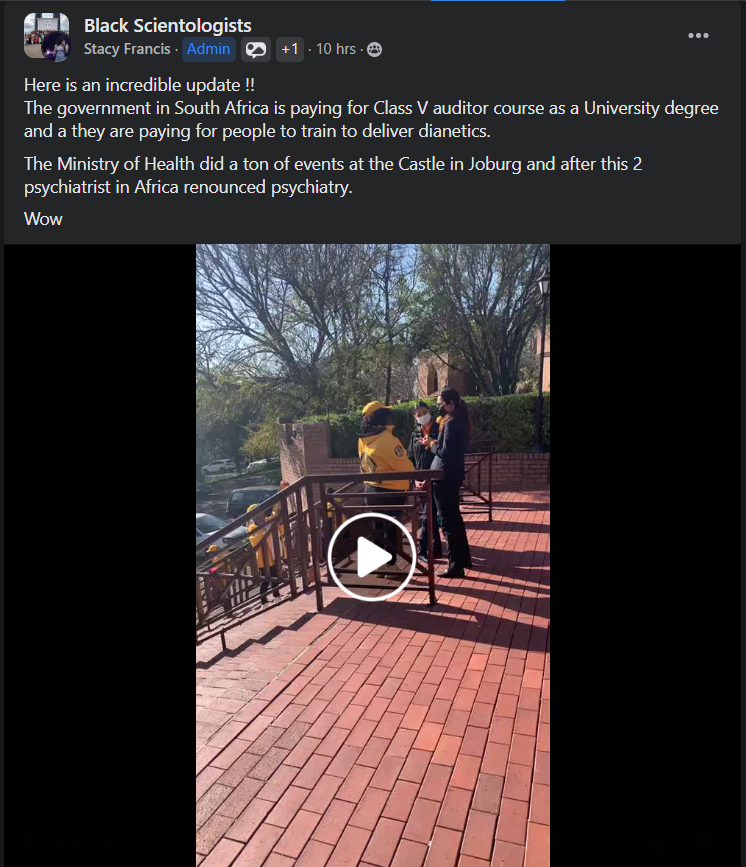 I certainly hope this is typical scientology hype…
Is there anyone in S. Africa that can independently check these two claims….
This is the sort of thing that scientologists LOVE to latch onto. One person reads a Intro booklet about the organizing board, they are employed by the government and soon this has become "the government of Malawi is now operating on LRH Admin Tech." Or there is a photo taken of someone standing next to a police officer with a WTH booklet and "crime has been reduced by 60% in the city of Caracas as a result of the police department embracing the WTH".
It's never specific. There are no names. It's not "the Minister of Health" or "regional director, Dr. Smith," it is invariably "the Ministry of Health" or "the Police Department."
That makes it impossible to easily verify the claims.  Stefani Hutchison at her wonderful "Confront and Shatter" blog has exposed many examples of the fraud perpetrated by scientology and scientologists who happily pass on anything if it seems to support the idea that scientology is "popular" or "the tech is being accepted" or "psychiatry is being obliterated from the earth."
I assume this is just another one of these "wishful thinking" things, but scientology does on occasion hoodwink unsuspecting government or other legitimate organizations into their scam. Hopefully the "government in South Africa" (whatever that may be) isn't one of them.