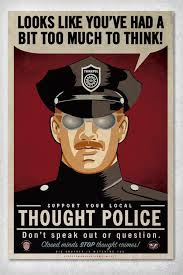 This is the second in a series of postings examining the subject of Scientology disconnection practices. See Disconnection — Scientology's Nasty Secret. 
Who qualifies for disconnection?
The simple answer is "anyone deemed an undesirable."
It used to be true that one disconnected from Suppressive Persons if they could not be handled.
And Suppressive Persons are denominated as those individuals who display the majority of characteristics of the anti-social personality.
Old School Think
According to "old school" Scientology thinking:
As they only comprise 20% of the population and as only 2 1/2% of this 20% are truly dangerous, we see that with a very small amount of effort we could considerably better the state of society. Well known, even stellar examples of such a personality are, of course, Napoleon and Hitler. Dillinger, Pretty Boy Floyd, Christie and other famous criminals were well known examples of the anti-social personality.

THE SOCIAL PERSONALITY

Man in his anxieties is prone to witch hunts. All one has to do is designate "people wearing black caps" as the villains and one can start a slaughter of people in black caps. This characteristic makes it very easy for the anti-social personality to bring about a chaotic or dangerous environment. Man is not naturally brave or calm in his human state. And he is not necessarily villainous. Even the anti-social personality, in his warped way, is quite certain that he is acting for the best and commonly sees himself as the only good person around, doing all for the good of everyone – the only flaw in his reasoning being that if one kills everyone else, none are left to be protected from the imagined evils. His conduct in his environment and toward his fellows is the only method of detecting either the anti-social or the social personalities. Their motives for self are similar – self-preservation and survival. They simply go about achieving these in different ways. Thus, as Man is naturally neither calm nor brave, anyone to some degree tends to be alert to dangerous persons and hence, witch hunts can begin. It is therefore even more important to identify the social personality than the anti- social personality. One then avoids shooting the innocent out of mere prejudice or dislike or because of some momentary misconduct.
Further in this same reference is an admonition:
The frailty of showing how the harmful people can be known is that these then apply the characteristics to decent people to get them hunted down and eradicated. The swan song of every great civilization is the tune played by arrows, axes or bullets used by the anti-social to slay the last decent men. From HCO BULLETIN OF 27 SEPTEMBER 1966 THE ANTI-SOCIAL PERSONALITY THE ANTI-SCIENTOLOGIST
The Brave New World of Corporate Scientology
According to what is now considered "normal" one can suddenly find oneself a target for disconnection for activities that could hardly be considered "anti-social" or "suppressive" – a mother who refuses to disconnect from her son or daughter who blew from course or took drugs. A husband who will not allow his wife to take out a mortgage on their house. Or even lesser "crimes" of refusing to unfriend someone on Facebook or being unwilling to attend events.
As time goes by and the hardcore keeps shrinking — leaving the ever more robotic to keep the lights on – the standards of what qualifies one for labeling as a "Napoleon, Hitler or Dillinger" becomes increasingly insane.
The Lord of Flies children who occupy most of the MAA roles in Scientology these days (usually second generation Scientologists who have ONLY known the world according to Corporate Scientology) are unmoved and unemotional about the injustices, hardships and insanities they mete out in the name of "Keeping Scientology Working," "No other fish to fry," "Command Intention" and whatever other platitudes they spout.  These are Apocalypse Zombies wound up and walking inexorably in the direction they have been pointed. Rationality or common sense are not in their vocabularies.
Scientology "Thought Crimes"
If you have the idea that this is all somehow going to magically get better, unfortunately, the ONLY evidence is that it is going to get worse.
The "crimes" for which you can be subjected to "disconnection" have already edged VERY close to "thought crimes". 
Thinking bad thoughts about "COB" will get you removed from the building, and you might find friends and family giving you the stink eye, but you have to do something else (lip off to an IAS Reg or refuse to show up for an event) before you get a "Non Enturb" Order and subsequent verbal declare (or the latest technique – for another posting – the "letter declare" with a highlighted "Policy" attached).  But the day is coming when it will be overtly acceptable to declare people and order any remaining Scientologists to disconnect from them for their THOUGHTS. IT is closer than anyone would have thought possible a decade ago. The highest crime in the Corporate Scientology Universe these days is no longer "communicating", it is "Expressing CI (Counter Intention) to Command" (this ranges from open revolt — rare — to unacceptable facial expressions). 
Sadly, long gone are the days when one was allowed to "think for themselves" or "question authority" or "never desert a comrade in need" or "never permit your affinity to be alloyed."
In fact, this whole subject crashes headlong into something really fundamental. And I think it is worth revisiting as it provides some workable and simple stable data that are VERY fundamental to achieving happiness and meaning in life:
The Code of Honor

1. Never desert a comrade in need, in danger, or in trouble.

2. Never withdraw allegiance once granted.

3. Never desert a group to which you owe your support.

4. Never disparage yourself or minimize your strength or power.

5. Never need praise, approval or sympathy.

6. Never compromise with your own reality.

7. Never permit your affinity to be alloyed.

8. Do not give or receive communication unless you yourself desire it.

9. Your self-determinism and your honor are more important than your body.

10. Your integrity to yourself is more important than your body.

11. Never regret yesterday. Life is in you today, and you make your tomorrow.

12. Never fear to hurt another in a just cause.

13. Don't desire to be liked or admired.

14. Be your own adviser, keep your own counsel and select your own decisions.

15. Be true to your own goals.
Amen.