There have been some marvelous takes on scientology tv, and I have included just a few of my favorites here.
But there is a HUGE missing piece.
If this is the most important and monumental thing in the history of scientology and Miscavige himself "emerged from witness protection" to introduce it, where are the other big names?
THE thing that most people know about scientology, above and beyond anything else, is that it has celebrity members.
And a bunch of them are even TELEVISION stars.
How can scientology TV not have ANY of their celebrities participating? Not even a cameo ad? Not a statement to the media? Nothing.
No word from scientology's TV stars — Elisabeth Moss, Laura Prepon, Kirstie Alley, Giovanni Ribisi, Nancy Cartwright, Danny Masterson, Catherine Bell, Erika Christensen, Jenna Elfman, Marisol Nichols, Judy Norton, Michael Pena
No word from their movie stars — Tom Cruise, John Travolta, Kelly Preston, Juliette Lewis, Anne Archer
Not a peep? Why? Are they ALL scared of being associated with scientology?
Is Miscavige scared they might defect and join Leah Remini, Paul Haggis and Jason Beghe? Or even a Nicole Kidman or Katie Holmes…
So it goes with the Chairman of the Bored announcing up front that everyone would be able to go inside their buildings, including the Super Power building in which he stands. But like everything else on this channel, it's ONLY available in canned form.
You cannot today walk down to the Super Power building and be shown around inside. Why? Because what if you see something you are not supposed to see (including the fact it is EMPTY)…
There is nothing at all on this TV "network" that is not scripted and rehearsed — which ironically is what scientology accuses The Aftermath of being.
And one has to wonder whether these people who claim that their marriage was saved are REAL people or merely actors playing a role? If they ARE real people, why are they not identified? Or at least why is there no statement "these are real people, not actors" like Chevrolet does on their commercials?
Of the dozens of takedowns of scientology tv, these are a few of my favorites:
Lloyd Grove in the Daily Beast who notes that scientology is probably paying $4 million per year to play these infomercials. (This is a great thing for Miscavige as this is a legitimate expense for the IRS)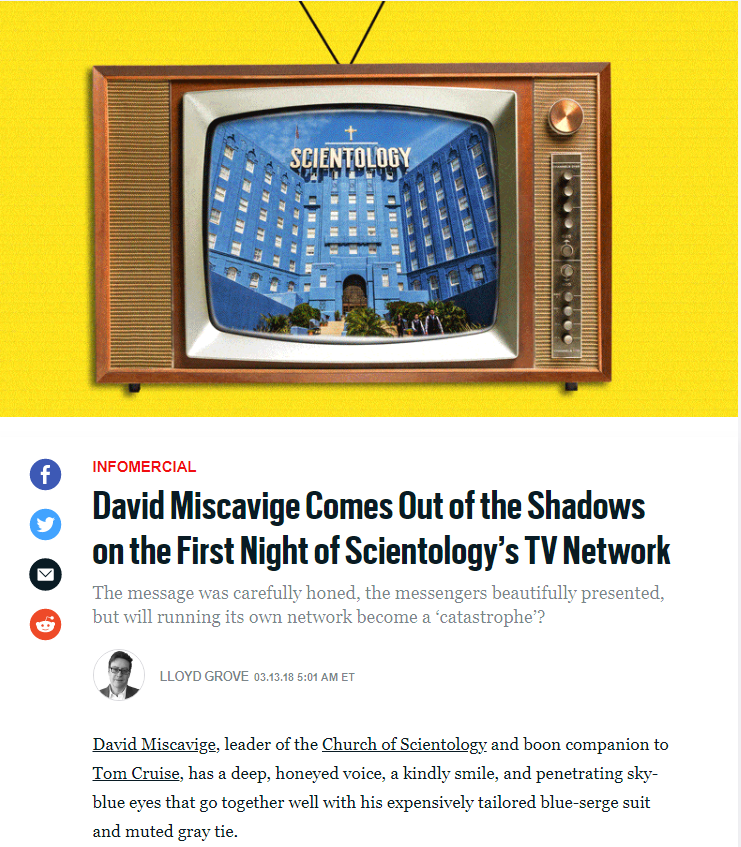 And this one from The Hollywood Reporter which contains one of my favorite passages to ever introduce David Miscavige:
The network launched with the emergence from witness protection of the church's publicity-shy leader, David Miscavige. The beautifully coifed, deeply tanned and sharply suited Miscavige looked straight into the camera and said, "We get it, people are curious." He took pains to reassure any viewers who might be wary.
"We're not here to preach to you, to convince you or to convert you," he proclaimed, oozing the sort of faux sincerity of which other cult leaders could only be envious. As a religious leader, Miscavige projects all the gravitas of Ryan Seacrest. (He's also only 5-foot-1 — which may be why he gets along so well with Tom Cruise.)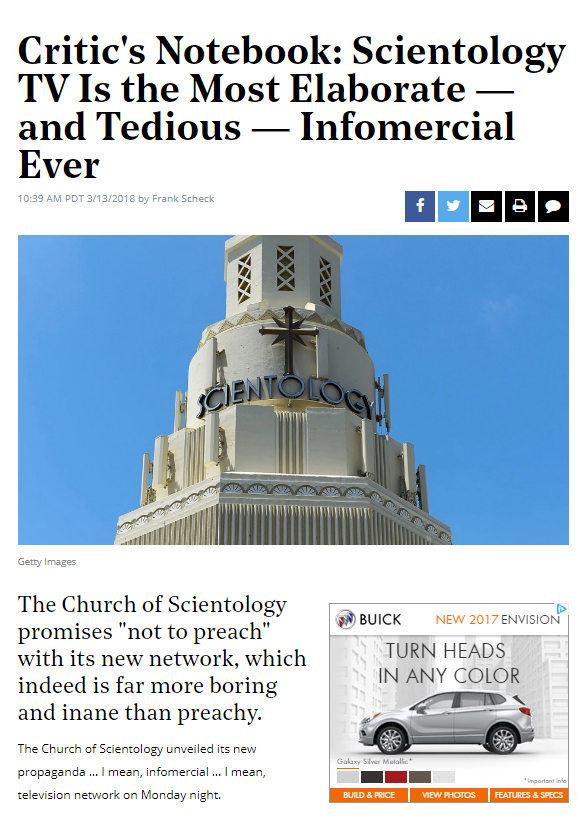 Here are some of the best headlines: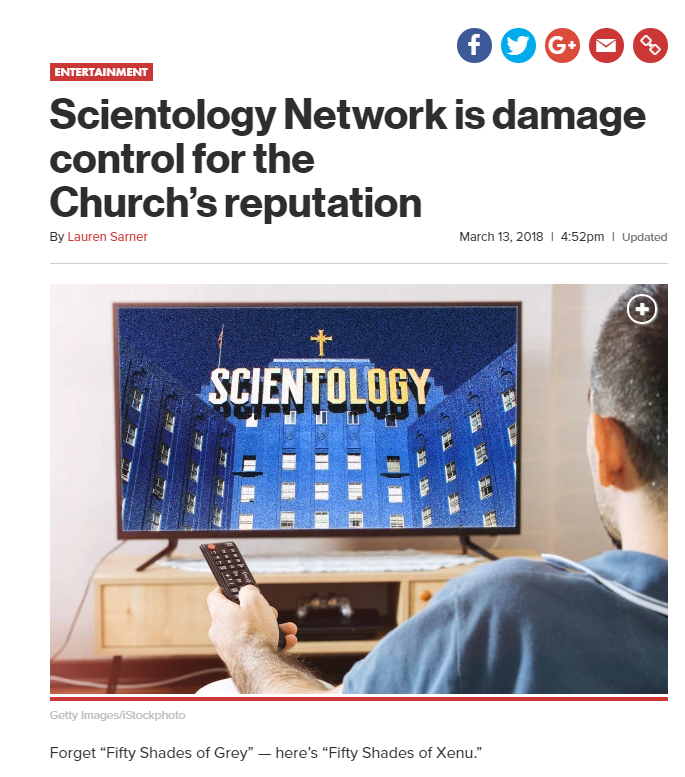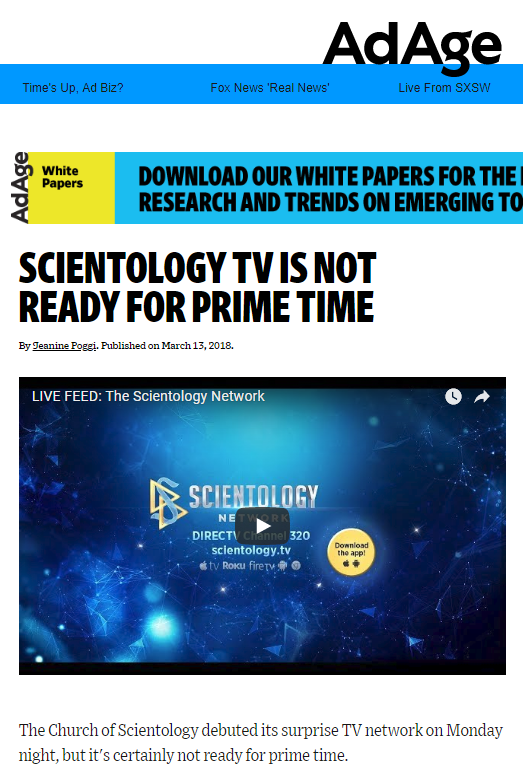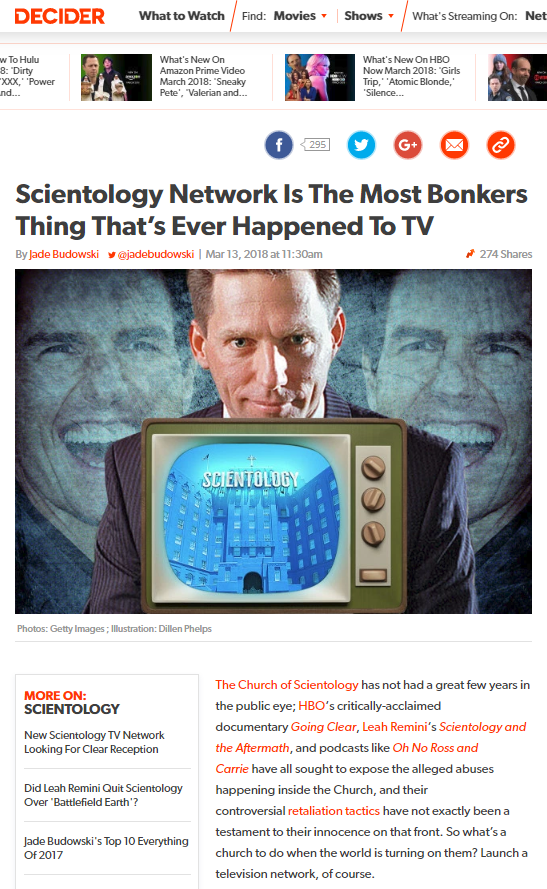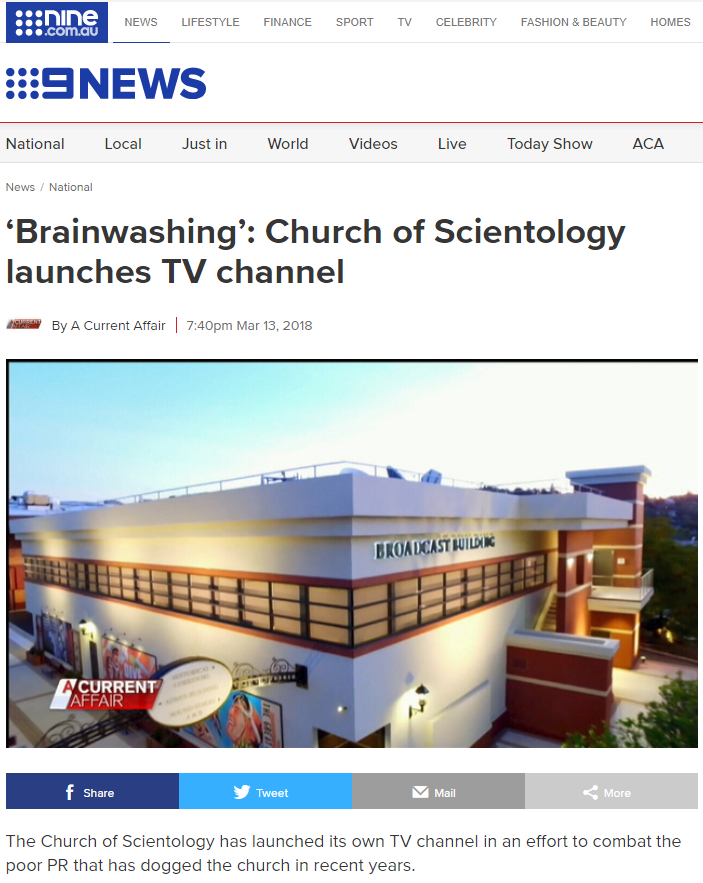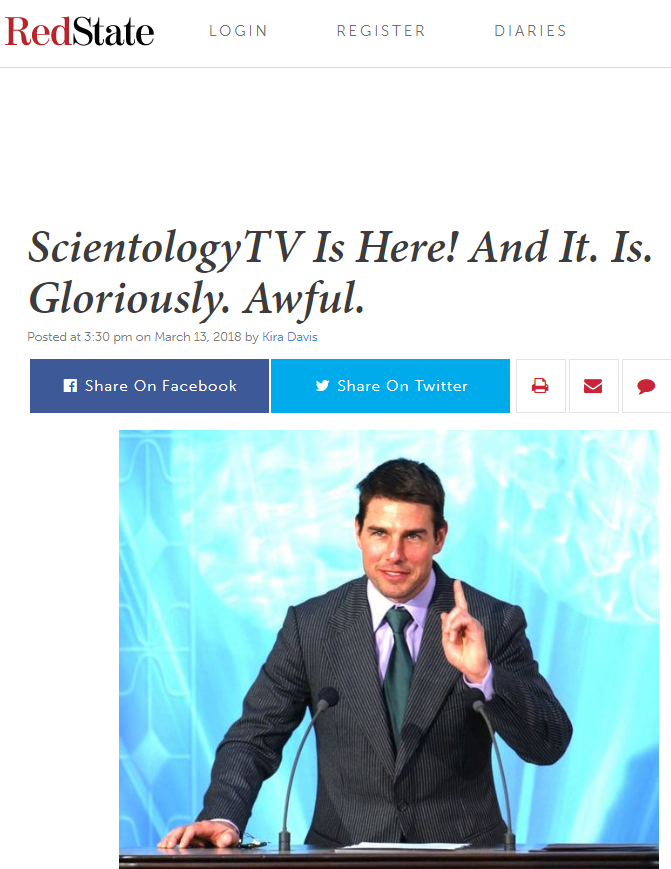 And finally, this from Comedy Central — just because: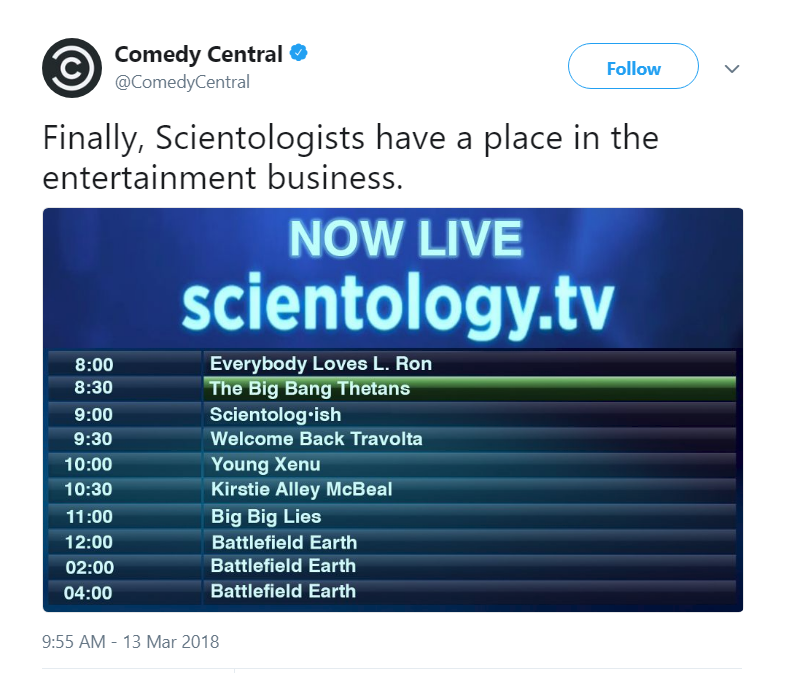 PS: In the meanwhile, scientology is frantically trying to delete negative comments and reviews…