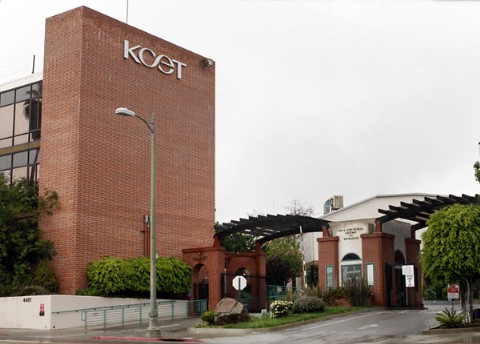 OK, here are some tidbits of interest from the Valley OTC meeting, focusing on the KCET Studios, combined with some information that has come in from several Special Correspondents.
This facility has now assumed a new acronym — SMP (Scientology Media Productions). It has fairly recently been integrated into the Int Liaison Office (a strange move when there has been NO CO ILO on post for some years, it is reported to be "held" by the CO CMO IXU).
Part of SMP is Mad Hatter Studios — Chick Corea's former recording studio that was purchased by Dear Leader as his handling for "getting Chick's finances in order." It was fully renovated and was supposed to be used for "recordings in LA" that couldn't be done at Int. In truth, it was simply another unusual solution and it has remained virtually unutilized since the day it was bought. CCHR has done some Voice Overs for Public Service Announcements there, and a radio show, Chick has recorded some stuff, and the Jive Asses (as Dear Leader calls them) recorded their latest album there.  Apart from that, it is a white elephant. Even the person who was once a Miscavige "golden child" Chandra Lorentzen — head of Mad Hatter for years and then took over as head of SMP — is now in disfavor and was busted. Reportedly "COB" hand-picked her successor — Kelly Heddin, one of the backup singer/dancers for the Golden Era musicians. Don't get me wrong, Kelly is a nice woman — at least she was when she was a Non SO dancer/singer that attended all events where Gold had singers performing (MV, IAS, New Years, CC Anniversary).  And maybe she has done a great deal of executive training in the last 5 years, but I doubt it based on the history of anyone studying anything in the Sea Org.
So, the white elephants in Los Angeles are multiplying.
Mad Hatter.
The "Scientology Dissemination Center" printing useless paper promo in their "state-of-the-art" printing plant for the out of date mailing lists.
The Hollywood Inn — under renovations  (and unoccupied) for NINE YEARS (this is THE berthing building for the ILO in the HGB).  So all ILO staff are stuffed into CC and PAC berthing and the Fountain building was taken over to become "public berthing." Apparently the berthing situation in PAC is dire — there are "squatters" who move into other people's rooms when someone goes on mission.
The Author Services Building. Little real effort to "exploit" fiction works these days. This is now the red-headed stepchild of the scientology hierarchy.  Battlefield Earth movie was the last hurrah of Author Services. Today it doesn't make enough money to compete with the heavy hitters of scientology — the IAS and Ideal Org Campaign. So it languishes in its over-ornate office building with a few staff and little to do. The proof of this is that 30 years ago L. Ron Hubbard said his script Revolt In The Stars (the story of OT III, starring Xenu as the villain) was to be made into a feature length Hollywood movie. This should be the primary role of a literary agency. But nothing has happened. This, according to LRH, was FAR more important than any "fiction" work. It was intended to destimulate society. So, why haven't they done it?
Inglewood Ideal Org — even worse than the empty LA Org, Pasadena, OC and Valley orgs, Inglewood was a massive investment of time and money to "reach the black community" when there was NO demand for it.  An org was put there that the community did not want, because Miscavige wanted to impress Isaac Hayes and then the NOI people.  So, the IAS (?) bought a building and artificially staffed it with outsiders and now it is just a money sink. Nothing is happening there and its community center is about as popular a spot for locals to gather as a KKK meeting hall.
And now, the SMP. Which has been hyped as the [latest] missing link for planetary clearing by Dear Leader in his grand re-re-opening of the "ideal PAC." And now the Valley OTC is being briefed on the amazing fact that they have a 40,000 sq ft soundstage that is "second to none in Hollywood."  They seem to forget what they say on their own website (scn.org) about Golden Era Productions:
The focal point of Golden Era Productions is the 80,000-square-foot film studio. The main sound stage rises more than three stories, with an interior the size of a football field.
Final production of the religious audiovisual properties filmed at Golden Era Productions is accomplished in the cutting-edge post-production facilities, which include six fully digital editing suites, while to create any required digital effects, Golden Era's special effects department harnesses more than 500 computers with the computing power of 6,360 billion calculations per second.
Moreover, all religious film and video musical scores are produced and mixed in-house in Golden Era's recording studios. The audio division facilities were designed to meet every production need: from an 84-track studio large enough to accommodate an orchestra, to a 112-track 5.1 cinema surround sound mixing studio.
And there is more than one soundstage at Gold. And they have NEVER used all of the expensive Avid editing bays they have (there are not enough trained editors).
Miscavige is simply obsessed with buildings. So, now he has another one he doesn't need.
And let's not forget what Brandy Harrison said in her speech at the Valley Autumn Gala:
As you know, we're gearing up to open our own full scale TV studio, responsible for all international Scientology media and dissemination. This is a 136,000-square-foot facility that will house all of our dissemination, our own TV station, radio, Internet marketing, everything you could possibly want, at a level which we have never approached before. 
Now, who is telling the truth? Gold sits there as the "A/V dissemination center of scientology" and it is not close to operating near its capacity. It has THE most expensive video, film and sound equipment available (all done by Miscavige to impress "celebs").
So, why is ANOTHER huge soundstage and more video editing bays and more audio studios needed?
The answer is, it isn't. But it's "cool" and it affords another opportunity to now force people to pay up.
And there's the rub. On one hand, its announced with great fanfare as the latest salvation for scientology when Dear Leader first announced it.  Now Brandy is lying that it is "gearing up." (No big surprise, she did not say ONE thing in her speech that was wholly accurate and MANY things that were completely inaccurate).
The real scene is that there are some people now assigned to SMP — to do renos and put together "visuals" for the Nuremberg events. But their extravagant renovations planning has a $20 million budget. And they will not be setting up the facility to produce anything until the MONEY is raised. And thus you now witness the latest "leatherbound editions" — they had to come up with SOMETHING.  Everyone knows how tapped out the LA field is — they are begging daily for a few thousands dollars to "get them below $8 million" STILL NEEDED to fund Valley. And this is with Bart Simpson matching anything given and ALL OF LA being hit up for this "most important Ideal Org of all." It's a dead horse being flogged mercilessly while they keep shouting "giddyup."
So, here are the minutes with the "briefing" about the SMP (and a bunch of other random nonsense).
Date: Mon, 15 Sep 2014 21:37:11
From: Valley Org <Valley@Scientology.net>
To:
Subject: Valley Org OTC Minutes, Sep 9, 2014

MINUTES
VALLEY ORG OT COMMITTEE MEETING
Sept 9, 2014

Note: The minutes are for the sole use of Valley OTC members. All members receive a copy. Please do not forward the minutes to anyone else for any reason.

ATTENDEES: Kathy Welch, Kathie Heard, Mary Lee Krackow, Mary Elizabeth Glosup, Diane Temps, Karen Brown, Debbie Suplee, David Wilson, Bonita Wilson, Dean Glosup, Alicia Kreisberg, Hagit Ron, Tracy Andruscavage, Mary Ann O'Donnell, Mark Anderson, Ralph Temps, Bob Brooks, Vered Ziv, Ofrah Bahat, Dali Bahat, Heelah Cohen, Colleen Bigler, Linda Massey, Lauren Perreau, Vera Seidler, Joan Banks, Chuck Jacobs, Carol Loweree, Ben O'Donnell, Sue Kattoo, Shannon Burke, Don Saito, Bobbi Kassowitz, Marty Kassowitz, Diane McPhee, Suzanne Glasgow, Solomon Melnick, Ben Ghiora, Kathy DiGalbo, Jill Halverson, John Bamforth, Ray Loomis, Megan Mitchell

Kathy Welch opened the meeting.

Mary Lee Krackow recited the purpose of the OTCC.

STATS

Division 1 – Karen Brown
Active Members – Up from 66 to 78 !!!

Division 2 – Mary Elizabeth Glosup
Gross Income – Down from $267,486 to $27,250

Division 4 – Kathy Welch for Tamara Dahill
# of Volunteer Hours – Up from 380.5 to 581.75
# of Events & Briefings Held – Up from 1 to 5
# of Service Starts – Down from 8 to 6

Division 6 – Charlene Thorburn
Meeting Attendance – Down from 34 to 29

ANNOUNCEMENTS:

Bonita Wilson announced wins at our Autumn Gala Fundraiser from the visiting Pasadena Org contingent, many of whom for which it was their first visit.

* Loved the speakers and all the data they imparted
* They're totally sold! GO VALLEY!!
* She recommended getting someone to please do a complete briefing for them.

Bob Brooks gave wins on selling tickets

Quinn Taufer, Valley Ideal Org project I/C, gave VVWD to all those who contributed at the event – we're going for full done!

Brandy Harrison, Building Expansion Director International:

* Provided Int viewpoint of our event

* Target is 8 weeks to complete

* Great worldwide feedback has gone to another level

* In Ideal orgs, Valley is THE example

* Our fundraising stats go out to WW orgs DAILY

* Noted that Irwin Miller, the speaker from Gensler, was blown out in experiencing his first ever fundraiser.

* There are new Smartphone Apps being piloted for Body Routing people into Orgs to do OCAs in a massive scale.

* The TV Station has been highly successful

+ Outstanding 40K sq. ft. sound stage has been created that's considered second to none in Hollywood

+ Recruiting senior professional personnel from movies and entertainment into SO for Specialist Training to man the facility, e.g., Special Effects for Transformers movie, Cirque du Soleil, etc.

+ Going to promote its use by other ally groups with similar viewpoints (can also be non-Scientology groups) to use the space for documentaries.

+ She replayed the Building Design presentation that was shown at the event.

Quinn Taufer announced a spreadsheet to be used to complete the fundraising

* Contains names of every person at Alumni and above who has yet to move up in status.

* Goal is to call all to have them go up!

* Introduced Cleve Carlson
Cleve Carlson – Volunteer Liaison

* Will coordinate with OTC for volunteering and hats

* Passed out volunteer sign up sheets

* Everyone needs to contribute big time and we'll BE DONE!

Kathie Heard announced IAS event in UK just released date: 10/17/14

Abi announced therefore Local IAS event at PAC, NOT at Valley, will be either 10/25/14 or 11/1/14. (TBD)

Jennifer Charm-Jacobson and Vered Ziv announced upcoming dinner event information

* Dinners on Fridays and/or Saturdays: first is weekend of 9/19

* Vered asked for donations to purchase food from attendees with great success – lots of money raised

Quinn Taufer announced

* all recent up statuses and OTC resoundingly acked each of them.

* Event was what it was from OTC working together to make it happen

* Read LRH quotes on effect of agreement on what will become and Orders of Magnitude

* PLEASE BE HERE!!

Brandy Harrison announced there will be a United OTC meeting at the end of the month for her to brief ALL.

OTC members went into production.

The meeting was ended.

(C) 2014, CSVLY, All rights reserved. LRH and OT are trademarks and service marks owned by Religious Technology Center and are used with its permission.