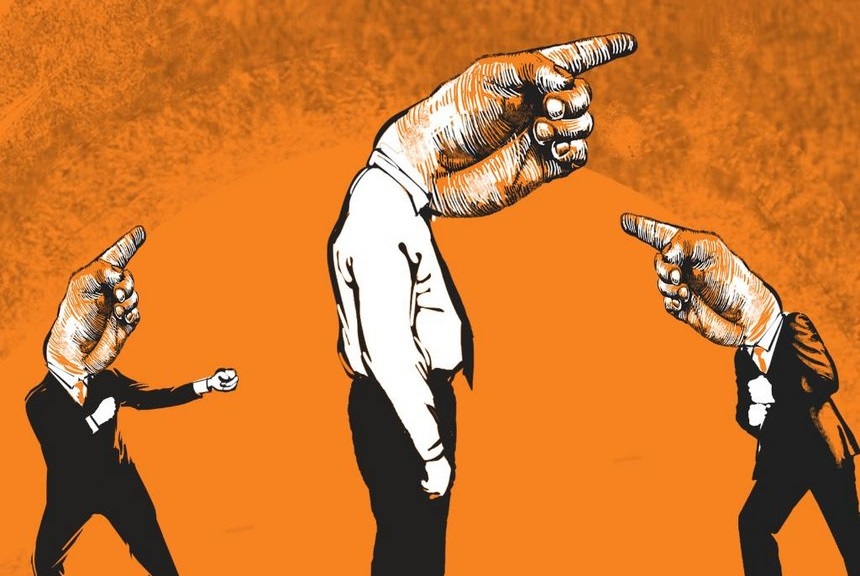 Scientology plays an interesting game of taking credit for anything good AND bad in a person's life.
For anything good, it's BECAUSE the person is a good scientologist "applying the tech" and for anything bad it's because the person is NOT a good scientologist and is not applying the tech and thus they are suffering their "just rewards."
This "win/win" takes many forms and is a practiced art of the scientologist.
If you are doing well in life and have plenty of money you are not only lauded for your "humanitarian contributions", you are expected to make sure that everyone knows it is BECAUSE of your application of scientology — even to the extent of "flowing money to the IAS causes more inflow of money." On the other hand, if you, even as a long time practicing scientologist who has read every book, attended every event, redone your Student Hat 4 times, Purif 3 times and Objectives twice, are without funds there is only one explanation. You are NOT applying scientology correctly in order to make more money. After all, according to L. Ron Hubbard, scientology has the answers to ALL OF LIFE.
Of course, this approach also bleeds into scientology's public relations efforts too.
Miscavige and the church revel in taking credit for Narconon "salvaging the world from drugs" and running the "most effective drug rehab pgm on earth thanks to LRH tech" — until there is a flap. When someone dies on the program suddenly it has nothing to do with the "tech" (other than it was "not applied standardly") and COB and the church suddenly have NOTHING to do with Narconon.
But perhaps the most bizarre application of their double-standard insanity is seen with people who leave scientology.
All Sea Org members are told that if they leave the SO they will "fail" in the "wog world" — they will be "flipping burgers at McDonalds for the rest of your life." (Only in the eyes of Miscavige is gainful employment something to be sneered at).
In their world, everyone who chooses not to follow the dictates of scientology is a "failure" – I know they reveled in the fact that I was a "used-car salesman" when I left the SO. I got a job at a Toyota dealership as car sales is a meritocracy — they don't care your educational background or job experience, they only care if you can sell cars. If you can't, you don't survive and they lose nothing for having you there. Scientology loves to demean what anyone does as being so much less important than everything any Sea Org member does. Earning a living is something to be looked down upon as a "failure." Miscavige tells those around him that everyone who has left the Sea Org "desperately wants to come back." What a joke.
But this tactic reaches absurd levels when it comes to celebrities.
Scientology loves to take credit for celebrities success. They put them on the cover of Celebrity magazine and bow down to them at their big events. The celebrities hand over a lot of cash and are in turn are treated like royalty. But when a celebrity leaves the fold, they are invariably (and instantly) "failed actors" or "failed writers" or just "failures." Jason Beghe was a "washed up actor who couldn't get a role." Paul Haggis is a "failed screenwriter." Leah Remini "had a sitcom once and hasn't had a job since." And what is even sadder — they WANT this to be true. They wish people who leave will fail as it will prove them right and they will gloat in their rightness.
But of course they ignore the huge failures that are stinking up the lobby at CC:  Jenna Elfman has not been able to hold a job since Dharma and Greg. Kirstie Alley defines washed-up. Anne Archer hasn't had a role in a decade (or two). Even the mighty Tom Cruise has had two box office bombs in a row. Danny Masterson has done nothing since the 70's. Juliette Lewis might even be longer. Catherine Bell? Marisol Nicholls? The only one who has had consistent work and success is Bart Simpson. Why aren't all these other people having successful careers? Why isn't the scientology magic working for them? For heaven's sake, it's the Golden Age of Tech times 2.
And what about Jason, Paul and Leah? They are all flourishing. Jason has a massive NW TV hit that he stars on. Paul is constantly writing and does more real humanitarian work than all of scientology combined. And Leah — leaving scientology has seen her with a NYT #1 bestseller, an Emmy, the leading docuseries on TV and co-starring again in a prime time sitcom. Can you imagine if one of the scientologists had this sort of career success?
Perhaps ESCAPING scientology is the best career boost and guarantee of success.
There is plenty of evidence to support this idea.
Scientology continues to operate on the principle "never defend, always attack" — even though they are like cornered rats and will ultimately be wiped out entirely because they are such menacing, antagonistic and rabid vermin. They cannot change because it's all laid out in their own policy.
For more information about this, read this article: Dealing with Critics of Scientology – The L. Ron Hubbard Playbook