Former RTC executive Mariette Lindstein has been forging an astonishingly successful career as a writer since leaving the Sea Org.
She and her husband, Dan Koon, are long time friends. I originally brought Mariette to the International Base to become WDC Scientology (over all Class 5 orgs). She has forgiven me for this. Dan and I shared a lot of time compiling the What Is Scientology? book and various other things and back when life was not completely insane at Gold we would sneak a game of golf during CSP time on Sunday mornings on the otherwise virtually unused Golden Era golf course.
Mariette has published a bestselling and highly acclaimed trilogy of novels in her native Sweden — and subsequently in various other countries.
The first of the 3 books is now available in english on Amazon: The Cult on Fog Island

Mariette sent me an advanced copy.
Fog Island is compelling reading, and serves as a primer on how to avoid being sucked into a cult. But for those of you who have been there, it is the most remarkably accurate account of how what seems to be a well-meaning group, headed by a charismatic and positive figure descends into madness. This is the story of how to boil a frog described in harrowing and vivid detail. It describes perfectly the incremental surrender of your freedoms and free will until you are trapped in a prison you helped build but now cannot figure out how to escape from.
The characters have real depth, the description of events immerses you in the world they are experiencing and the pacing keeps you turning the pages for more. For anyone who spent time at scientology's international base, the story is full of events and circumstances that are eerily familiar. And that is partly what makes this book so compelling. While it is fiction, it is written from first-hand experience and it shows. It makes it so believable. And so hard to ignore.
Just as The Master was a fictional recounting of the life of L. Ron Hubbard — this is a fictional recounting of life at the international headquarters of scientology under the reign of David Miscavige. The main protagonists of the book are not David Miscavige and Mariette Lindstein with different names. But the personality traits of a cult leader, and the virtues of a cult follower are universal — so you recognize the characters by their actions and attitudes towards others. Tall, dark and handsome is the antithesis of Miscavige (or Hubbard). Ruthless, egotistical, sadistic yet charming and charismatic defines every cult leader ever.
Plenty of people have experienced being involved in a cult — and how you get in and how your best instincts and desires to be better yourself and help others are played on by a sociopath. Few have been able to articulate it as Mariette does in this book.
Read it, you will not be disappointed. It should be required reading for courses on new religious movements…
But don't just take my word for it. The Guardian called it one of the best thrillers this year.
And now it's going to reach an even larger audience. Today, a deal was announced to turn the 3 books into a 3 season TV series.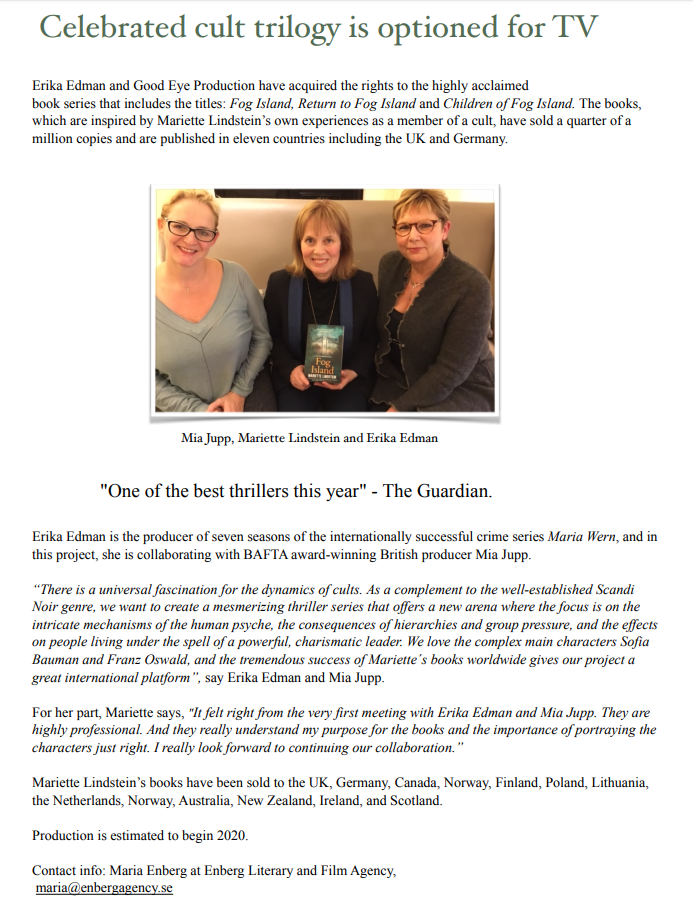 Mariette – you go girl!