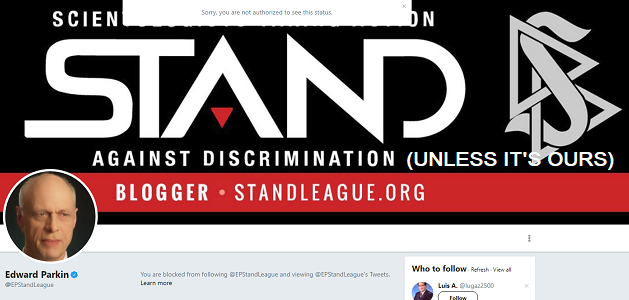 I have been nosing around the STAND League site of late, just to document what they are doing and have a record of it before it all disappears in a puff of smoke when that becomes necessary for whatever reason.
I came across an article from a couple of months ago, newly tweeted out, smearing my friend of many years, Mariette Lindstein.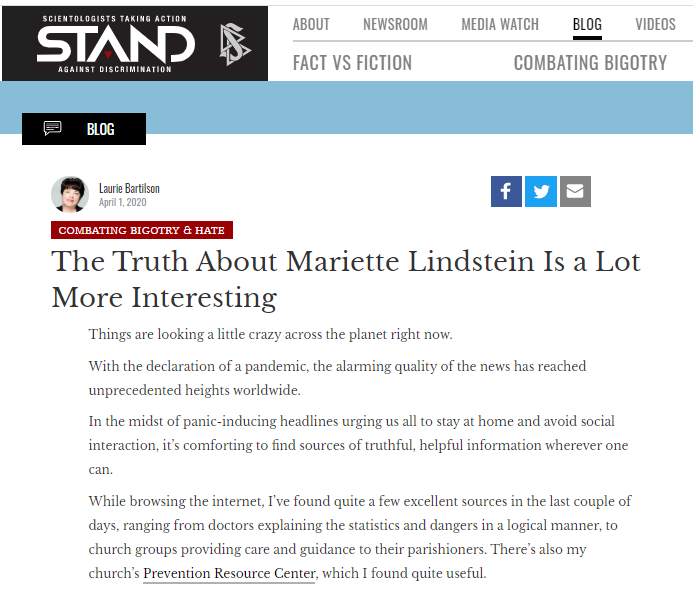 I have written about Mariette before and her enormous success as an author of fictional novels that are drawn from her experience in scientology, including working at the Gold Base in Religious Technology Center and other very senior executive positions.
If you have not read The Cult on Fog Island, I highly recommend it.
Mariette's books (I have only read the one that is so far translated into english) do not mention scientology or any characters from scientology. The cult leader does not resemble either L. Ron Hubbard or David Miscavige, but his behavior is classic sociopath.
Apparently, the fact that the book is about a cult that keeps people imprisoned on an island, with a sociopathic, abusive leader compels scientology to take issue with the author.
It seems they see too much of scientology in the book. They are like the person with the guilty conscience sitting in a sermon who becomes convinced the preacher is speaking ONLY to them. If there was no similarity between the Cult on Fog Island and scientology they would not feel the need to try to smear and trash the author. Frankly, the book could be based on being in Warren Jeff's FLDS compound, or Keith Ranier's NXIVM. Birds of a feather….
But scientology sees the mind-control, physical and mental abuse and sociopath depicted in the pages of her books and they know it is all about them.
Quite an admission.
The books don't bother the Catholic church or the Baptists, Jews, Buddhists, Jains, Taoists or Muslims…
But so typical of scientology — they do not address the ISSUES, they simply try to smear the author.
Written by one-time OSA in-house lawyer Laurie Bartilson who used to have an office on the 10th floor of the HGB building in OSA International. The piece gets started in typical STAND fashion.
She launches her assault by talking about the pandemic, trying to make the subject of her smear seem relevant and topical. She even throws in a plug for their "stay healthy" booklets.
Things are looking a little crazy across the planet right now.
With the declaration of a pandemic, the alarming quality of the news has reached unprecedented heights worldwide.
In the midst of panic-inducing headlines urging us all to stay at home and avoid social interaction, it's comforting to find sources of truthful, helpful information wherever one can.
While browsing the internet, I've found quite a few excellent sources in the last couple of days, ranging from doctors explaining the statistics and dangers in a logical manner, to church groups providing care and guidance to their parishioners. There's also my church's Prevention Resource Center, which I found quite useful.
But this is just a lead in to the real point (and ONLY thing STAND is actually interested in) — Fair Gaming people they have designated as enemies:
What's disturbing, however, is that browsing the internet can also lead the unwary to mountains of data that is untruthful, scare-mongering, or libelous. True sources can be hard to find or hidden under a barrage of lies.
If you happen to search the internet because you are curious about my religion, Scientology, you will see an example of this phenomenon. You will find quite a few excellent, truthful and data-rich sources, for example, scientology.org and scientology.tv. But in the midst of a worldwide crisis about a disease that no one yet fully understands, you'll also find the lies of a less-than-charming Scientology apostate, trying to use hate speech to promote her trashy novel.
I'm speaking about a Swedish woman named Mariette Lindstein. A violent, unstable and self-confessed liar and kleptomaniac, Lindstein joined the Scientology religious order thirty-some years ago and was expelled in 2004. Today she's trying to "cash in" on the popularity of her former religion, hoping to sell what she admits is a completely fictional account as "truth."
Well, there you have it. Scientology Fair Game 101 and scientology "logic" all rolled into one.
Mariette, like many of us, escaped scientology. They now re-invent history to try to claim she was "expelled" — that happened AFTER she left. They do the same with everyone "they were unable to live up to the high ethical standards of the most ethical organization on earth so we threw them out." They have said the same about all of us. When I left, I was the international spokesperson of scientology. But their story changed quickly, I was such a liar and incompetent that they "threw me out." Sure….
As for the "violent, unstable, self-confessed liar and kleptomaniac" this is so typically scientology it has almost become a joke.
The culture at the top of the Sea Org drove every person in it to being unstable and lying, and many to acts of violence. Scientology has now claimed that every single person who has left, including me, Tom DeVocht, Marty Rathbun, John Brousseau, Marc Headley, Amy Scobee and on and on were violent, but also claim there is no "culture of violence" in scientology. It is a fact that David Miscavige has instilled a culture of physical threats and violence from the top down.
As for being a "kleptomaniac" – this is either just made up out of whole cloth or more likely comes from a confessional where she admitted to stealing candy as a kid, or taking hygiene supplies from the staff canteen when she had no money because there was no pay for months on end. Everyone in scientology is forced to "confess", especially those at the senior echelons of the Sea Org. Those confessions are on one hand coerced Through duress and threats and on the other, held to be sacredly confidential — until you do something scientology doesn't like.
I'm happy to say that Lindstein's delusional and fictional ramblings have not gone unanswered: there's a website now where you can find out the facts about her and her actual experiences in Scientology. It's an interesting read, especially the confessions of her own wrongdoing which you'll see there.

They are so brazen, they even created a "website" to display her "confessions."
Remember, these were the same people who cried all the way to the US Supreme Court that they could never turn over Laura DeCrescenzo's OWN files TO HER because they were "sacred" and confidential and it would discourage people from participating in scientology's confessionals (in fact, they knew the files proved her case).
And, not surprisingly, the reality is nothing like the fiction she promotes.
Well, what a twisted piece of logic this is. She writes a work of fiction and you come out and claim the reality is nothing like the fiction… Really? Why do you feel compelled to say this if there's no resemblance?
Shakespeare was way ahead of you scientology. His famous line from Hamlet may have been written for Laurie Bartilson:
The lady doth protest too much, methinks…
Stay safe, everyone. And if you are home with time to surf the internet and want to read a little nonfiction, why not try out Dianetics: The Modern Science of Mental Health by L. Ron Hubbard or watch this? According to the World Reporter Newspaper, "Hubbard's bestseller has helped millions, and it should be read and used by all who are searching for a true understanding of the mind and a solution to such problems as self-doubt, stress, anxiety and depression."
And trust me, it's a fascinating, truthful read.
And a final pitch for the "truthful read" that is Dianetics. And for that, I have another, far less eloquent, but equally fitting quote from much more recent history:
Gag me with a spoon.