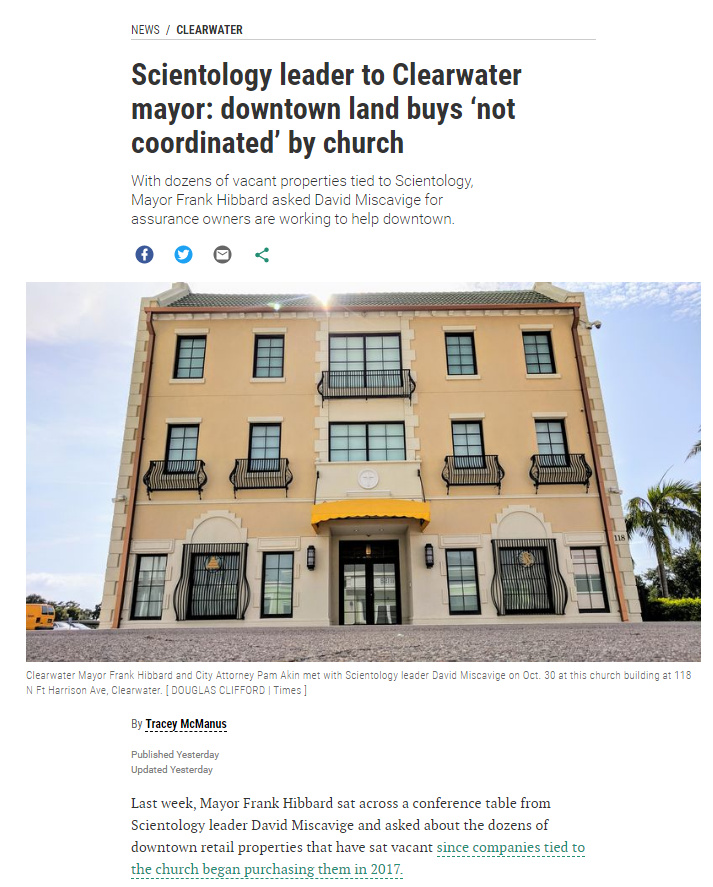 Tracey McManus article reporting on a meeting David Miscavige had with the Clearwater Mayor and City Attorney last week isn't very revelatory on the surface.
But I will try to read between the lines and explain the significance of this meeting based on scientology policy and my experience.
The first thing to know is that short of testifying under oath (and even then, good scientologists have no fear of lying if they believe a lie is for the "greatest good"), the real story (either what happened in the past or intentions fo rthe future)is never going to be revealed in a casual meeting with David Miscavige.
Second. It is ALWAYS true that the only things scientology will do are WHAT IS GOOD FOR SCIENTOLOGY. Scientology claims they have the "good of the community" in mind, but that is just PR spin. They do NOTHING if they don't see the benefit for themselves. Even their "goodwill" actions — where they pick up trash or do toy drives — are only done when there is a perceived benefit in their mind, and they are always "photo ops" that can be used to "demonstrate their good works," and/or use it to raise more funds.
Third. When it comes to "revitalizing" downtown Clearwater, the grand plans and drawings are merely props to help attain a scientology-positive objective. The last time Miscavige trotted these out, he wanted the Aquarium lot. As soon as he could not get it, those plans disappeared and any talk of scientology "revitalizing downtown" instantly dried up. Of course, the Aquarium lot had no impact on the Cleveland St or the revitalization grand plans.
Fourth. No scientologist acts in a way that has any significant impact on Clearwater without express approval from scientology. Not a single one would dream of doing anything that then discovered violated "command intention."
Finally. Scientology has mastered the art of compartmentalized information, cut-outs and plausible deniability. This is a hypothetical example of how this works. David Miscavige, after finding out he is not able to purchase the Aquarium lot goes into a rant about the Suppressive Persons who are "against scientology" and that they need to be "taught a lesson." He tells his minions "There are a lot of wealthy scientologists. We are not ever leaving Clearwater. We are making our own future. You always negotiate from a position of strength and give up things you don't value to get things you do. If enough scientologists invested in property in Clearwater, we would eventually control the city." These minions hang on his every word. They inform the head of the Office of Special Affairs "we need to find scientologists to buy up property — it's command intention." The word goes out. Scientologists act in accordance with "command intention." When asked if he had anything to do with this happening, Miscavige says "I had no involvement. I issued no orders to anyone. I don't know what goes on at the ground level." In fact, he receives reports every day about what is happening in Clearwater.
This IS how things work.
His denials should not be believed other than in the literal sense – he did not meet with individual scientologists and tell them to buy property. He was "not involved." There is no way this buy up of property is merely a coincidence. It hadn't happened for 40 years, and then suddenly after the property Miscavige DID personally negotiate to buy fell through, in swoop scientologist cash buyers and snap up every available piece of property in the downtown area.
The article reveals is a study in scientology double-speak.
Mayor Hibbard is quoted as saying:  "I wanted to get assurances that they do in fact want to have downtown open to everybody, that if there is something we believe would be beneficial for the overall community, that we can discuss it and that they will be supportive and not try to thwart our efforts."
Whatever answer Miscavige gave him to this question was untrue (unless he simply never answered it) because he would never say the real answer out loud. Scientology does not operate on what would be "beneficial for the overall community" — only what is beneficial for scientology. Recent history has proven this yet again — the grand plans Miscavige pitched to the city for redevelopment were yanked off the table the minute he didn't get a piece of land he wanted. ONLY if the good of the "overall community" happens to align with the "good of scientology" will there ever be cooperation and agreement from scientology with the city.
Hibbard said Miscavige assured him Scientology parishioners want to see a vibrant downtown and purchased properties because "they believed downtown is poised to take off."
What Miscavige and scientology want is for there to be a perimeter around their operations where "wogs" are excluded. They don't want "wog" neighbors who can watch what they are up to or interact with Sea Org members and feed them "lies."
If scientology wanted a "vibrant downtown" it would exist by now. Miscavige has invested hundreds of millions of dollars in real estate over the last couple of decades, buying and renovating buildings around the world that sit empty. Scientology has billions of tax free dollars and the ability to dictate to their followers what they should and should not do. If Miscavige wanted a vibrant downtown he would have bought it. The movie theaters he promised would have been built. He would have gotten scientologists to open stores and restaurants. The only thing scientology cares about being "vibrant" is the cashflow being generated inside their buildings.
One final thing you can be sure of.
Miscavige still wants the Aquarium lot. It is next to the Ft Harrison and the Oak Cove. He doesn't want anyone building a condo on that property overlooking his "spiritual headquarters." He has a long memory and never forgets being beaten. He will bide his time. He will continue to try to amass cards he figures the city wants until he has enough to offer a deal the city can't resist. He met with the new Mayor to assess him as a foe or ally and to work out how he is going to get what HE WANTS, not what is good for the city. To think otherwise would be foolhardy.