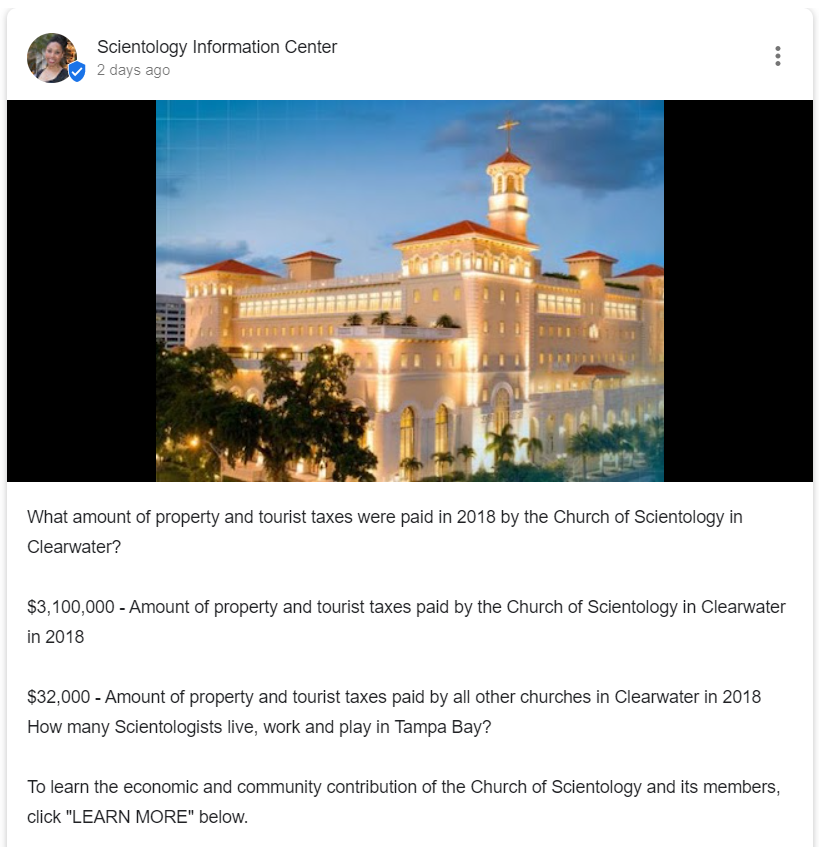 Wow, these guys can twist anything into a reason to pat themselves on the back.
By leaving out a lot of relevant information, they make it seem like they are doing such a wonderful service to the Clearwater community.
First, the LOSS of revenue for the City of Clearwater is HUGE. If all the dozens of properties scientology owns were taxable, the amount of revenue generated would be at least 10 times the 3 million. Maybe 20 times. Or even more.
This is the SHORTFALL that the city does NOT receive. Tens of millions annually. But the city DOES provide the fire and police departments, roads and other infrastructure which is disproportionately used by scientology compared to the taxes they pay. No other non-taxable organization has anywhere close to the amount of property scientology takes OFF the tax revenue stream.
Second, the reason the legitimate churches pay so little is that nobody else in Clearwater operates HOTELS like scientology. They have a raft of them — the Ft Harrison, Oak Cove, Sandcastle, Yachtsman and Mariner in the downtown area and the Tradewinds, Bayside and Clipper motels a mile up N. Ft Harrison Ave. Most of these places are virtually empty. If they were full, the amount of taxes would be higher.
Scientology, like an arsonist who takes credit for calling the Fire Department to put out the blaze they started, is taking credit for "paying taxes" as good citizens of Clearwater while hanging on to a tax exempt status that should never have been granted and certainly should not maintain.
If you could classify an organization the way you can classify personalities, scientology would be classified as malignant narcissists. They have NO shame. And everything is about what is good for them.